Efficient Air Conditioning Systems
|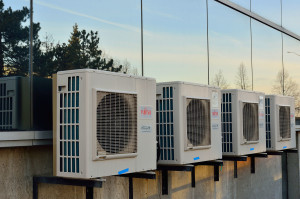 Air conditioners have been cooling our homes ever since the discovery by Willis Haviland Carrier. The market of modern air conditioners, have seen a rise from the time when, it was only available to a few to this decade when almost each house has or wants to own an air conditioner. According to U.S. Energy Information Administration's finding, the financial year of 2013-2014 saw a sale of about 3.3million numbers of air conditioners in India. The air conditioner market in India has been reported to have seen a major rise, especially in the middle class household.
The steep rise in the demand for space cooling may be attributed to the rising per capita incomes and changed consumer lifestyles, changing climatic conditions and relatively low penetration of air conditioning in the country with just 2% households having air conditioning in comparison to the U.S having a saturated market with 87% of households having air conditioning systems. The TechSci Research report "India Air conditioners Market Forecast and Opportunities, 2020" further supported the above finding and projected a growth of the air conditioner market in India at a CAGR of more than 10% during the time period of 2015-2020.
This growing demand for air conditioners has its own implications. The total hourly use of electricity by Air conditioning systems is reportedly associated with the outdoor conditions like humidity and temperature. Though linkage between climate variables and increased use of air conditioners have not been much researched upon, yet it is known to have a profound impact on the climate and has a closely knitted relation with what is known as the urban heat island effect, moreover increased use of electricity may cause energy crunch in near future due to the increased stress on the fast depleting fossil fuel reserves.
The increased heat load due to increased use of air conditioners may also impair and harm health and productivity of the people. One can say it is more like a vicious cycle. The use of air conditioners to combat the increased temperature in return would further increase the temperature by increasing the heat load on both indoor as well as outdoor environment.
According to the 2012 Global Energy Assessment the choices about the technology for cooling of the people will become increasingly important in near future. The choices made have already have had been a source of major concern for the world, just to state an example, air conditioning accounts for 28% of the total electricity used and contributes the maximum in terms of electricity consumption by the people of Delhi during the hottest months of the year.
The world at present uses almost 1 trillion kilowatt-hours of electricity which is estimated to increase 10-fold by 2050. The growing concern for the sustainability issues associated with air conditioners and government policies has given rise to much competition amongst the big shots of the industry. As per the study by Lawrence Berkeley National Laboratory, the programme by Bureau of Energy Efficiency to set minimum efficiency level with competitive labeling will by 2020 help India in saving annually 27 terawatt hours of electricity. Read more on National Mission on Enhanced Energy Efficiency (NMEEE).
Researches to increase the efficiency and use improved coolant gases are also being made to launch a sustainable air conditioner model. A study by CEEW in 2014 showed that switching to lower global warming potential room air conditioners with improved energy efficiency could offer energy saving of about 15% and could reduce global warming by 31 to 38%. This reduced energy consumption would not only reduce stress on the energy grid but also reduce CO2, NOx, SOx emissions. A reduction in 60 GW of energy consumption is likely to reduce 60 GT, 353 Tonnes and 162 Tonnes of CO2, SO2 and NOx respectively. Different refrigerants and their global warming potential can be tabulated as below-
| | | | | |
| --- | --- | --- | --- | --- |
| Refrigerant | Market status | Global Warming Potential (GWP)** | Energy efficiency | Refrigerant cost |
| HCFC-22 | Obsolete, ozone-depleting, GHG | 1760 | High | High |
| HFC-410* | Obsolete, ozone safe, GHG | 1923 | Low | High |
| HFC-32 | Best available ozone-safe, midGWP for safe use in small to large room AC | 677 and reduced refrigerant charge | High | Medium |
| HC-290 (propane) | Best available ozone-safe lowGWP for safe use only in small room AC | <5 | High | Low |
*HFC-410A is 50% HFC-32 and 50% HFC-125 (GWP=3170)
**IPCC AR5 100-yr GWP
Source- http://www.nrdc.org/international/india/files/india-energy-grid-alternative-refrigerants-IB.pdf
Thus room air conditioners having lower global warming potential are better alternatives and are more energy efficient. R-290, R-32, etc, are better alternatives to HFC-410A and HCFC-22. R-290 commonly known as propane has a Global Warming Potential of less than 5, while R-32 has a Global Warming Potential of 677 with an additional advantage of higher cooling capacity and hence is required in lesser amount when used as a refrigerant. R-32 is in fact one of the best commercially available alternative with the potential to reduce the green house gas emissions by 31% by 2050 and is already available in 30 countries.
Indian manufacturers though are still using obsolete models having HFC-410A as the refrigerant are narrowing down their export market due to stricter regulations abroad and also face brim competition from the imported models which are much more environmentally sustainable. It is hence important for Indian industries, policy makers and stakeholders to phase out the use of unsustainable refrigerants and improve the energy efficiency of their products for which they have the opportunity to draw support in terms of financing from Montreal Protocol Multilateral Fund. This would help Indian industries to take advantage of the emerging market and achieve greater efficiency and reduced impact on climate, which would in turn reduce the stress on power grids and increase savings from air conditioner use of the countrymen.
The demand for air conditioners is likely to increase, with improved technologies it would be possible to reduce the impact on environment but small steps by the users can also greatly contribute in achieving the same. Installation of programmable thermostats, use of ceiling fan, insulation of the wall, attic, etc., use of energy efficient window covers that let natural light to enter but reduce the amount of solar heat gained are some trivial steps that can be taken by the aware consumers of today's world to achieve an energy efficient and sustainable cooling of their homes and workplaces.
References:
http://www.thehindubusinessline.com/news/steady-rise-in-demand-for-airconditioning-in-india/article7814445.ece
http://www.energy.gov/articles/energy-saver-101-infographic-home-cooling
By Karin Lundgren  and Tord Kjellstrom , "Sustainability Challenges from Climate Change and Air Conditioning Use in Urban Areas", MDPI – Open Access Publishing.
By Dr. Amol Phadke, Dr. Nikit Abhyankar, and Dr. Nihar Shah, "Avoiding 100 New Power Plants by Increasing Efficiency of Room Air Conditioners in India: Opportunities and Challenges", Lawrence Berkeley National Laboratory, Berkeley, USA.
http://www.transparencymarketresearch.com/pressrelease/air-conditioning-systems-market.htm