Electric Bike Tronx One Launched in India
|
The Tronx One has been recently launched by a Smartron Company- Tronx Motors. This e-bike has been valued at Rs. 49,999, but only as an introductory offer that too for a few units on pre-orders. It will be available in two rocking colours- red and blue.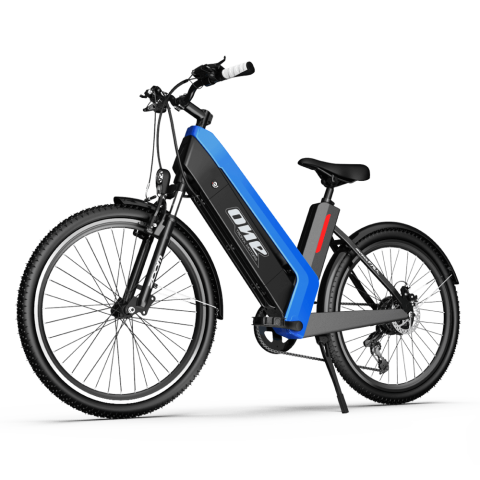 There is a mid-step-thru-frame which is very lightweight and rustproof, as it is made of aero-grade. The 36V 13.6Ah Lithium 500W battery is a plus point in it along with a 250W rear hub motor. This bike is a complete advance feature box, as it has multiple ride modes and virtual gears that come along six-speed Shimano Shifters and three electric gears. All these things are allowed to adjust and extend the speed and range of the bike. There is present a hub motor that delivers instant torque and is known as compact rear hub motor that is zippy. Moreover, for an efficient ride and maintaining an ideal blend of battery use and pedal sensor, this bike navigates various speed with the motor output. To have a convenient access to the bike, the mid-step-through frame is designed. This frame is responsible for safely holding the internal cable routing and the battery pack.
This all-new e-bike has a top speed of 25kmph and challenges to offer a range of 50km on consecutive mode per charge. Not only 50km, it also claims to have a range of 70-85km in a single charge on electronic gear assist mode. The lithium battery pack used is powered by Samsung cells and is designed according to Indian climatic conditions and highlights an overcharging protection. Moreover, this battery pack is so light in weight that it can be easily removed and tossed into your backpack and charge the bike.
The Tronx One provides a very distinctive feature of a smart display on your smartphone with an integrated 't-bike' app that provides services like estimating the range and setting up fitness goals. Moreover, a cycling history backup and an inbuilt calorie tracker are featured on the smart Bluetooth display. This also gives you the feature to sync your ride data with the companion app and also shifting of ride modes from the displayed button pad.
This e-bike will be first seen in nine selected cities that are Goa, Pune, Mumbai, Delhi-NCR, Chennai, Chandigarh, Ahmedabad, Hyderabad, and Bangalore. The company has already found the service and care partners across all these selected cities.
Image credit, reference, and further reading: Check here