Estimation of retreat of Gangotri glacier, report released by GBPIHED
|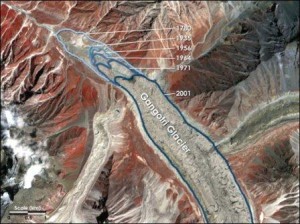 G.B. Pant Institute of Himalayan Environment and Development (GBPIHED) released the Report titled Estimation of retreat of Gangotri glacier on 7 January 2014. The estimation of retreat has been measured using rapid static and kinematic GPS survey.
The highlights of the report are:
Gangotri glacier is retreating in the Himalayas and its volume and size are shrinking between Gaumukh and Bhojbasa. According to the report, "Recessional moraines and broad glacial terrace-like features provide sufficient evidence of the shrinking of the glacier in the recent past between Gaumukh and Bhojbasa."
There is some disintegration in the upper regions of the Gangotri glaciers due to tectonic activities.
"2000 onwards, the average rate of retreat of the glacier per year has been about 12 to 13 metres," said Dr. Kireet Kumar of the G.B. Pant Institute.
Retreat of Gangotri glaciers in this decade was higher than in the previous decade due to global warming.
Gangotri is one of the largest Himalayan glaciers in Uttarkashi district, Uttarakand. The glaciers originate at about 7100 meter above the sea level and are 30.2 km long and width that varies between 0.5 and 2.5 km. The glacier is about 30 kilometres (19 miles) long and 2 to 4 km (1 to 2 mi) wide.
Read more on;
Glaciers in India – Are Himalayan Glaciers really melting?
Global warming and its impacts on climate of India