Home Of The Last Hanguls On Earth- Dachigam National Park
|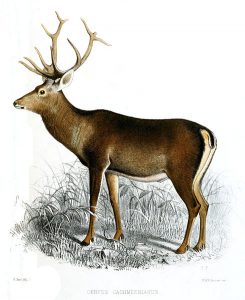 Harwan inherited a jewel from before the time of the Maharajas who ruled Kashmir for its beauty and people. This resplendent heaven was the natural habitat of a rich flora and fauna restricted to the Himalayas. Zabarwan range of Himalayas provided respite to the rich spawning populace of the beloved Red Deer of Asia. This variety is one of its kind and despite efforts to make it breed anywhere else on the globe; Nature gifted this living wild to Kashmir.
Harboring the exotic Hangul species of Red Deer, Dachigam National Park, located amidst the lush green hills and slopes of an outskirt town Harwan is a famed paradise to a wildlife enthusiast and to an explorer alike. One cannot revel enough in its glory once the aura of the place takes its toll. Winding pathways decorated by wild creepers and berry outgrowths lead to the niche of the famous Hangul. Very few sightings have been confirmed by the visitors as well as by the Park officials. This is because the Hangul is a shy animal and tries to remain in hideouts till interference is out of sight. Hence, spotting one is an achievement to be proud of.
Here, we take you through the wonderful journey that wildlife and flora of this National Park undergo with each passing season. Through summer and spring to autumn and delving into winter, the scenery that unfolds has a unique and breathtaking story to tell. We also come to know about the breeding seasons and why the famed Hangul species is endangered in its natural habitat. We also experience the delight of knowing about other protected species of animals and plants thriving here since ages.
Talking to a very enthusiastic and diligent wildlife protection official, Adeela Hameed and Bandanpreet Kour ask questions both certain and with ingenuity to learn more about this National Heritage through some of its own. Mr. Nazir A. Malik explains Dachigam National Park as he has known it for decades.
First questions first, what is the total area of the National Park, its divisions and total forest cover?
The Western Greater Himalayas is famous for a reputed National Park called Dachigam with an area of 141 sq. km. nearly 35,000 acres. Known for its biodiversity and a thick forest cover, Dachigam is counted under the category of a mixed forest ecosystem. As such the total area of the Park is basically the total forest envelope. The Park has been segregated into three divisions: Upper, Middle and Lower Dachigam.
How many species of animals and plants are found here?
There are about 20 species of large mammals and some beautiful mini-fauna. In flora, there are nearly 100 species of trees including some shrubs. More than 800 species of herbaceous plants are found here. Many plants having medicinal properties such as those used in treating cancer are present in this Park. Birds can be seen at large too.
What can you tell us about the Hangul population? Has it changed since you joined the Park nearly 25 years ago?
We have had census reports doing rounds since the beginning. The most recent one was conducted in 2015 but the results are yet to be announced. However, the one we did in 2011 showed growing signs for this Red deer species. The fawn-female ratio was seen increasing. The number was slightly more than 180. But we are still waiting for the 2015 report to declare the present status of Hangul.
Enlighten us with the specifics of Hangul: its breeding season, eating habits, habitat, height of males and females, antlers in males?
Hangul is a herbivore and the forest in Dachigam has more than enough reserves for its nourishment. Its breeding season starts in mid-September and continues for 3-4 weeks. After a gestation period of nearly 9 months, the fawn is delivered in the month of May-June. The habitat of Hangul is specifically this National Park and it migrates from lower to upper divisions of the Park during winters and summers respectively. The average height of a male Hangul is about 5 feet while the females are relatively shorter. The antlers on males grow with age and are shed annually. The fallen antlers then form a rich source of calcium for the porcupines. See, the interdependence!!
How do the forest officials maintain the Park? In case of a fire emergency, what steps do you take?
I must say that we, humans, have very little control upon how the forest ecosystem works. Although we tend to the visible needs of the Park but elements of Nature are the responsible agents that keep this niche of flora and fauna healthy. Air, birds and most importantly, my favourite animal, the Himalayan Black Bear, are instrumental in seed dispersal and hence, in the growth of forest cover.
Himalayan Moist Type Temperate forest cover prevails here and such an amazing variety of vegetation might be struck with wildfires at times due to natural factors. There have been incidents of forest fires with damage to mostly shrubs and dousing it could even take 2-3 days. However, we maintain that no serious disaster has ever befallen on the wildlife.
Have you ever been attacked by the wild here?
Not once but many times. Back in 2008, I was once guiding an English lady, aged 66, through the jungle when all of a sudden we found ourselves between the cubs and a mother Himalayan Black Bear. It is the most ferocious animal, even more than the Grizzly. It was a narrow escape and how we managed to find the guts to leave as naturally as possible is a miracle. It is an advice to you too. Whenever you find yourself in such a situation, don't try to run away. Just follow your guide.
What does your work represent? What is it to you?
I believe Nature to be the greatest teacher. I work here for the love of Nature. Imbibe it in your heart and it becomes art, delve your mind into it and it transforms to science. People visit this Park for research, to study it like you guys and some just to explore the wonder that it is. But I am a 'Junglee'. I am enthralled by the variety this Park offers and treat my work like worship.
What is the response of the Park towards the growing encroachments, poaching, overgrazing that prevail mostly in the areas surrounding this heritage land?
I believe these issues come into effect because of the ever growing human population. When people increase families, the land is needed to nourish them. This leads to illegal use of the forest land. But we are here to prevent that. We work to stop such nuisances from entering the Park and destroying it. Poaching has been drastically reduced but overgrazing is still a problem in upper reaches. Bakarwaals (non-local shepherds) settle for illicit grazing and destroy a part of the Park to move on to the next one. We are still lagging behind in controlling that but overall the Park area has been demarcated for safety. Another important factor is that common people are not aware of the benefits a forest provides. Hardly any local knows that just one tree produces oxygen worth of $30,000 per year.
Have you ever seen a Hangul up close? How did it feel?
Yes, of course, I have. I was here with one of my friends in February many years ago and we saw 8 male Hanguls in a group standing just inches away. It is hard to describe the excitement I felt. I was elated beyond measure.
What in your opinion is the root cause of decline in Hangul population?
Hangul, as you know, is only found in this National Park, not even anywhere else in Kashmir, just here. Dachigam is its habitat and home and destruction at the hands of grazing non-locals, a sheep breeding farm inside this Park and even presence of a military base has led to an alarming decrease in its population. Interference of any kind develops problems during gestation and birth of a fawn which leads to untimely abortions reducing the population to a great extent.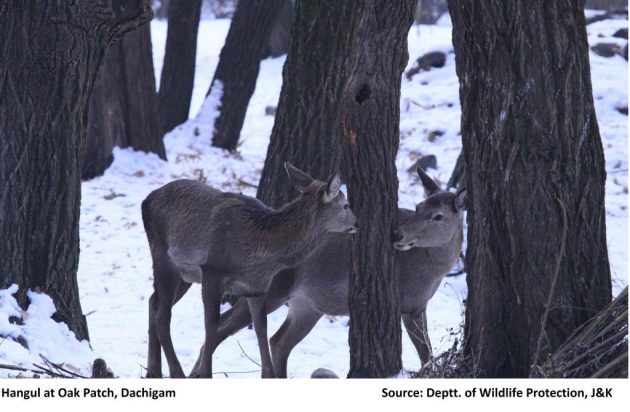 What should the wildlife department do in such a scenario?
There are many theories around this sensitive topic. Hangul is a critically endangered species and efforts should be made to make it last. People have been proposing theories about ex-situ conservation units and captive breeding programs. But this must be dealt with carefully. What if the Hangul we breed inside a special conservation chamber turns domestic and loses its identity in the wild? Such issues are to be tackled appropriately but as soon as possible.
What is the reason behind the man-animal conflict in your opinion?
Man-animal conflict arises because of unnecessary human interference in the habitat of wildlife. For example, Himalayan Black Bears are known for their fondness of food and they are great scavengers but only inside the forest ecosystem. When people surrounding the Park grow orchards nearby, the bears are tempted to visit which leads to chaos in the population. What we fail to understand is that unlike humans, wild animals don't have instincts to differentiate human-made boundaries and survive only as per laws of Nature. Hence, we must take extra care to avoid such situations in the future.
Have you ever participated in animal rescue? How long do you keep the wild in rehabilitation centres?
Yes, I have, many times. For cubs, it takes the time to find their mothers and once located are released as soon as possible. This is because a cub cannot survive alone in a jungle. For adults, though, the duration of stay is limited. After a proper screening, testing for injuries and medicating them for diseases, they are set free in their natural habitat. Studying animal behaviour is the basic factor in determining the health of the animal.
Is there any scope for students to research inside the Park? What are your views about this?
Many students from across the country are currently researching here in this National Park and I personally help them with any detail they might need, as do my colleagues and our Chief Wildlife Warden. There is still a lot to unveil in Dachigam, both in flora and fauna. It is best if people from our country work and discover new species here rather than foreign explorers. It will prove beneficial to the national scientific community.
What is your message to tourists as well as locals visiting Dachigam National Park?
We are here for your guidance and for you to understand whatever you have in mind but please take care of this Park. Sustainable tourism is my motto and I am always thrilled to welcome people of all categories as long as they respect what we protect here. Pollution of any and every kind is not tolerated. We should believe in a positive change. That is what has kept our Earth alive. Development and awareness about wildlife in particular and the environment, in general, is mandatory. This has to be provided at the elementary level in our future generations for the benefit of the ecosystem.
Quoting Mirza Ghalib, Mr. Nazir A. Malik, concludes this interesting and thought provoking interview:
Umar bhar hum yunhi galti karte rahe Ghalib
  Dhool chehre pe thi, hum aayina saaf karte rahe
Translation of the above quote (I have been wrongdoing my whole life, cleaning the mirror when it was my face that was a mess).
Interview by: Adeela Hameed and Bandanpreet Kour (Environment Protection Enthusiasts)
Written by: Adeela Hameed
Address: Jamia Market, Harwan, Srinagar, Jammu and Kashmir
LinkedIn profile link: https://in.linkedin.com/in/adeela-hameed-kuthoo-655976110
Email: adeelahameed1(AT)gmail(DOT)com, amritbani19(AT)gmail(DOT)com
Image credit: Cervus elaphus cashmeerianus