First Geothermal Power Plant in India coming up at Chhattisgarh
|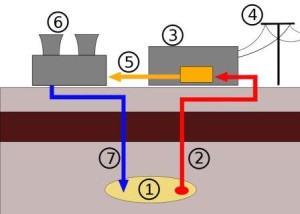 As per reports, very soon the first geo-thermal power project for India will be established in Tatapani, Chhattisgarh.
Chief minister Raman Singh, said that India's first geo-thermal power project would use underground hot water springs at Tatapani to convert it into steam, and then generate electricity by using special technology. "Ramanuj-Balrampur district has been formed with the objective to bring people of this bordering area closer to the government and administration, and thereby ensure effective implementation of public welfare schemes," he said.
Singh said the government had signed a MoU with Central government's National Thermal Power Corporation (NTPC) six-months-ago on February 16, for the construction of the power project. He said state's Renewable Energy Development Agency (CREDA) and NTPC are working jointly towards the implementation of the project.
The use is varied and can be used for electricity generation, heating, drying applications, melting of snow and ice  on roads in winter, sterilization etc.
Existing geothermal plants currently are generating electricity from 0.05$ to 0.08$ per kilowatt hour (kwh). India is said to have an estimated 10,600 MW of potential in the geothermal provinces.
Unlike traditional power plants, geothermal power plants use a renewable resource that needn't be imported. However, the initial costs are on the higher side because of exploration costs and the possibility of only one in many explorations resulting in a sustainable and useful reservoir. Read more on geothermal energy sources and its uses here.
Reference and further reading;