Foreign Investment Promotion Board clears proposal of ACME Solar Energy worth Rs. 275 crore
|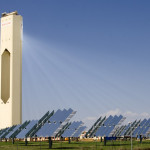 The Foreign Investment Promotion Board (FIPB) has cleared the proposal of ACME Solar Energy for foreign investment worth Rs 2.75 billion, the Finance Ministry said in a statement.
FIPB is a government body that offers a single window clearance for proposals on Foreign Direct Investment (FDI) in India. The government is bringing Foreign Direct Investment (FDI) in the country to bring more investment in the solar sector.
ACME is a solar power company providing solutions for Thermal, EPC Services, Roof Top / Distributed PV. It commissioned the first tower based solar power plant in Asia.
ACME solar is executing 15MW PV project in Gujarat.  In addition, ACME is one of the few companies that offer solar thermal power solutions. ACME's first 2.5 MW solar thermal power plant has been commissioned at Bikaner, Rajasthan.
The inherent advantage of a solar power tower is that the concentration of light onto one single receiver (the tower) yields higher temperatures. Read more on solar power towers here
Read more about solar technologies here
Read more on solar farming here
Image Credit – afloresm, Wikipedia