GeoOrbital Electric Wheel: How you can turn your bicycle into an electric one in 2 minutes
|
If you are tired of the slow pace of your bicycle, but can't upgrade to a car, there might be a product that can ease your commuting worries. The GeoOrbital Wheel is an attachable device which can be fitted into any regular bike and turn it into an electric bike within two minutes.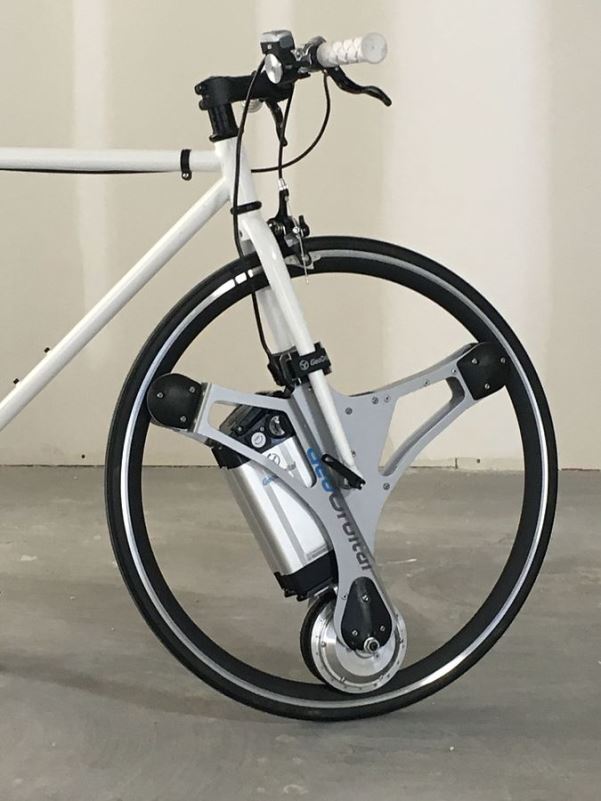 The wheel is a unique innovation that promotes a more sustainable transport option. The patented product is a unique self-powered device which can turn any vehicle into an electric one, simply by replacing the standard wheels. The wheel's body is made of aerospace-grade aluminum and its tires are made of flat-proof foam with rubber tread. It gives you a top speed of 20 miles per hour, thanks to its high-powered motors.
The team behind the GeoOrbital electric wheel comprises engineers who have previously been associated with companies like Ford and SpaceX.
Depending on the model, you can achieve a range of 30-60MI while pedaling. On the other hand, it gives you a range of 12-27MI when you are not pedalling.
One of the best parts about getting a GeoOrbital electric wheel is that you don't need any tools to install it. All you need is 60 seconds and the job is done. It is by far one of the easiest and quickest ways to convert a regular vehicle into an electric one. It comes with a removable and portable battery, which has a USB outlet. This way you can charge all your electronics on the go.
Ever been stranded in the middle of nowhere after a flat tire? You can forget about such worries if you opt for GeoOrbital wheel. Its flat-proof tires mean that you can easily cruise along the road without ever having to worry about a puncture or checking for pressure. The tire owes its sturdiness to a process, wherein a custom alloy rim was fused with a rubber outsole.
The wheel features a customized motor which is three times more powerful than regular brands. An added advantage is that this motor weighs less than your average motor powering a regular electric bike. The lithium-ion battery is high energy density and is long-lasting.
The electric wheel comes in three styles which are a perfect fit for 99% adult-sized cycles. The company also offers two sizes of the wheel – one in 26 inches and the other in 700C. The 26-inch variant is compatible with bicycles of the same size. It has a 500-watt motor and weighs 17 pounds. One can charge this wheel in up to three hours. It comes in six colours – silver, green, red, black, blue and white.
The 700C variant of the GeoOrbital electric wheel is compatible with 28 inch, 29inch and 700C bicycles. It is also powered by a 500-watt motor. Weighing 21 pounds, it can be charged in up to four hours.
Even using the wheel is very easy. You just have to clip on the throttle and go ahead and use it like a gas pedal. The harder you press, the faster you will pedal. Another exciting feature about the wheel is that it has a built-in computer, so you wouldn't need a special app on your phone to manage it.
The wheel is compatible with bicycles sporting rim brakes, however not the ones sporting disc brakes. However, the company said that they were working to offer that option too to their customers in the near future.
In case you want a better range in the future after buying the product, you can buy additional battery packs, as it is removable and exchangeable. The product can be used with standard locks used for locking bikes, hence, you do not have to worry too much about the wheel getting stolen. The battery locks to the wheel and you can unlock it using the same key.
You can exercise on your bicycle, even if you are using the GeoOrbit electrical wheel. You can do this by combining pedalling and motor power. The wheel also has a regenerative braking system.
All components of this product are water-resistant, so you can ride your bicycle come rain or sunshine. This electric wheel has been tested under a variety of terrains and weather, which includes grass, gravel, dirt, rain and snow. The front-wheel design helps you maneuver your way safely on slippery roads during rain. Even if the battery dies, you won't be stranded on the road. You will just have to pedal your ways.
The project was funded on Kickstarter. The team behind the GeoOrbital electric wheels, which comprises rocket scientists, experts and entrepreneurs from across the country, were initially flooded with orders even before the product hit the markets. They approached Kickstarter not only to keep costs down but also to ensure that the electric wheel becomes accessible to buyers at the earliest. The project had over 1,600 backers on Kickstarter.