How Can Clean Energy Contribute in the Efficient Use of CSR Budget?
|
The recently passed Companies Bill, 2012 mandates large organizations to spend part of their net profit on activities related to Corporate Social Responsibility. Renewable energy presents an opportunity for organizations to make investments in sustainability that will pay back quickly. Purchase of clean energy or investment in clean energy projects addresses sustainability goals in addition to meeting corporate obligations. Investment in Renewable Energy (RE) is therefore an investment in long term sustainability.
In August 2013, the President of India gave assent to the new Companies Bill passed by Lok Sabha thus replacing the old Companies bill of 1956. The new Bill mandates large companies to spend at least two percent of at their average net profits made during the three immediately preceding financial years on Corporate Social Responsibility (CSR). Companies need to earmark this amount in their budgets for the financial year. The Bill also provides a list of activities on which companies may spend their CSR budget.
Environmental Sustainability is one of the options for investing the CSR budget mandated by the new Companies Bill. This category aims to address the adverse social impact of wasteful energy use and carbon emissions. The cost of many clean energy technologies has now decreased enough to make investment in them viable for consumers. Clean energy sources can provide cost-effective power over the long term at predictable rates. Clean energy is also the most effective way to minimize Scope 2 GHG emissions (GHG/Carbon dioxide equivalent emissions from fossil fuel based electricity consumption). RE is an ideal venue for investors who seek stable, long term returns. For consumers, it provides a hedge against continuously increasing power prices. For companies with identified CSR budgets, RE provides a combination of cost saving and demonstrable positive impact on environment.
Renewable Energy – Economic Returns on Environmental Investments
Is Renewable Energy Viable?
India is dependent on thermal power for most of its electricity requirements. The availability and cost of thermal power depends on supply of conventional fuels (coal, gas). Apart from old long term contracts, the market for these fuels is increasingly being dictated by short term pressures of supply and demand. Thermal power producers now face a highly variable input scenario in contrast to demand for low cost and long term visibility from consumers – a gap that is hard to bridge today.
Cost Savings – Immediate Reduction in Power Bills
Wind and solar energy have no raw material cost, making them independent of availability of conventional fuels. Companies sourcing wind / solar power stand to save significant costs over the typical 20-25 year lifespan of such power plants. Visibility – Insulate Utility Budgets from Market Buyers and investors in RE can determine long term costs of power at the start of the sourcing period itself. They can lock in at identified prices, thereby hedging the rapidly rising costs of power supplied by DISCOMS. Financial Benefits – Shorter Project Payback Investors can avail benefits like accelerated depreciation, and ten year tax holiday that significantly reduce project payback time. This is often an important criteria for utility managers to justify investments in such projects.
How "Green" is Renewable Energy?
RE can help environment and sustainability managers address their goals efficiently within limited budgets.
Going Green – Reduction in Carbon Emissions
A large portion of carbon emissions from most companies comprises of consumption of grid electricity. Sourcing RE helps managers minimize organization Scope 2 emissions related to consumption of electricity from the grid and in some cases even Scope 1 emissions (where on-site solar power helps reduce use of diesel generators).
Address Business Sustainability Goals
Sourcing RE addresses important environmental targets set by organizations as part of their Business Sustainability Programs. Sourcing RE also diversifies input cost risk for energy intensive industries with substantial budgets for power purchase. It also pre-empts the risk of imposition of carbon tax through direct or indirect routes like Renewable Purchase Obligation (RPO). Strengthen Brand Image. The Carbon Disclosure Project (CDP) and Global Reporting Initiative (GRI) provide platforms for organizations to disclose their GHG and sustainability performance. CDP ranks leaders annually on the Carbon Disclosure Leadership Index (CDLI). GRI rates disclosure based on comprehensiveness of action taken by companies. Initiatives like Business Excellence and platforms for Industry wide recognition like the CII Sustainability Awards reward strong performers for their initiatives in sustainability and environment.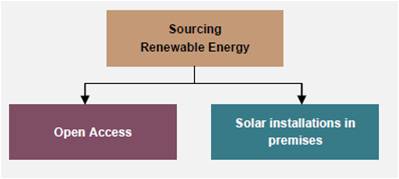 How to Source Renewable Energy?
Renewable energy can be sourced from on-site as well as off-site locations.
Sourcing renewable energy through Open Access: The Electricity Act, 2003 allows consumers to source electricity from RE power plants located at a site distant from the consumption point. Many companies are sourcing electricity from such off-site plants that are either owned by them (captive) or by a third party (Know more about Open Access mechanism).
Captive Renewable Energy: Consumers can source electricity through wind or solar power assets owned by them. Apart from tax benefits, they can avail exemption from some of the open access charges such as Cross Subsidy Surcharge and Additional Surcharge. Typical RE projects pay for themselves within five to six years.
Buying Renewable Energy: Consumers wanting to avoid upfront capital expenditure or those who do not want to add to their balance sheet can buy power from third party developers. Sellers may offer discount on the tariff offered by the Discom. Contracts may be signed for long durations of up to 20 years. This option lets consumers avoid fixed costs and make their cost of compliance variable.
On-Site Solar Power: Solar power plants are modular in nature and can be accommodated in limited spaces. Approximately 12 sq. m. is required per kW. A roof area of 1,200 sq. m. can accommodate about 100 kW which can generate approximately 1.5 lakh units of electricity per year. Consumers having unused flat roofs or south facing roofs with ample shadow free space can install solar plants. In terms of cost, energy from solar plants is at grid parity in a few States. On-site solar power plants avoid the need for extensive project implementation activities like land acquisition, evacuation infrastructure and security. Companies can invest in solar projects and avail additional benefits such as accelerated depreciation. Those not interested in investing may explore installation on Build-Own-Operate (BOO) / Build-Own- Operate-Transfer (BOOT) basis. Developers can offer consumers a fixed tariff or tariff with pre-determined escalation for the period of PPA. (Know more about rooftop solar)
Progressive organizations treat corporate social responsibility as an investment in their eco-system. Renewable Energy is an area where environment friendly solutions meet key business needs. Money is scarce in this challenging business climate where business managers try to conserve capital and minimize variable costs. For managers looking at avenues for cost reduction, RE is already cost effective compared to conventional power prices. For those with a long term view, investment in RE promises to address electricity requirements without compromising on internal hurdle rates. Renewable Energy is one of the few areas today where local business needs coincide with larger, national interests in limiting climate change and mitigating energy risk.
Disclaimer: This article is sourced from monthly newsletter of Agneya Carbon Ventures Private Limited. You can view original newsletter here.
Read more on Top Five States in India with Highest Renewable Energy Capacity  and  Top five states in India with highest installed electricity generation capacity.