How Halfbike is transforming urban commuting
|
Riding a brand new Halfbike is an experience in itself. One of the best things about this product is that it amalgamates running and cycling, which can be a great way to get some exercise and even just hopping streets. Halfbike is more than just a bicycle in terms of not only its dimensions but functionality too. The unique combination makes for great riding. Moreover, it's light and compact, which means that you can easily transport and store it.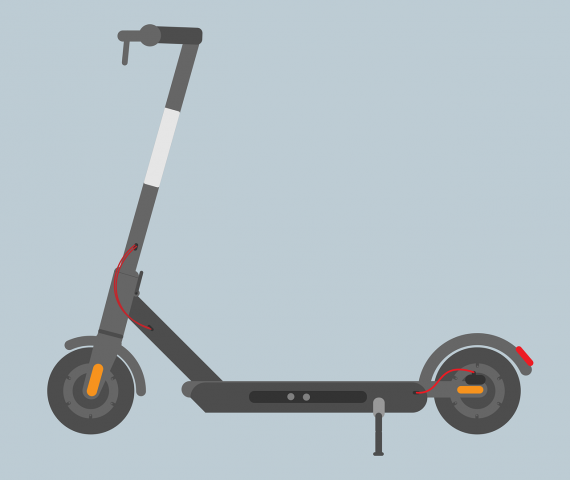 Halfbike is the brainchild of Bulgarian entrepreneur duo Martin Angelov and Mihail Klenov who jointly run the company Kolelinia. The Kolelinia team seeks to apply its shared vision about urban mobility to offer sustainable transport solutions to people. At first look, the vehicle might appear to be a crossbreed between a three-wheel scooter and an elliptical machine but offers much more than that. In his media interactions, Angelov has described a product as one which can fit in most places that might be too compact for a regular bicycle. These would include the trunk of your car and an elevator. For those fond of public transportation, you can easily lug Halfbike on a bus or train too.
The team chanced on the idea to create something like the Halfbike from its passion to optimize things and the entrepreneurs' love for bicycles. They started out with sketching different models for a simplified bike and then decided to test some of them. While testing some of the earliest prototypes, the team made do with old bicycles and discarded parts. Buoyed by the reaction of people to the prototypes, the team decided to keep at it.
As the project developed, the founders decided to hire a small team and the rest as they say is history. Halfbike's journey has been replete with experiments with designs, riding positions which led to the development of even more prototypes so that the team could achieve the level of control they wanted.
The Halfbike team has maintained that it believes in local manufacturing. The vehicle is manufactured locally using high-quality raw materials and components. The founders have placed a special emphasis on a minimalistic design that optimizes functionality. The frame and handlebar manufacturing are given due attention and undergo rigorous testing to ensure a safe riding experience for Halfbike consumers. The bike's frame is lightweight and is made from aluminum. It is laser-cut and hand-welded. Meanwhile, the handlebar is crafted using impregnated plywood. The remaining components are sourced from renowned manufacturing companies and are assembled with care at the Halfbike workshop.
If you are worried about riding this bike, be rest assured that it is extremely easy to do that. If you recall the first time you rode a bike, you would remember the excitement you felt while trying your hand at a new thing. Learning to ride the Halfbike would be exactly like that-a a new and exciting experience. All you need to do is follow your body's reflex and soon you will be easily maneuvering your way with the vehicle. While starting out, it is highly recommended that you practice with an empty open space and a smooth road or surface.
Once you get a handle over things, you will realize that the bike offers you a lot of room to challenge yourself and explore new horizons. It's perfect for a 'bike-jog' in the park on a Sunday morning or even for days when you feel like getting some fresh air but don't want to go for anything too strenuous.
If you are going out, you can also lock the bike. There are several loops attached to the handlebar and the frame. Using these loops, you can lock the bike to a fixed object using the ordinary cable lock that is available in shops. Its compact size and ease of storage make it easy to carry around as well. The vehicle weighs just 19lbs and its height is 47 inches. It's 16 inches in width and is 40 inches in terms of length. When you fold it, its height and length decrease to 24 inches and 42 inches respectively.
The Halfbike team claims that the bike can accommodate riders between the heights of 5 feet 3 inches and 6 feet 4 inches. Currently, the bike is available in three different sizes and features one gear. The bike's rear truck assembly is what makes the experience of riding a Halfbike so unique. It enables the rider to lean as one turns and the front wheel cants inwards as the two wheels at the rear remain upright to offer stability. It's the same principle used while riding a skateboard.
Halfbike is a unique product that makes your everyday commute not only more exciting but also eco-friendly. It is a great option for covering short distances, but when used along with public transportation can be used for the longer commute as well. Not to mention, the fact that it is light in weight and compact implies that you can easily carry it around.