How to Build the Perfect Deck
|
A deck is a versatile add-on to a house. It is perfect for family gatherings on warm and pleasant days. However, building a deck for your home can seem like a daunting task. It requires multiple days of work and making the right choices. You will have to choose everything from the type of wood you will be using to the seating area. Employing construction agencies can sometimes become unaffordable, and even if you decide to hire one, you need to understand all the processes that go into building a durable garden deck.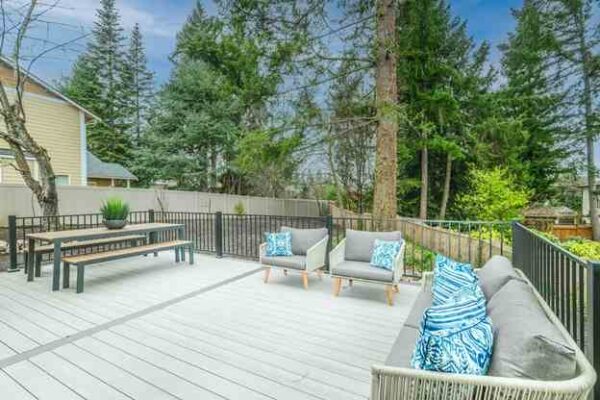 Here are tips for building a perfect deck for your home:
1. Scale Your Design
Decks come in various designs, shapes, and sizes. You can either go for the one-level deck, which is a standard version or get a multi-level deck. You can find inspiration from various websites for interior designing and on Pinterest.
The degree of elevation from the ground also varies for each tier, as per the homeowner's preference. You need to be clear on what you want before you begin construction. Your main level door may need to be reinstalled if the deck elevation is much higher than the ground level.
2.    Construct It During the Off-season
If you are on a budget for your deck construction and planning to hire someone for the construction, get the materials. It is your best bet to build your deck in the off-season. Off-season varies for each state and is usually everyone's time when the weather is not very agreeable. This is when the prices and demand are not high, and you may be able to find contractors. You can get the same deck built at much more economical rates, as the demand for material and labor is much less than in spring when everyone is looking to upgrade their house.
3. Use Wood
Using vinyl and composite decking may be tempting, as they look attractive and do not require much maintenance. Yet, wood is the most popular and economical choice for building a deck in this age. You can save a lot of money using wood for deck construction. You can get the right kind and quantity of wood from local manufacturers or suppliers, and even get second-hand wood from leftovers of any building in your locality.
4. Customization
A deck is an important addition to your home and will be a place of many memories with your loved ones. Customizing it to go well with your house design, color, and structure is essential. You can always opt for standard decks, but they may not look the best with every house. You can add plants and decor and choose carpets and chairs to compliment your style, making the space cozy and personal. You should also ensure good lighting for the nighttime hangouts with friends and family.
5. Don't Sacrifice Quality
Deck construction can be a great add-on to your home, but also an expensive one. It is important to weigh out all your options and suppliers for your material and construction to get the best prices. Deck safety is important and should not be compromised in an attempt to save cost. You need to ensure appropriate permits and inspections are completed. You can get Helical Piles for Decks to ensure the process is quick and durable.
Endnote
Building a deck may seem daunting at first, but it can be simplified with the proper guidance. Choosing a design, material, and an ideal time for construction is essential. These tips will help you get your dream deck at an affordable cost.
Author:
Catherine Park