Indian Pitta spotted at Aravalli Biodiversity Park in Delhi
|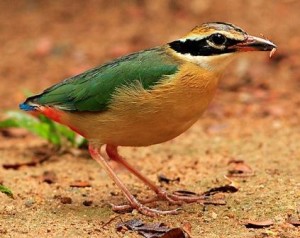 Indian Pitta, a small and colourful bird which is endemic was spotted at Aravalli Biodiversity Park in Delhi after 60 years recently.
A rare butterfly, Striped Blue Crow, was also seen for the first time at Aravalli Biodiversity Park.
Indian pitta is mainly found in the Himalayan foothills and Western Ghats in winters is mainly seen in closed canopy forest. The Indian Pitta (Pitta brachyura) is a medium-sized passerine bird.
Pittas belong to the family of Pittidate that has 32 species distributed throughout Asia, Africa and Australia.
It has a distinctive loud two-note whistle. The bird also has a habit of calling once or twice, often with neighbouring individuals joining in, at dawn or dusk leading to their common name of "Six-O-Clock" bird in Tamil.
The bird is also known as the Blue-Winged Pitta, the Bengal Pitta, the Painted Thrush and Navaratna in Hindi  because of it vibrant colours.
The bird sighting was last reported by ornithologist Usha Ganguli in her book A Guide to the Birds of Delhi.
Image Credit: nidhingpoothully, on Wikipedia