India's first batch of IVF Buffalo Calves born amidst lockdown
|
First case of twin buffalo calves in India using Assisted Reproductive Technology (ART)
5 buffalo calves were born through IVF technology pioneered by JKBovagenix (an initiative of JK Trust)
First case of IVF twin buffalo calves in India
JKBovagenix is playing a pivotal role in conserving the genetically superior breed of Indian Cows & Buffaloes in line with 'Rashtriya Gokul Mission'
Till date, JKBovagenix has been instrumental in establishing over 500 IVF pregnancies in cows
Initiative strengthens India's position as the leading dairy producing nation in the world
Mumbai: JK Trust announces India's first batch of IVF buffalo calves that took birth on a large Buffalo Farm located near Rahu, Taluka – Daund, District –Pune. This first of its kind initiative was pioneered by JKBovagenix, an initiative of JK Trust, a leading NGO working in the field of animal husbandry and is currently implementing "Cattle and Buffalo Breed Improvement Programme" throughout the country.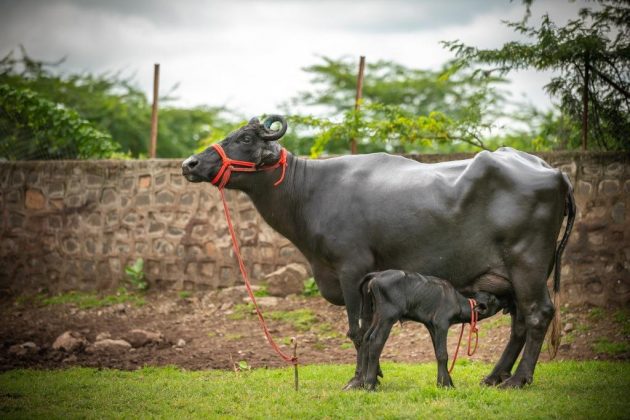 These 5 IVF buffalo calves which were born from 4 buffaloes on Sonawane Buffalo Farm near Pune also has the first case of twin buffalo calves born through IVF in India. These calves are of Murrah breed which is one of the world's most renowned buffalo breeds.
JK Trust, a social initiative of Raymond Group is successfully implementing various cattle breed initiatives that are in line with 'Rashtriya Gokul Mission'. The organization has been producing calves from cows through IVF and now has found success in producing calves from buffalo by deploying Assisted Reproductive Technology (ART). Commenting on this first of its kind achievement, Gautam Hari Singhania, Chairman & Managing Director, Raymond Group said;
"I am delighted with the milestone achieved by JKBovegenix under the aegis of Raymond Group to produce buffalo calves through IVF. This is one of its kind initiative that upholds the potential to give a significant boost to our national dairy production. It is imperative that in today's context we conserve our indigenous cattle and buffalo breeds, as the milk given by them contain higher nutritional value to fight diseases. Also, increasing the Indian dairy produce can usher in more growth at the grass-root level across Indian villages."

Gautam Hari Singhania, Chairman & Managing Director, Raymond Group
During the last year and half JK Trust has been pivotal for establishing 94 IVF pregnancies from a Gir Donor cow 'GAURI' in a span of 16 months (from April 2019 to July 2020). Out of 94 IVF pregnancies, 64 are at JK Trust's Farm and the rest 30 are at farmers' doorsteps. Till now, 39 Calves are born and remaining calves are expected to be born in the current year. This latest initiative is supposed to be a breakthrough in cattle
reproduction, as a cow normally produces a maximum of only 8-10 calves in her entire lifespan. This initiative will pave the way for rapid multiplication of superior female animals at a much faster pace.
Commenting on the successful birth of buffalo calves through IVF for the first time in the country, Dr. Shyam Zawar, CEO- JK Trust said;
"India has more than 109 million buffaloes that are 56% of the world's buffalo population.  India is also home to Murrah, one of the world's most renowned buffalo breeds and using Assisted Reproductive Technology (ART) in buffaloes can enable India to multiply the population of genetically superior buffaloes resulting in higher quantity milk yield. Though, In-vitro Fertilization (IVF) in buffaloes is comparatively difficult than cows, the latest Assisted Reproductive Technology (ART) needs to be popularized and should be used in buffaloes."

Dr. Shyam Zawar, CEO- JK Trust said
JKBovaGenix has been instrumental for first IVF calf in India from frozen IVF embryo (named as Krishna) on 9th January 2017.  JKBovaGenix initiative was launched by JK Trust in the year 2016, to reinforce their commitment towards Cattle and Buffalo breed improvement program in India and hasten the pace of breed improvement. After successful trials at their Cattle ET-IVF Lab located near Pune in Maharashtra, with a mission to bring this technology for the greater benefit of the Indian Farmers, the organisation established 4 Mobile ET-IVF Vans for the first time in India, which are reaching out to the farmer's door steps.
JKBovgenix's IVF facilities and the Cattle Breeding farm located near Pune is approved and recognized by the Ministry of Animal Husbandry, Government of India for imparting IVF training to officers of Embryo Transfer (ET) labs of various states of India.
About JK Trust
JK Trust is currently implementing "Cattle and Buffalo Breed Improvement Programme" through establishment and operation of 2,570 Integrated Livestock Development (ILDC) centers. Through these centres, they are providing breeding and other veterinary care services in 98 districts of 10 states covering around 25,000 villages having a reach of about 2.5 million farmers. From inception in 1997, till date, they have performed 17.62 million Artificial Inseminations and produced more than 4.2 million upgraded/crossbred calves. Additionally 53.82 million Other Veterinary Services (including castrations, dewormings, first aid treatments, infertility treatments and vaccinations) were also provided at the doorsteps of dairy farmers. Further, they have trained a total of 6423 AI Technician candidates at their Training Institute located at Gopalnagar in Chhattisgarh.
For further details, please contact:
Priyanka Kulkarni (Adfactors PR)
Contact: +91 9819393916