July 2018: Monthly Electric Vehicle News Roundup
|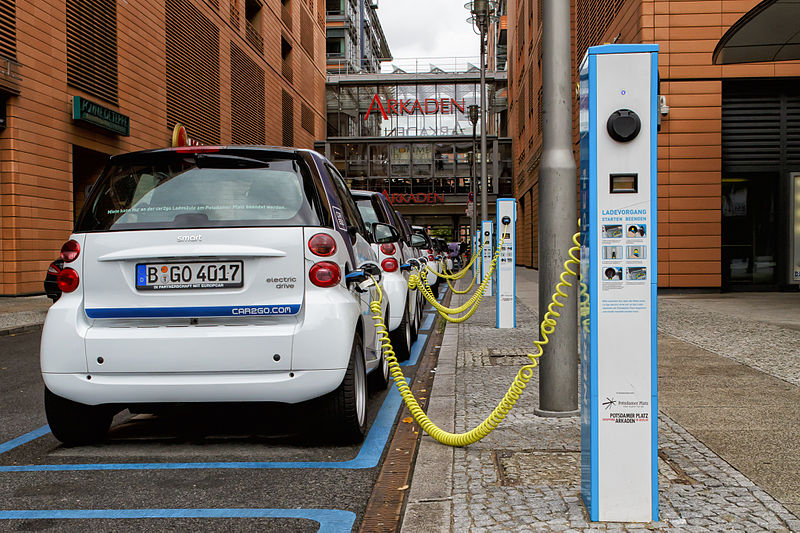 Jaguar land Rover deploys electric Vehicle
Having a partnership with China's Chery Automobile Co., Jaguar Land Rover has produced E-pace sports vehicle with great reliability. Interestingly, Jaguar land rover has tied up with China to produce the automated electric vehicle. With the great blend of increasing EV penetration and expectation on automated vehicles, we can expect a huge number of battery vehicles in the upcoming years. Since the demand for an automated vehicle has been increasing, the government of China promotes zero-emission vehicles to reduce pollution, to save renewable energy and for the betterment of the people.
Tesla deploys power pack projects in Samoa to save renewable energy
Tesla's earliest micro grid project was deployed in Samoa, which has doubled due to the generation of extra power packs. The microgrid project has been implemented in order to prevent pollution and to save all forms of renewable energy such as wind, ocean and thermal energy. With over 1.4 MW capacities of solar energy and 60-tesla power packs, Tesla had deployed the microgrid projects on the Tau Island in Samoa. The energy storage system provides electricity for 3 days and hence the need of polluting diesel generator has been reduced in the island.
Electric Vehicle Makers target the government to focus on Commercial Vehicle
Despite the fact that the government promotes private electric cars, people would like to focus more on the shared vehicle operators such as Uber, ola etc. Since ecommerce companies make use of these electric vehicle manufactures, some kind of external push is required in the Commercial vehicle space.  The incentives provided to the private cars do not fulfill the requirements of policymakers. Hence, they expect some growth in the electronic Vehicle sector, which can be traveled for long distance during the daytime. Hence, EV manufacturer group such as Hero group, Ashok Tata motors, and Ashok Leyland want the government to focus on Commercial Vehicle space and to provide a huge number of EVs in their fleet.
UK electric car drivers having to pay more at peak hours
British Car drivers have to pay extra dollars to power up their car during travel. Well, there are nearly 160,000 battery cars on UK roads, but the increasing plug-in cars have a huge impact on electricity during the peak hours.      If drivers top up the cars when returning home from work, it would burden the electricity network, which faces peak demand from 4 pm to 6 pm. To have this issue solved, an expensive upgrade to local electricity network is required. The best solution provided by Ofgem is to adopt smart charging method, where car owners could top up their cars at 5 pm; however, electricity would be powered up at midnight only.
Volta has raised 35 Million dollars for investing EV
With the ever growing demands of electric cars, a new model has been released by automaker giant, which is about to hit the market soon. Volta has raised 35million dollars from investors includes Activate capital and invenergy Future Fund. Also, 200 million dollars was raised by cleantech veterans includes Anup Jacob, David Lincoln, and Michael DeRosa.  The San Fransico based company has rolled out about 1,000 charging station at the peak area, which already provides battery                owner free power. It aimed the charging station to be reached to at least 2,000 by the end of 2018. volta encourages ad-supported vehicle charging to make use of this opportunity.
An ultra-fast Charging station is about to deploy in the U.S
Volkswagen Group Canada is about to set up electrify Canada, which will build an advanced, super fast charging station for plug-in battery cars in the United States. Electrify Canada aimed to build 32 ultra fast charging stations across Ontario, Alberta, Quebec and British Columbia. Moreover, it is expected to be operated from the second quarter of 2019. With the high capacity of 350 KW, a larger battery can be used up to 3 days. Electrify Canada, ON-based Company that will be tied up with local vendors in order to build, operate and promote the network. Having a user-friendly and technologically advanced charging network, Electrify Canada has tried to plan, implement and procure customer care to make sure that the electric vehicle drivers have access to these charging stations without any hassle.
An advanced Model 3 Battery Pack by Tesla
A great partnership between Tesla and Panasonic got an innovative way to evolve Model 3 Battery pack. The model 3 Battery Pack comes with 2170 cells, which produce 30% more energy when compared to its previous version. In addition to its existing features, the new one has been a small, powerful and more efficient battery pack for a long duration.  Experts said that Tesla's model 3 Battery is a real engineering marvel, which has an ability to produce the latest version of the comprehensive model by renowned groups include Jack Rickard, EVTV, and EV pro. When it comes to wiring, it just about 2.5 inches, far shorter than old model S battery pack. Additionally, high voltage aluminum Cables are used, where aluminum foils are shielded. The new model integrates BMS, includes fuses, voltage controller, connectors etc., this is why the wiring length has been reduced.
Audi is about to roll over Battery powered car by 2020
Rahil Ansari, head of Audi India has announced that Audi would launch the most expected battery Powered Car by 2020. Although Battery Car has been a demand in India, the government should make a clear-cut policy so that problems amongst vehicle manufacturers could be solved. Launching an electric vehicle can be easy but difficult when it comes to top up their vehicle in the peak hours. However, initial discussions on such central policy have not yet happened. The government policy would be a far better way to solve the charging issues, to help people know the basic infrastructure etc.
Oil industry reports against electric vehicles
Electric vehicles are more efficient and cleaner when compared to the conventional vehicles. Be it pollution, environment degradation, gas emission, electric vehicles are the best option. People would like to focus more on the electric vehicles, meanwhile the usage of conventional vehicles are seems to be reduced, which is why reports against electric vehicles are coming from the oil industry. It is powered up by electricity; therefore, people are most likely to get away from disease that associated with pollution such as asthma, lung cancer etc. In short, zero emission vehicles are far better than conventional vehicles.
China: Cuts in Electric Vehicle Subsidies
China finds cuts in electric vehicle subside. A single charge has an ability to travel atleast 200 kilometers. Incentives are also eligible at this rate.  Subsides have been key to support electric vehicles of top companies includes BYD co., which supports the Chinese consumer and helps the country to provide descent incentives. Interestingly, 6.64 Billion has been spent by the central government regarding the EVs. Chinese cities are decided to provide more incentive where automakers such as Ford Motor Co and Volkswagen are about to increase electric vehicles offerings.
Volvo Cars deploy hybrid, plug-in Evs in India
Volva Cars, Swedish Luxury Car Manufacturer is betting on hybrid, plug-in cars that run on conventional fuels. Volvo, automaker giant has been vigorously working on the electric vehicles to create some revolution in India. Volvo electric Cars are expected to be launched within 12 months and plug-in hybrid cars in 18 months. Charles Frump, MD of Volvo Cars India added that he focus. more on the launch parts and would launch XC90 SUV technology in the last quarter of this fiscal year. It is also belived that Volvo would stop making ICE model cars from 2019.
Shangai Electric Car Factory opened at Tesla
Being the prominent center of Chinese Automotive industry,  Shangai is blessed with new Electric car factory, which has an ability to produce 500,000 cars per year. China has been a talented nation that receives genuine capital invested by some top automakers in the advanced automotive industry. Tesla is to roll off its first car after construction work begins on the factory. Production will be around 500,000 electric vehicles per year.  Tesla Model 3 hits it 5,000-week production goal recently and it expect positive cash flow this year.
Tesla has increased the price of its feature
As per the reports, testla increased the price of some features that do not even exist. Tesla's online configuration list the price of its feature from the self-driving capacity to software updates. Although self-driving capacity was 5,000 dollars, tesla decided to have a huge price jump.  Once Tesla upgrades the Ev software, it will be enabled for the premium owners who enjoy full self-driving capacity. Moreover, tesla has increased the purchase price for the existing owners who did not get their upgrades from the factory.
Electric Car requires Iron trifluoride to be better
A new cathode based battery has created by the researchers at the University of Maryland.  Researchers said that it is more powerful and thrice the energy density of conventional lithium ion batteries. In a  Journal Nature Communication article, they explored that how they use the inherent ability of iron trifluoride to absorb lithium ions.  Moreover, it reveals the way oxygen and cobalt are added to iron Trifluoride to make it absorb and release lithium ions.
UK launches road for electric Vehicles
With the aim of speeding the adoption the Evs, Chris Grayling, British Transport minister introduced some comprehensive package of laws. It is believed that this package will make some changes includes, prohibiting sales of diesel and gasoline cars and opening new charging stations at home & work. An incentive of 534 Million dollars offered to build charging stations across the country. A strategy has implemented to find if cars have easy access to the chargeable port.
Tomahwk: World first Electric sports car
Inteprid entepreneurs from quebec has developed Tomahwk, world's first electric sports car, which comes with advanced version of scissor door, 2+ 2 seating, battery pack etc. It provides easy access for rear seat passengers. Mike Kakogiannakis, COO of Dubuc Motors said that they strived to push the unwanted limites and ready to offer things. Generally, sports car are likely to be an emotional vehicles, thus Tomohwk observes it perfectly and comes with the great look and sense. A long lasting battery of 110 KW is equipped in order to access the ultimate mileage. In addition to this free Wi-Fi, hotspot and hands-free voice command are equipped.
BMW to set up electric minis in china
BMW has tied up with Great wall motor to build electric minis in China. The German carmaker has announced that china is ready to build the zero emission electric car vehicles by 2019. According to Reuters, mini electric car factory makes nearly 360,000 compact cars per annum at the Oxford Plant. China develops many policies to attract the carmakers to their areas. China has already surpassed the United States and become the best electric carmaker in the fast growing market.
Huge Number of BMW cars sold out in June
BMW enjoys huge sales of plug in battery cars in June and has reached its monthly target. According to the report 13,806 electrified BMW vehicles were sold out, which is nearly 47.6% more than its previous year sales. The total volume of sales is also increased upto 5.8%. With over 60,660 sales in the initial 6 months, it has reached its target of 140,000 sales in the year 2018. A study published by the International Energy Agency and Clean Energy Ministerial has revealed that the electric vehicles are more likely to reach 125 million by 2030.