Kits Écohabitation: Architecture Meets the Prefab Housing Market
|
Ecological housing designs signed by talented architects
Montréal, Canada, 2019-11-01
Hiring an architect in Quebec is not mandatory, contrary to European countries. And unfortunately, it shows! L'Association des architectes en pratique privée du Québec (Quebec association of architects in private practice) in a 2007 study revealed that residential projects represent only 12% in sales revenue of its members as per information available from v2com.
Écohabitation, reaching nearly 125 000 readers each month, is very aware of the challenges faced by homeowners and developers that aspire for architecture, high-energy efficiency, a turnkey solutions to sustainable housing. Other dilemmas include: the price point, the high level of technical complexity, the selection of professionals, etc. Écohabitation developed the Kits concept in order to combine smart design, high environmental performance and affordability into ''plug and play'' option for homeowners or builders.
As a reference organization in the green building sector, Écohabitation teamed and trained leading architecture firms and prefab home manufacturers. After two years of development, six models of architect designed, prefab and ecological houses are being launched.
Affordable architecture
How to bring design by architects into the Quebec's built landscape on a larger scale? With the efficiency of prefab construction! Kits Écohabitation gives access to homes designed by renowned local architecture firms. Each kit is reproduced multiple times, allowing a lower selling price. And the concept ensures the architects are properly compensated for their designs.
The result: a variety of houses designed for our climate. The Kits Écohabitation are adapted to Québec's Nordic climate. It brings a breath of fresh air to Québec's housing sector.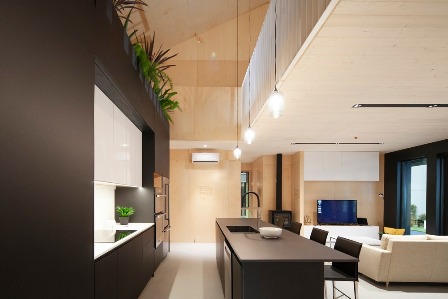 Energy performance, a standard
Heating a house for less than $500 per year is a technical challenge. The shell of each of the Kits consume a third of heating needs compared to a comparable house, making extreme energy performance a standard.
To address financial challenges pressuring buyers to abandon high-energy efficiency measures, the Kits are ready to built and fulfill criteria of LEED V4 and Novoclimat certifications.
Turnkey sustainable housing
Passive house, window/floor ratio, radiant heating, hiring an architect or not? Individuals, and developers solve a thousand of questions in order for their projects to come to light. A real headache for the newbies!
The Kits make the whole process easier: the models are delivered fully sealed and watertight on the construction site and anchored to the foundations. When choosing the turnkey option, buyers can benefit from an affordable interior design with local and healthy (VOC-free) materials, thanks to economies of scale!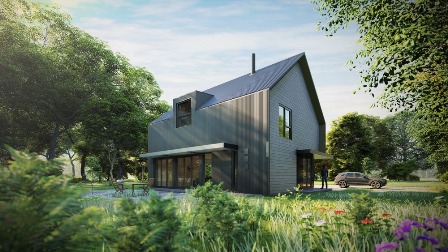 Six models available and ready to build:
SINGLE-FAMILY HOMES AND COTTAGES
L'Abri 1850-BV, Studio MMA and Bâtiment Pré-Fab
Eco-Habitat S1600, PARA-SOL and Bâtiment Pré-Fab
La Charlevoix, Maryse Leduc architecte + designer and les Constructions Signées OC.
PLEX et MULTIPLEX
Série M, L. McComber and ÉNERGÉCO Concept
MINI OR SMALL HOUSES
Le Refuge S500, PARA-SOL and ÉNERGÉCO Concept
L'Abri 1150-SV, Studio MMA and Bâtiment Pré-Fab
About Écohabitation
Écohabitation is a not for profit organization facilitating the emergence of healthy, affordable, resources and energy efficient and sustainable housing, accessible to all. The organization conducts promotion, awareness, training and consultancy activities for the general public as well as the housing sector stakeholders and decision-makers.