March 2019: Monthly Electric Vehicle News Roundup
|
1.Laws updated to fight air pollution
In a bid to reduce air pollution India aims to electrify 25% of its transportation by 2030. Following this, the Union government has amended the laws to allow conventional vehicles to be converted to hybrids or Electric Vehicles (EVs). The notification gives guidelines and specifications that the modifications should confirm to. These are divided into 3 categories -for hybrid conversion of vehicle weighing up to 3.5 ton, weighing above 3.5 tons and pure electric conversions. Additionally, Centre has allowed private charging besides having plans to set charging stations every 25 kms on both sides of roads and highways.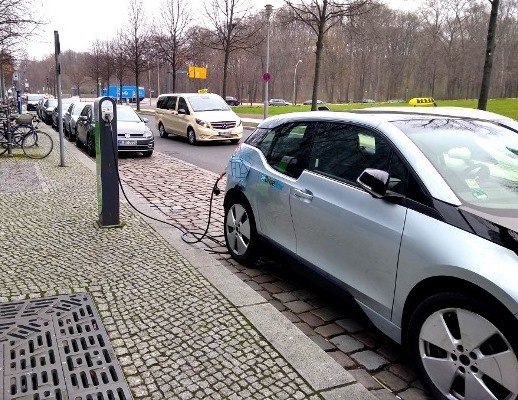 2. M&M plans to continue focus on EVs
According to Managing Director Pawan Goenka of Mahindra & Mahindra (M&M), the company plans to convert its current vehicles to EVs in the short run and is looking at platforms ground up for EVs. The company is not betting big on personal use of EVs but looking at commercial side. It is in the midst of deciding on two platforms, one compact SUV and other battery EV with Ford. Though the FAME II scheme provides support for strong hybrids, M&M would continue focus on EVs for now says Goenka. In the next 24 months, 2, 3 new product launches are expected from the company.
3. Ola's Rs. 400 crores investment for Ola Electric Mobility
Ola, the cab-hailing company has raised Rs. 400 crores the first exclusive round of funding from external sources for its EV venture Ola Electric Mobility. Ola started its EV pilot in 2017 however as per report by Reuters, Ola's Nagpur EV pilot has not been successful. Infrastructure for electric mobility seems to be the major roadblock. While Rs.400 crores may not be sufficient for creating the infrastructure, Ola says this is first round of funding and more could follow. The government also intends to provide incentives and scheme for EVs.
4. Tata Motors signs MoU with Wise Travel India
Tata Motors announced signing of MoU (Memorandum of Understanding) for deploying Tigor EV to Wise Travel India's fleet in New Delhi and has handed over its first batch of vehicles to the latter. Tigor EV has been recently awarded the 'Electric Car of the Year' by Assocham India. According to the Electric Mobility Business and Corporate Strategy President Shailesh Chandra, Tata Motors will work towards bringing aspirational e-mobility solutions for customers and lead the drive towards fast EV adoption in the country. The company will also furnish 255 e-buses to six state transport undertakings in the country.
5. Volkswagen's ~US$50 billion investment to challenge Tesla
Three years after the diesel emission scandal, Volkswagen (VW) has announced US$49.7 billion investment to challenge Tesla. This investment representing about a third of its planned expenditure over 2019-2023 period would be on e-mobility, autonomous driving, new mobility services, vehicle digitization, plants through 2023. While VW staged the world premiere of its electric ID.BUGGY at Geneva Motor Show, Tesla, the main competitor for all auto makers venturing into EV said that its US$35000 Model 3 is available and the base model 3 is expected in around 6 months in Europe.
6. Approval for National Mission on Transformative Mobility and Battery Storage
Approval for setting up of National Mission on Transformative Mobility and Battery Storage has been given by the Union Cabinet chaired by PM Narendra Modi. This is expected to encourage manufacturing EV batteries locally which could help in reducing the EV costs. Earlier cabinet approved, FAME II scheme which would be executed over 3 years from April. According to Sohinder Gill, Director General, SMEV (Society of Manufacturers of Electric Vehicles), FAME II has very stringent criteria for subsidies and made in India lithium-batteries could reach those levels quickly.
7. $13.8M in stock issued for improving EV deliveries – Tesla
In a move to improve its logistics and delivery services, Tesla issued $13.8 million in stock to buy trailers, trucks from Central Valley Auto Transport to transport its EVs to customers. The statement within securities filing stated that this was part of its logistics strategy to reduce transportation time and timeliness of deliveries. According to the statement, Tesla shares are registered pursuant to registration rights approved to the selling stockholder related with the acquisition.
8. White House proposes vehicle Tax credits elimination
While major automakers have been lobbying Congress for extending the tax credit that phases out when companies reach the 200,000 vehicles mark, the White House proposed eliminating this $7500 worth tax credit which could save around $2.5 billion for the U.S. Government over a decade. For Tesla and General Motors which have already hit the 200,000 mark, the credit for buyers is reduced to $3750 then goes down to $1875 before completely disappearing. Trump Administration plans to end all the subsidies including that for electric cars, other related items like renewable energy sources. The $4.7 trillion budget seeks to slash funding for foreign aid and State Departments and increase spending on military and border wall.
9. Phased hikes on import duties of EV parts
To promote domestic manufacturing of EVs, the government has notified phased customs duty increase on EV parts assembled in India to 15% from April 2020. This notification is under Phased Manufacturing program (PMP) and entails customs duty on completely built units to 50%. To promote mass adoption of EVs through FAME II and other such schemes, the basic customs duty on parts used in manufacturing would be raised from 0% to 15% and battery packs will see increase from 5% to 15% while lithium ion cells used for manufacturing will be doubled to 10% from April 2021.
10. Tritium DC fast chargers for Indian subcontinent
India's leading auto-component conglomerate Tata Autocomp Systems has signed a Memorandum of Understanding with Tritium to supply the latter's DC fast chargers to the Indian market. This coincides with India's FAME II scheme which proposes support for setting charging infrastructures in India. Currently Mahindra and Tata are the only two local manufacturers of EVs in India, but this is expected to change as Suzuki, Hyundai, Nissan, Kia vehicles are expected to hit markets soon. The company which anticipates good numbers in first year, expects the business to grow with increasing EV demand in India.
11. Colorado Clean Pass Act for EV drivers
One state lawmaker has introduced Colorado Clean Pass Act, which allows EV drivers to use HOV lanes for free and the express lanes at half price irrespective of number of passengers in the car. $35 is what the drivers would have to pay when registering their car to get transponder. According to Democrat Rep. Alex Valdez representing Denver, they want to spread the word for these green cars which besides having lower operating costs are good for environment too. This bill which has passed the first committee is estimated to cost the state around $2 million.
12. Leaf first electric car to cross 400,000 mark says Nissan
Japanese car giant Nissan has said that since the launch of its compact hatchback Leaf in 2010, over 400,000 cars has been sold making it the first in the electric car category. It has estimated annual saving of 3.8 million barrels of oil from this. Electric Cars are becoming the choice of many drivers nevertheless it still faces range and charging infrastructure challenges. For instance in US, there are less than 21000 public charging stations and that too equipped with 240 V AC plug. Remedy efforts are in progress, like the City of Edinburgh's Transport and Environment Committee has approved rapid, fast, slow charger installation around the city which is expected to happen between January and December 2020.
13. Tata Altroz first Tata Car on ALFA
At Geneva International Motor Show 2019, Ratan Tata unveiled the Tata Altroz. There were two variants, the petrol/diesel version which is expected to be launched in 2019 and the EV which is a concept but anticipated to be launched later next year. This is the first Tata Car to be based on ALFA (Agile Light Flexible Advanced) Architecture, the platform which accommodates multiple body styles, power trains besides optimizing the cabin space and providing plenty of boot space. Hybrid Altroz is also a future possibility as it could help ally people's battery related fears. With FAME II scheme providing subsidy up to Rs. 2.5 lakhs for electric, hybrid car buyers, the sales of these are expected to boost.
14. All electric car for ~$40000 from Fisker
Renowned designer Henrik Fisker's new electric startup Fisker plans to unveil new all-electric car for ~$40000 as per the CEO. Last year Fisker had unveiled its all Electric EMotion with claim of 400 miles on single charge. Now Fisker claim that they have a new battery technology developed for their new vehicles. They also claim solid-state battery technology for Electric cars with 500 miles range and one minute charging. But the startup is yet to bring its EMotion and its battery technology to the market. It expects pilot line and vehicle texting by next year, however it is unclear if this would involve the new vehicle.
15. Toyota finds making Hybrid cars more suitable than making Electric cars
While many automakers are moving to all-electric, Toyota does not have even a single all-electric car in pipeline. It claims the limited battery production capacity to be the reason behind this and says that it has chosen to manufacture 1.5 million hybrids instead of 28000 electric vehicles a year which reduces the carbon emissions by a third more than selling 28000 EVs. While these 'fuzzy math' seem to rely on questionable assumptions, the company seems to be losing its Prius drivers to Tesla. However its decision to invest on hybrids and bet on fuel cells in long term seems to be the reason for it not making all electric cars.
16. Mission to the Moon on Electric Lunar Rover
Toyota, the Japanese carmaker is partnering with Japan Aerospace Exploration Agency (JAXA) and planning to have a lunar rover capable of carrying two astronauts on the moon in 2029. The astronauts can live there, that too without having to wear their spacesuits. Toyota is considering fuel cell technology for this rover as it would allow thousands of miles of travel on moon. Moreover the rovers are not expected to be very kinetic in space. The vehicle still a concept is expected to be 6m x 5.2 m x 3.8 m with 13 cubic meter sized cabin.
17. Home charging of EVs gets easier as Kia and Amazon team up.
Amazon and Kia have entered into a partnership and now Kia EV buyers can order home charging units and schedule installation with licensed local electrician through Amazon. Kia is second after Audi in partnering with Amazon to sell electric charging stations. More automakers are expected to join Amazon as it makes its way into the EV market. However there are good chances Tesla may not be one of them as Amazon had earlier invested $700 million into Rivian, Tesla competitor.