National Waterway-4 project launched in Tamil Nadu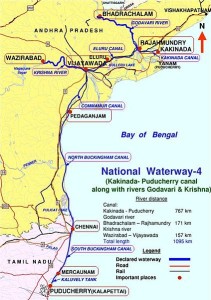 The Union Government has launched the project for the development of the stretch of 37 Kilometer of the National Waterway-four (NW-4) between Sholinganallur to Kalpakkam in South Buckingham Canal in Tamil Nadu. The project was launched on 24 January 2014.
 NW-4 covers a total length of 1078 Km consisting of Kakinada-Puducherry canal systems integrated with Godavari and Krishna Rivers.
Main components of the project include dredging and excavation to develop navigational channel, construction of three terminals and navigational locks, replacement of one existing bridge at Kelambakkam, and installation of navigational aids.
The project is expected to be completed in two years with 123 crore rupees.
The project will ease out the transportation problems in Chennai suburbs to a great extent besides promoting tourist movement to important tourist spots at Mahabalipuram and Puducherry.
Other stretches of the National Waterway-4, which covers the states of Andhra Pradesh, Tamil Nadu and Puducherry, would also be taken up for development subsequently.
National Waterway 1:  Will start from Allahabad to Haldia with a distance of 1620 km. The NW 1 runs through the Ganges, Bhagirathi and Hooghly river system. It will be the longest National Waterway in India.
National Waterway 2: stretch on Brahmaputra River from Sadiya to Dhubri in Assam state.
 National Waterway 3: from Kollam to Kottapuram. The 205 km long West Coast Canal is India's first waterway with all time navigation facility.
National Waterway 4: connects Kakinada to Pondicherry through Canals, Tank and River Godavari along with Krishna River.
National Waterway 5:  connects Orissa to West Bengal using the stretch on Brahmani River, East Coast Canal, Matai River and Mahanadi River Delta.
National Waterway 6: It is the proposed waterway in Assam state and will connect Lakhipur to Bhanga in river Barak.