ISA's first assembly launched
|
The first assembly of International Solar Alliance, ISA was launched by the Prime minister, Mr. Narendra Modi at Vigyan Bhawan. Mr. Antonio Guterres, the United Nations Secretary-General also graced the occasion which coincided with the opening of second IORA Renewable Energy Ministerial Meeting and the 2nd Global RE-Invest (Renewable Energy Investors Meet and Expo).

Mr. Modi mentioned that apart from conventional renewables such as Solar and Wind power, India is also working on tapping biofuel, biomass and bio-energy sources. He stressed that unabated supply of power can be assured if the vision of "One world, One sun, and One Grid" is shadowed. The Prime minister plans to kick off a National Energy Storage Mission that will survey industrial processes, placement, technology development, and program structure.
ISA i.e. International Solar Alliance is an association of 121 solar reserve abundant countries positioned completely or partly between Tropics of Cancer and Capricorn. The treaty was launched in Paris on the 30th of November in 2015 by Prime Minister Mr. Modi and the then premier of France, Mr. Francois Hollande bordering on the 21st Conference of Parties (CoP 21) to the United Nations Framework Convention on Climate Change. On the 15th of November 2016 in Marrakech, Morocco the ISA Framework Agreement was launched for endorsement as a side event to CoP-22.
ISA's vision and its aim is to give a committed launch pad for agreement among solar resource-rich countries, the worldwide shareholders, including the two-sided and multi-faceted organisations, corporates and industry to optimistically contribute in assisting and helping to achieve the common objectives of increasing solar energy usage to meet the energy needs of potential ISA members in a reliable, easy, affordable and continual manner.
In agreement to ISA Framework agreement on 6th December 2017, a month after the approval from the 15th country, ISA became the first matured agreement based global body with its head office in India. The collective goals shared by the member countries of ISA include: (1) to tackle issues that block the fast and substantial scaling up of solar energy, (2) to drive innovative and sustained efforts for waning finance and technology costs and to enable prompt deployment of competitive solar generation and (3) by 2030 to mobilise greater than 1000 Billion USD of investments. Till now the Indian government has disbursed 145 core out of the Rs 175 crore that it had committed for setting up ISA. This money is used towards building a corpus fund to aid infrastructure development and for managing daily costs.
An adoption in the launch Conference of the ISA, the Delhi Solar Agenda, mentions that the ISA member countries have come together to drive a larger percentage of solar energy in their respective energy consumption and thereby help in handling the global challenges of climatic variations and also providing a cost-effective solution through support, deployment of policies and active participation by all the stakeholders.
70 out of a total of 121 potential member countries have signed the ISA Framework agreement. The treaty has been approved by 44 countries.
As an ultimate deciding group of ISA, the Assembly would spearhead the process and judge upon various administrative, financial and programme related roadblocks to achieving renewable energy at affordable rates. With respected ministers from ISA countries invited for the assembly, the countries that have confirmed support to the ISA Treaty Framework will join as members, while the countries that have signed but are yet to ratify will join as observers. The 75 country delegation which has confirmed participation include 36 members, 24 observer and 12 potential member nations and 3 partner countries. Ministerial involvement has been pledged by 22 members, 10 observers, and 3 prospective nations.
IORA or Indian Ocean Rim association was established to strengthen regional cooperation as well as to continually develop region within the Indian Ocean territory with 21-member states and 7 dialogue allies. India, one of the 21-member countries that include Australia, Iran, Indonesia Thailand, Malaysia, South Africa, Mozambique, Kenya, Sri Lanka, Tanzania, Bangladesh, Singapore, Mauritius, Madagascar, UAE, Yemen, Seychelles, Somalia, Comoros and Oman is holding the 2nd IORA Renewable Energy Ministerial meet where ministers from 9 member nations and delegates from 21 member nations are expected.
The objective of the 2nd RE-INVEST is to speed up the global push to augment reusable energy and associate the Indian energy stakeholders and members of the international investment group. A three-day seminar on clean, renewable technologies and energy choices for future is planned in this forum. For the renewables-related manufacturers, stockholder, designers, and reformers an expo is also planned. This expo planned in India, one of the global leaders in renewable energy, will provide a huge opportunity to different nations, states, business houses and associations to demonstrate their efforts and visions and will facilitate collaboration with the nation's key stakeholders.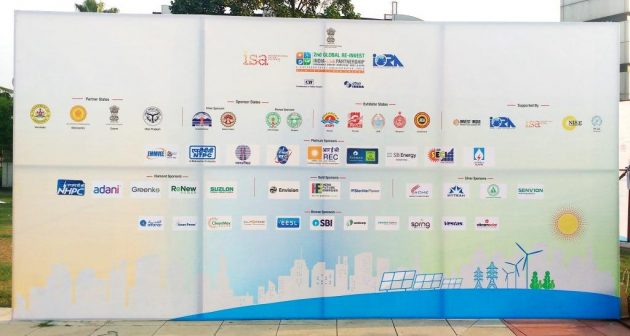 The 2nd Global RE-Invest, which will build on its success of RE-Invest 2015, with an even ground for established players as well as for new investors and entrepreneurs, would explore visions for development and deployment of renewables in the global market to meet demands through social, economic and ecologically viable methods.