MARPOL – An International Convention for the Prevention of Pollution from Ships
|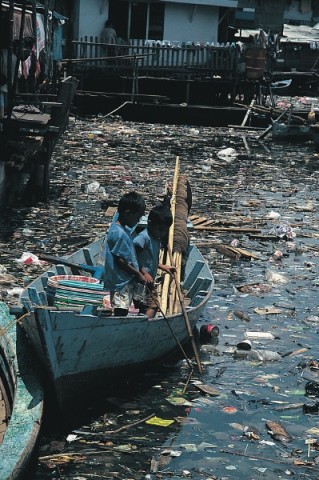 Marpol (Marine Pollution) is the International Convention for the Prevention of Pollution from Ships, 1973 as modified by the Protocol of 1978. 73/78 refer to the years 1973 and 78.1
Marpol is an important marine convention that deals with marine pollution. One of the problems with marine pollution is that vast areas of the oceans are not under control of any one country. While conventions such as the Basel Convention prevent trans-boundary movement of hazardous wastes, in case of maritime issues, it is difficult to demarcate clear cut boundaries.
One of the earliest attempts for maritime protection is the UN convention on the law of the sea (UNCLOS)2 which also has a number of environmental measures including prevention of oil pollution and prevents deliberate dumping of harmful materials. But to provide more specific pollution prevention and protection measures even beyond national maritime boundaries, Marpol was evolved. It can trace its origin to the UN convention on human environment.  Under Marpol, all ships carrying flags of countries that are parties to the convention must adhere to its requirements.
A brief overview of Marpol is given below-
| | | |
| --- | --- | --- |
| Annex I  – for the Prevention of Pollution by Oil *Covers areas such as oil spills, double hulls made mandatory for oil tankers. | Annex II – for the Control of  Pollution by Noxious Liquid Substances in Bulk  *Covers the criterion for discharge, not permitted in case of 12 miles within land. | Annex III – for prevention of Pollution by Harmful Substances Carried by Sea in Packaged Form Covers areas such as detailed standards on packaging, lists substances that are regarded as harmful. |
| Annex IV – for Prevention of Pollution by Sewage from Ships  Covers sewage pollution. Also categorises special areas such as Baltic sea. More requirements for special areas under the convention. | Annex V – for the Prevention of Pollution by Garbage from Ships Covers pollution from disposal of garbage. Plastic disposal is completely banned. | Annex VI – for the Prevention of  Air Pollution from Ships Prescribes limits for sulphur oxide and nitrogen oxide emissions from ship exhausts. Emissions of ODS (Ozone depleting substances) have been banned. |
*Annex 1 and 2 are mandatory while the rest are voluntary in nature.
Maritime boundaries are much vast than land boundaries and oceans almost cover 70% of our planet. There is an abundance of biodiversity in these marine areas which sustain a number of food chains. Marine resources provide direct food, oxygen and also play a moderating affect to the global climate change.
Accidental spillage of oil from ship tankers is perhaps the most visible source of pollution and for long, a need has been felt to tackle it affectively. While there are a number of treaties as far as river waters sharing by riparian parties is concerned, the same in case of oceanic waterways is not very comprehensive. This is why Marpol is significant as it is a global effort in reducing pollution and provides protection to our marine resources.
References-
 1. http://www.imo.org/About/Conventions/listofconventions/pages/international-convention-for-the-prevention-of-pollution-from-ships-(marpol).aspx
2.http://www.un.org/Depts/los/convention_agreements/texts/unclos/closindx.htm