May 2019: Monthly Electric Vehicle News Roundup
|
1.Tesla: Shortage in Electric vehicle battery minerals expected -sources
According to sources, Sarah Maryssael Tesla's global supply manager for battery metals told a closed door conference of miners, regulators, lawmakers that owing to underinvestment in mining sector, Tesla expects global shortage of minerals like nickel, copper, etc which are key to make electric vehicle batteries and other parts. More copper is needed for EVs and this consumption is expected to increase manifold in the future. It is notable last year Australia and US signed a preliminary deal for research and development of minerals considered critical for US economy.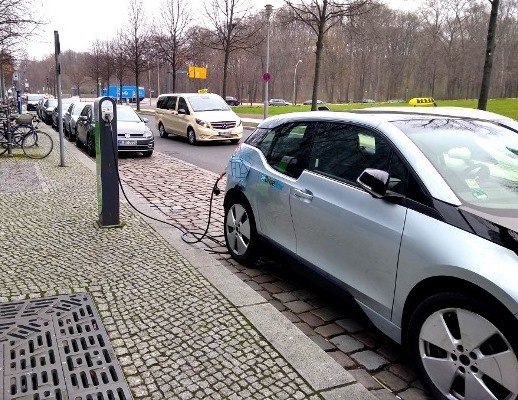 2. Electric two wheeler sales take a hit
Following requirement for re-certification of vehicles under FAME II, the electric two-wheeler sales have come to almost a halt after announcement of the scheme. The OEMs are now required to get the models certified from recognized testing agencies like ARAI, to be eligible under FAME II scheme. The manufacturers say that they did not have enough time for this as these agencies take 2-3 months for certification process. Besides this, they also have to meet the 50% localization norms to get subsidy. Many feel that the FAME II scheme has only made vehicles costlier by Rs.10,000-20,000 and increased gap with petrol powered scooters.
3. BHEL and ARAI sign MoU to cooperate on e-mobility projects
BHEL, the engineering and manufacturing major and ARAI have signed a Memorandum of Understanding to cooperate on e-mobility projects where BHEL's strength as technology developer and ARAI's expertise in design, testing, certification of mobility products and its advanced facilities will be combined to bring innovation in electric vehicle chargers, electric and trolley buses, battery, charger testing . BHEL which is involved in setting up EV charging stations along with central monitoring system featuring mobile app is in talks with Australian business Libcoin for establishing 1 GWh production capacity lithium-ion battery plant in India.
4. Telangana's EV policy announcement after model code of conduct period
The electric vehicle policy of Telangana state is ready but will be announced after the end of model code of conduct period for General Election. This policy seeks to address issues from State perspective while complementing the Center's FAME II scheme encouraging EV adoption. Telangana plans to create an environment encouraging EV and related infrastructure. Earlier Telangana State Electricity Regulatory Commission created a separate electricity consumers category providing separate tariff structure. EV charging stations are planned at metro stations, key locations, airport, etc. The state's road transport corporation plans to add more electric buses to the existing 40+ electric buses and deploy them in more routes.
5. M&M stops production of electric car e2oPlus
As per reports, Mahindra Electric Mobility, the EV arm of M&M has produced the last unit of e2oPlus, India's first electric car model based on Reva platform and has stopped further production of model as it plans to reorient the electric hatchback segment. While the model would be sold in neighboring countries like Nepal, in India, it would be replaced with KUV100 electric version. Mahindra acquired controlling stake in RECC to gain hold in electric car market but the model failed to make an impact owing to high acquisition costs, uncertainty over EV policy etc.
6. Swiggy pilots EVs
Food delivery major Swiggy which introduced mechanical bicycles to its fleet two years ago has now announced that it is piloting EVs in 10 cities across India as part of eco-friendly, sustainable efforts for future. It claims that this could reduce running costs by up to 40%. It is testing EVs from many logistic providers. It is notable that last year its delivering partners in Delhi, Lucknow, made deliveries on e-rickshaws. Its rival Zomato had also earlier announced conversion of 40% of its fleet into bicycles and e-bicycles in next 2 years.
7. Himo T1 electric bicycle from Xiaomi
Xiaomi is a popular brand for smartphones but the company has more to its product line up which includes smart TVs, phone accessories, etc. In its home market China, it offers transportation offerings like electric scooters. Himo T1 is its third electric cycle following Himo V1, Himo C20-the folding e-bike. Himo T1's simple design, one-button start, digital display are some of the key highlights. It comes with 14Ah/28Ah energy options allowing users to travel up to 60/120 km respectively. Himo T1 is priced around CNY 2999 in China but there are no reports as yet about bringing the e-bike lineup to India.
8. The same issues keep people across Canada from going electric
Salt Spring Island, off the B.C Coastline claims to have the highest number of EV owners in North America. However many Canadians in other parts of the country are still keeping away from EVs for the same set of reasons. Many feel that the available EV options especially for those seeking big cars are slim. Range is another factor keeping drivers away from buying EVs. While technological advancements have lowered range anxiety, it is still a challenge to convince skeptical drivers of rural areas to go electric. Another major factor is the price which still remains high. While buyers are expected to benefit from EV operational costs, it still means 5 to 7 years before their investment would actually pay off.
9. Final year students convert old vehicle to a hybrid Electric vehicle
A team of final year mechanical engineering students of Madnapalle Institute of Technology and Science (MITS) have successfully converted a 1981 model Mahindra & Mahindra 540 diesel engine into hybrid electric one. Apart from the diesel engine, they have installed an electric power train system and the arrangement of the drive trains is the unique feature of the project. Six hours of complete charge of the batteries is said to cover up to 70 km beyond which the diesel engine comes to action. They say that this works out 95% cheaper.
10. Wireless electric vehicle charging is where the future is headed
According to WiTricity Corp. CEO Alex Gruzen, while automakers are looking to improve speed of plug-in electric vehicle chargers, wireless charging is where the future is headed. WiTricity licenses wireless charging technology to carmakers and suppliers. BMW began offering the capability last year. The system includes a wall box plugged to 240 or 220 volt power supply, charging pad and cable connecting the two. Once the vehicle is properly positioned over the pad, current gets transferred wirelessly from pad to vehicle. Gruzen feels that with wider use of wireless charging, people would be convinced to use EVs more.
11. Electric Vehicle battery production concentrated in Asia
With Chinese, Japanese, South Korean firms dominating, global production of electric vehicle battery is concentrated in Asia. According to a report only Asian firms are present in the top 10 where China's CATL tops the list with 23% followed by Japan's Panasonic at 22%. United States, Europe remained marginal. Another key factor is the raw materials for battery manufacturing where China has supremacy and many carmakers are said to have deals with Chinese firms over access to supplies. Asian firms, CATL, LG Chem, etc have factories in Europe to cater to manufacturers like BMW, Daimler, Volvo, etc. Swedish firm Northvolt, Dutch firm Lithium Werks are in process of building facilities in Sweden and Poland respectively.
12. IIT Hyderabad incubated PuREnergy launches EV
IIT Hyderabad incubated startup PuREnergy announced its PURE EV electric vehicle and plans to deploy 10,000 EVs in the financial year. It says its EVs are designed to endure tough environmental conditions. The company has setup a state-of-art facility for research and development. It has collaborated with other EV players to develop and supply high voltage lithium batteries for three and four wheelers and is working on solving issues to make battery unit compatible for high speed EV applications. To gain insights and continuously improve critical EV components, it uses extensive mechanical and electrical testing facilities.
13. Okinawa aims to be India's premier EV manufacturing brand
Gurugram based Okinawa Autotech with manufacturing facility in Bhiwadi Rajasthan is a fast growing two wheeler manufacturing firm which has sold over 25000 vehicles till last November. Some of the significant achievements of this company which is still in its budding stages include launch of Ridge+ with detachable li-ion battery, first electric scooter Okinawa's i-Praise to reach roof of world with 12,000 units sold in just 2 months, First electric two wheeler brand to partner with Tirupati Smart City project etc. The self –funded Okinawa currently backed by formal sector banks, plans to raise funds from investors soon and grow further as it aims to be India's premier EV manufacturing brand and mark the country's presence as major producer and exporter of eco-friendly vehicles.
14. Germany and France partner to invest in finding battery solution
Lack of reliable battery technology has been a bottleneck in EV development. France and Germany have formed partnership to invest to find a solution for that. Announcing the consortium in Paris, the finance ministers of the two countries said $5.6-6.7 billion would be invested in this project. Of this 4 billion would come from European private companies. Concerned over Europe falling behind in EV development, European commission has encouraged national governments to increase investment in this area. Subject to majority of bloc's 28 national finance ministers' approval, € 1.2 billion would be contributed by EU in public subsidies.
15. SBI's discounted Electric Vehicle loan scheme
To increase the EV volumes, SBI has come up with discounted loans where Electric vehicles are offered loans 20 basis points lower than existing auto loans. As per data, the number of electric two-wheeler more than doubled but the electric car volumes reduced in fiscal 2018. Many blame the lack of policy clarity and proper infrastructure for the poor show of EVs. PK Gupta, Managing Director, Retail and digital banking believes that this SBI green car loan scheme would act as a change agent and encourage people to switch to electric vehicles.
16. Hyundai Electric Cars in Ola's fleet
South Korean Carmaker Hyundai Motors under its Smart EV is said to be developing vehicles specifically for ride-hailing companies. By 2021 it plans to introduce electric vehicles in Ola's fleet. Recently Hyundai, Kia Motors invested $300 Mn in Ola to enter into a strategic partnership. As part of this deal, the companies plan to bring solutions to operate and manage fleet vehicles. Prior to this, Ola was said to have plans to have 1 Mn EVs including three and four wheelers in its fleet by 2022.
17. Polestar to get $7500 Electric Car credit
Polestar 2 may look and feel like Volvo, but as it is registered not as Volvos but as Polestars, it would qualify for different green-car initiatives including the biggest incentive of $7500 offered for the first 200,000 electric cars sold by any automaker, giving it an advantage over General Motors and Tesla which have already sold more than 200,000 qualifying vehicles in US. The Polestar 2 was initially intended to replace Volvo S40 but later the design was transferred to Polestar. It is expected to go on sale by 2020 in US.