MNRE joins Solar Product Developers in Opposing Anti Dumping Duty on Solar Imports
|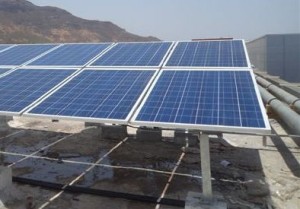 MNRE is not in favour of imposing anti dumping duties on solar imports in India. The verdict on the case is soon going to be announced.
Indian solar manufacturers have demanded an imposition of anti dumping duties on international imports which they say are being dumped into the country at lower prices making it difficult for local manufacturers to remain competitive in the marketplace. Project developers in India avoid Indian manufactures citing their low quality products.
Imposition of anti dumping duties will increase prices but that may serve as disincentive in the long run. States like Karnataka and Andhra Pradesh, have also opposed anti-dumping duties.
MNRE opposes anti dumping duties on solar imports as it will lead to a jump in prices and that too when solar power has started benefitting from a fall in prices.
Indian solar manufacturers have filed case to demand imposition on anti dumping duties from China, Taipei, Malaysia and the US.
The industry does enjoy some amount of protection from the government around 375 MW of projects are placed under domestic content scheme where the developers have to use locally manufactured products. But Indian manufacturers feel this is not sufficient. USA has already contested the domestic content rules of India in the WTO.
Project developers on the other hand say that the Indian manufacturers don't have sufficient capacity to manufacture products at the scale demanded by the industry. Cartelizing and deliberately increasing prices of solar products is also not unheard of in the industry.
"Indigenous manufacturers don't possess the scale to meet the supply requirement of the IPPs. Further wafers and cells are imported and then assembled and marketed to IPPs like us. This drives up the cost and threatens India's energy security. This policy can result in an assured increase in costs making solar tariffs unaffordable. The technology used by indigenous manufacturers is not the most optimum or latest," said Vineet Mittal, Vice Chairman, Welspun Renewables Energy.