Meet The Vazirani Shul: Hypercar and its Electric
|
India is all set to claim as a hypercar maker with the whole world which has been looking towards the manufacturers of America and Europe for spellbinding hypercars. At the 2018 Goodwood Festival of Speed, Vazirani Automotive has uncovered the Vazirani Shul turbine-electric hypercar. However, it is still in its conceptual stage, but the automakers will place the prototype for testing later this year. Chunky Vazirani is the designer and co-founder of Vazirani Automotive and he has previously worked with tyre maker Michelin and the Sahara Force India Formula 1 team in the encouragement of its new electric hypercar.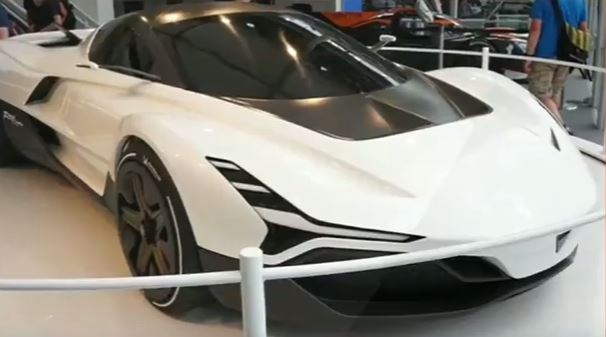 The design of Vazirani Shil is very stunning and resembles that of wind tunnel and is also evocative of the Pininfarina H2 Speed Concept. The one thing that places itself apart from other things is powertrain. All the power generated comes from a jet turbine engine that further is obtained from a four electric motor set-up.
To provide fully independent torque vectoring, all the four electric motors are positioned with the wheel. There is no compromise with the range. The hypercar gives rapid acceleration with torque-heavy performance. This car has been developed in collaboration with a company stationed in the UK that is used for development of turbines. Resembling Koenigsegg Regera, this turbine electric-motor is joined with a single ratio transmission. The motor layout of the hypercar permits the drivers to use regular petrol, says Vazirani.
It was disclosed by Vazirani that the Shul hypercar is underpinned by a carbon-fibre tub chassis which is same as that in BMW i8. This helps in keeping the structural rigidity high without affecting its weight. The weight is usually kept low because of the usage of carbon fibre in its construction. The battery pack can be easily charged as it is of 300kg of weight and can be charged on the go with regenerative technology.
https://www.youtube.com/watch?v=oZwnjOo0Fn4
The co-founder of Vazirani Automotive, Chunky Vazirani has an experience in working with Land Rover, Jaguar and also Rolls-Royce. No doubt the entire designing is done at the automaker's studio in California, US, but the company has its roots in India. Once it goes on with its production, it will be manufactured in the Californian state.