Performance of Airports in reducing their Carbon Footprint
|
Climate Change is a serious economic threat rather than just a scientific concern. Increasing anthropogenic concentration of Greenhouse gases (GHGs) in the atmosphere is a primary reason behind climate change. These gaseous emissions increase as a result of increasing fossil fuels consumption, deforestation and other activities. One of the major human activities that contribute to GHG emission is transportation. Starting from land and water, we have developed technology to fly. Humans invented airplane and built airports to cater passengers for rapid transportation.
The airport is a unique place from where airplane can fly and land safely. During the initial days of aviation, airports were used for military operations or other similar strategic and significant operations. Nowadays, air travel has become normal activity. Aviation sector has experienced enormous growth in the past few decades. Currently, airports are catering to billions of passengers daily and also handle billions of tones of cargo. In this time of modernization, today's airports are not just a place to board but indeed it has became a commercial place for shopping, entertainment and other activities.
Airport operations are mainly divided into landside and airside operations. As the name indicates, an airside operation including maintenance mainly caters to runways, aircraft and other critical equipments. Landside operations include commercial spaces at airport terminals, vehicle parking lots, public transportation facilities and access roads. All of air side and land side operations are energy intensive. Mostly, electricity is the major form of energy required in day to day activities followed by fuels for backup power generation and transportation. Energy intensive operations are also GHG emissions intensive as consumption of electricity and fossil fuels releases GHG emission.  (Read more on how fossil fuel combustion release GHG emission)
Since the enforcement of strict environmental regulation across various countries, airports have been carrying out environmental management activities like monitoring air quality, water management, noise mitigation and biodiversity management. But now with the growing concerns about climate change, airports have started measuring and reporting their GHG emissions.
The intensity of GHG emissions is dependent on the size of the airport and the volume of passengers catered to by the airport.  More passenger traffic results in use of more resources and in this way releases more GHG emissions. However, incorporation of energy efficiency measures, use of renewable energy, effective management of water and other resources, etc can help to reduce GHG emissions. Following graphs shows absolute GHG emission and GHG emission intensity of the major airports across the world;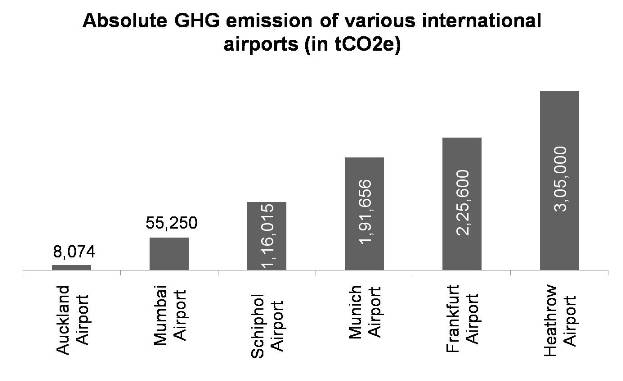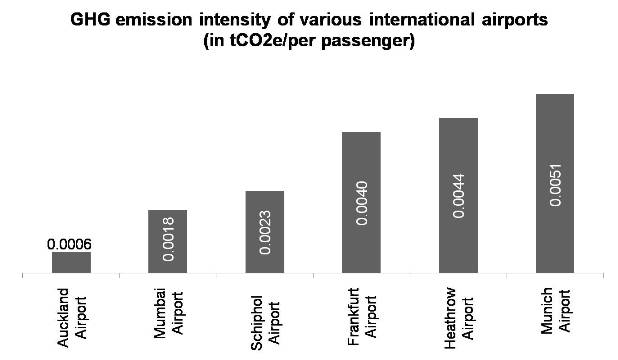 Directorate General of Civil Aviation (DGCA), a statutory body of Government of India has taken measures to quantify GHG emissions of India's aviation sector. As a part of this exercise, DGCA has asked all the major airports in India to report their GHG emissions. In addition, it has released guidelines for GHG emission accounting and reporting on an annual basis. Besides such domestic action, Airport Council International (ACI) launched Airport Carbon Accreditation (ACA) for airports. ACA has four levels of accreditation shows airport's GHG emission reduction status.  In addition, ACA provides credible platform to guide, report and share the information on climate change related business concerns, GHG emissions and mitigation measures taken by the airports. (Read more on Dabolim airport, Goa received notice from Pollution Control Board for non compliance with environmental norms)
Major airport operators now recognize that global warming and climate change are affecting their business and there is a need to take suitable actions to tackle these issues. Such airports have started implementing GHG accounting and management system in their operations and have taken GHG emission reduction measures through energy efficiency activities and increasing share of renewable energy in their total energy mix. In India, Mumbai International Airport, Bangalore International Airport, Hyderabad International Airport and Delhi International Airport have started such activities and also achieved various levels of Airport Carbon Accreditation.
Data source: Publically available data in sustainability reports  of respective airports.
Read more on ACA-Level II certification for Mumbai International Airport