September 2018: Monthly Electric Vehicle News Roundup
|
Students build e-car that can go at 120 kmph max speed
Team Chimera claims its single-seater electric race built by RV College of Engineering students can reach maximum 120 kmph speed and  when fully charged could cover 40 km. This car built from scratch in campus at Rs. 12 lakh was one amongst the major attractions at EV South Expo at Bengaluru where many national and international companies showcased latest technology electric vehicles (EVs). Ev-max web and app based online store is set to start operation on October 2nd. This store in addition to buying, selling EVs, provides additional information about charging stations, etc. Arzoo Vehicles, Haryana offers battery-operated 350-700 kg garbage collectors for Rs.1.2 lakh.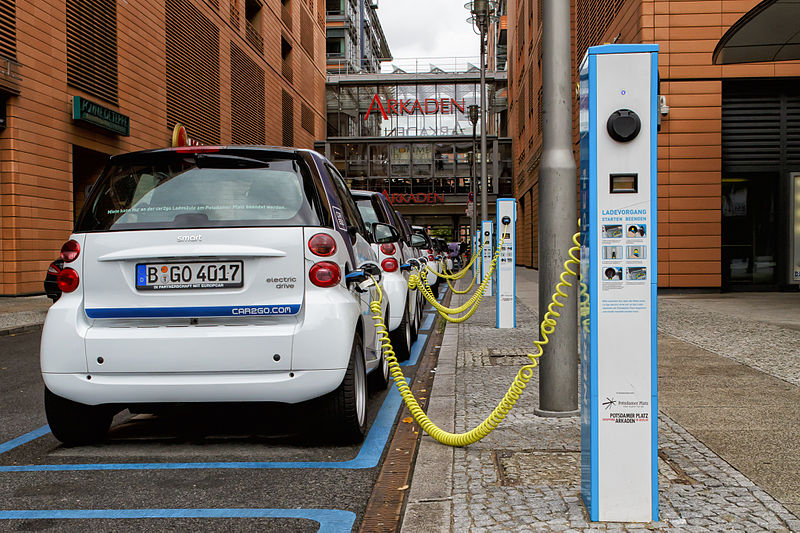 Volkswagen confirms production of all-electric microbus
Following the unveiling of I.D. Buzz, the all-electric microbus concept, Volkswagen (VW) confirmed that the vehicle will go into production and in 2022 will be available at U.S. dealership followed later by the cargo version. VW claimed that of the two options planned, the high-end featuring all-wheel drive system and 111 kWh battery pack could touch 60 mph within 5 seconds and vroom at top speed of 99mph. Its range is estimated to be 270 miles while that of the less expensive version with 83kWh battery is estimated to be around 200 miles.
Cargo e-bikes –sustainable goods transport solution
Thinking ahead about green sustainable mobility solution, Volkswagen presented its cargo e-bike at IAA Commercial Vehicles Fair in Hannover. Including the driver's weight, a load of up to 210 kgs can be carried by this three-wheeled e-bike developed in an in-house project in cooperation with ABT. Gazelle also staged its Light Electrical Freight Transporter (LEFT) D-10 that can accommodate up to 2 luggage boxes and load of 100 kgs. Manufacturing of D10 cargo e-bike will happen in Dieren, Netherlands and it is expected to be in market by 2019.
Mercedes does not see viable business for EVs in India yet
While Mercedes plans to add 10 electric vehicles (EV) to its global portfolio by 2022, lack of proper policies, framework, incentives and high costs of the (EVs) compared to their combustion engine counterparts makes EVs not a viable business in India at present according to Michael Jopp VP, Sales and Marketing, Mercedes-Benz India. He has also suggested the government to consider hybrid plug-in solutions to ease transition to EVs. He said the company aspires to retain its leadership position in the luxury segment and will continue investing on internal combustion engines and expand its products portfolio in India.
India targets 15% electric vehicles in next 5 years
Intending to reduce pollution as well as lessen fossil fuels demand, India aims to have at least 15% Electric Vehicles (EVs) on the roads in next 5 years. With no proper policies, India has been far behind in the global EVs race. In contrast, China has offered heavy subsidies and incentives to battery powered vehicles making EVs more affordable. While China's EVs' sales have crossed 4 million since 2011, India has sold an estimated 2000 EVs last year. Carmakers Hyundai Motor Co., Suzuki Motor Corp., Ford Motor Co. have made plans to make EVs in India.
Confusion over FAME II slows Electric Vehicle sales
With the extension of FAME-I coming to end in September and FAME II not announced as expected there is a lot of confusion around subsidy for Electric Vehicles (EVs). This has retarded the 1lakh expected sales of EVs to estimated 74000 units this fiscal year according to Sohinder Gill, Director General, Society of Manufacturers of Electric Vehicles (SMEV). Though manufacturers are shifting to lithium ion batteries, the cost of Electric vehicles is still comparatively higher, Gill added. FAME II scheme which provides subsidy to all categories of EVs is expected to boost demand and help keep a check on pollution.
JSW in talks to buy GM's Pune plant
Sajjan Jindal's JSW Energy is in advanced talks with General Motors (GM) to buy GM's over 300 acre Talegaon, Pune car plant say sources having direct knowledge about this. With GM having already closed its Gujarat factory, this would mean GM's exit from India. JSW prominent in the energy sector had earlier announced its plans to venture into energy storage systems, electric vehicles and associated business. It plans to use this Pune factory to manufacture electric vehicle code-named JSW car. JSW spokesperson did not want to comment on this.
Audi's first fully electric E-Tron unveiled
After Mercedes-Benz and BMW's Tesla-fighting concept models, its Audi's turn as it unveiled its battery powered crossover E-Tron at Richmond California, close to Tesla's auto assembly plant. The car which would be made in Brussels is expected in U.S. around mid 2019. With E-Tron's 225 miles per charge range, Audi aspires to get a fresh start in the U.S. market and plans to add 2 more EVs by 2020.  While luxury EVs are entering the market, Tesla with its Model 3 sedan and Model Y crossover seems to be moving more towards mass-luxury market.
BMW's iNext up against Audi's e-tron and Jaguar's I-Pace
A sporty electric SUV, the BMW iNext concept, close to production version set for 2021 release was unveiled inside a cargo plane. Compared to Audi's e-tron, Mercedes-Benz's EQC crossover and Jaguar's I-Pace this seems to be a late entrant but BMW counters that iNext's advanced self driving capabilities and 600 km driving range is far beyond what competitors offer. iNext focuses on self-driving and uses Level 3 technology or conditional automation. It says that while the car could offer more but unlocking those capabilities depend on the regulations rules being passed.
More incentives for local manufacturing of lithium-ion batteries: PMO
In place of the proposal to use incentives for electric vehicles (EVs), the Prime Minister's Office (PMO) has sought to redraft the plan to use most of the funds for local manufacturing of lithium-ion batteries. Batteries being the important and expensive part of EVs, PMO wants to encourage local manufacturing of batteries and reduce their costs and thereby the overall EVs' cost while providing more employment opportunities. However this imbroglio would further delay the overdue FAME II scheme that the automobile companies are awaiting to devise their electric vehicle launch in India.
Green number plates for low emission cars
In an effort to increase awareness about clean, green transport and to encourage use of ultra-low emission cars, ministers are considering plans to provide green number plates and special privileges including access to low emission lanes, charging bays etc. for vehicles in UK. Eye catching designs are being discussed for this green badge of honor. Behavioral insights team believes that these simple changes based on behavioral science would have a huge impact.
VW Neo – First mass market affordable electric car from Volkswagen Group.
VW Neo based on the I.D. concept, the first mass market affordable electric car of the Volkswagen Group, is expected to be released in the last quarter of coming year. Three different battery pack configurations are expected with price starting from $30,000.  330km WLTP range is estimated for the entry level car and 450 for the mid-spec.  In addition to the DC fast charging which would support charge rate up to 125 KW, the vehicle would have 11kW and 7.2kW onboard chargers for level 2 charging.
Jaguar Powerway for South Africa
Jaguar has partnered with GridCars, the electric vehicle charging authority to have 82 public charging stations in South Africa (SA) investing R30 million for this infrastructure. Every Jaguar Land Rover retailer in SA would have publicly available charging stations installed in their customer parking areas. Additionally 30 public charging stations would be installed at places like shopping areas of the country's major hubs. Jaguar Powerway – a series of 22 charging stations along N3 and N1 routes would connect SA city centres. A series of charging stations along the N2 would connect Cape Town to the Garden Route all the way to East London. The charging grids and Powerway are expected to commence operation by 2018 November end. Jaguar I-Pace is expected in SA in beginning of 2019.
Mercedes Benz EQC
Mercedes-Benz revealed EQC its first model under the EQ brand, which is headed for production. The headlights and grille enclosed in a black panel is an attractive feature of this EQC. The car's new drive system with compact electric drive trains at each axle can generate around 300 kW output power. The vehicle is powered by 80kWh lithium-ion battery however the consumption depends on the driving style. It comes with 5 driving programs each having different characteristics- comfort, max range, sport, eco and adaptable program. The battery recuperation can be adjusted as needed using the gearshift paddles.
UPS electric delivery trucks draw attention
Many of the UPS trucks in Kentish town are electric now, drawing attention from the passers-by. Backed by the British government, UPS aims to electrify its entire central London fleet. Due to unavailability of trucks meeting the company's expectations, UPS was forced to convert its existing diesel trucks to electric. Instead of paying for power-grid upgrades and cabling, the company is using a smart grid to manage the vehicle charging. British government which is trying to cut down emissions and curb pollution has invested around $3.4 million.
Purosangue FUV planned for 2022
In 2022 Ferrari plans to launch Purosangue the SUV or FUV (Ferrari Utility Vehicle – as Ferrari calls it). The car was initially expected to be launched in 2020 but seems to be taking time to set things right. Like most of the Ferraris to be released by 2022, the Purosangue would also be equipped with a hybrid powertrain. Additionally, Ferrari plans to move back to the small-displacement V6 engines.  Powering up should not be a problem for the vehicles in the lineup with this combination of hybrid system and these engines.  However, an increase in the average retail price of the Ferraris is expected.
One million electric cars by 2020 – German campaign
Germany has launched a campaign to have one million electric cars on the roads by 2020. The current government has set aside $705 million for this campaign but left it to the next government to work out the details. The government believes that though the target seems ambitious it is achievable. Aspiring to promote electric vehicles and reduce the oil import dependencies, the campaign has set aside $240 million to research on batteries and wants to build expertise in the country on this technology. However many green law makers feel that the program is significantly underfunded. Several countries in other parts of the world are already providing huge grants in this regard.
Porsche to stop diesel version of cars
With the decreasing demand for the diesel vehicles which are under intense scrutiny by the regulators, Porsche is planning to shift focus to gasoline, electric and hybrid vehicles and stop diesel versions of its cars. Diesel cars have accounted for 12% of sales in the previous year but the company has stopped sales owing to a probe into rigged engine-control software by authorities. The company's hybrid cars are gaining popularity and around 63% of Panamera coupe buyers in Europe have opted for the partly electric version. The company is planning to introduce its first full electric sportscar Taycan model next year.
$1 billion funding for Lucid Motors to finance its Lucid Air production
Lucid motors has won a $1 billion deal from Saudi Arabia's sovereign wealth fund, and plans to use it for engineering development and testing of Lucid Air its first electric vehicle, competing with Tesla. The funding would also be used for its Arizona factory construction, retail strategy rollout and production of Lucid Air which is planned for 2020 release. This is a major win for Lucid motors which has been mostly quiet this year, awaiting funds for production.  This news comes in after the announcement that Saudi Arabia has bought 5% of Tesla, stopping Elon Musk's efforts to make Tesla private.
Prince Charles selects Jaguar I-Pace
The heir to the throne Prince Charles has selected Jaguar I-Pace, the first all-electric model from Jaguar making its way into the showrooms in the U.S., Asia and Europe. Daimler has also announced its entry into this market with the Mercedes-Benz EQC model. Apart from this, Audi, Volkswagen, BMW and General Motors also seem to be giving tough competition to California-based Tesla from their end. The diesel emission scandal and the stringent global emission rules are pushing for more focus on electric drivetrains. Mercedes plans to provide electrified options for all its existing products and by 2020 plans to have 10 fully electric offering.