(This is a series of articles on the various technologies that can be employed to trap the sun's energy. This is the 6th part of the series.)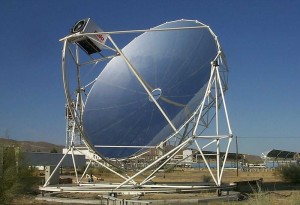 The stirling solar dish in outward appearance is just like the solar parabolic trough. It is also known as the dish engine system. They look like satellite dishes. It is made up of a single parabolic reflector unit which acting as a concentrator focuses light onto a receiver unit which is positioned onto the system itself, at the focus. There are two essential components of a stirling solar dish, the dish which is nothing but a single large parabolic mirror or sometimes an array of mirrors maybe used to give it a parabolic shape and a stirling engine which acts as the engine unit.
These systems operate at around 25% efficiency and can convert 25% of available energy from sunlight into electricity.
The dish or the concentrator has a strong reflective surface and it reflects light onto the focus. The captured sunlight is thus concentrated into a small region and can be used more efficiently. For greater efficiency, such systems need to follow the movement of the sun between the tropics. The receiving unit absorbs the concentrated solar energy, converts it to heat, and transfers the heat to the engine/generator. The receiver may consist of tubes with a cooling fluid such as helium gas or hydrogen which plays a dual role acting as both the transfer medium of heat and also acting as fluid that drives the engine.
The Stirling engine employs a fixed volume of gas that never leaves the chamber. Basically, it is a heat engine and the alternate expansion and compression of air leads to conversion of heat energy into mechanical energy. It was invented in 1826 by the Robert Stirling.
Advantages:
The high efficiency and relatively longer durability.
The high temperatures generated because of better focus are of advantage since the conversion to electricity is enhanced at such high temperatures.
Such systems are ideal for standalone applications and can be tailor made to suit one's requirements. Many such isolated units can be installed together to have a larger output or can be used as a single unit for applications such as a water pump for rural applications.
Disadvantages:
The relatively heavy engine is itself a part of the entire structure which is mobile and therefore requires a very sturdy frame and a strong tracking system. This increases costs.
Parabolic mirrors need to be employed here instead of flat mirror which also increases cost.
Image credit: Schlaich Bergermann und Partner  on Wikepedia