Tata Power Solar to build 50 MW solar power project for NTPC in Madhya Pradesh
|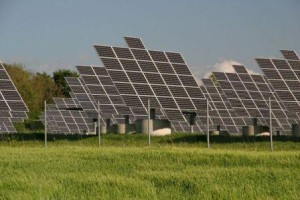 Tata Power Solar will build a 50 MW solar power project, Rs. 246 crore estimated cost, for NTPC at Rajgarh in Madhya Pradesh.
"We have won the 50 mw solar photovoltaic project in a competitive bid and will build it at Rajgarh during the next nine months for commissioning in March 2014," company chief executive Ajay Goel said in a statement here Thursday.
Around 79 million units in kilowatt per hour (Kwh) of energy generated from the project will be supplied to the state grid through Madhya Pradesh Power Trading Company Ltd. According to the Central Electricity Authority, the state has an annual peak power deficit of 9.6 percent.
Tata BP Solar has been able to secure a number of EPC contracts in the IREDA-run scheme and is currently executing around 15 such projects in different parts of India including Tamil Nadu, Andhra Pradesh, Maharashtra, Chattisgarh, Orissa, Jharkhand and Uttarakhand.
References;
Image credit: Eclipse, available at wikipedia