Five Largest Wastewater Treatment Plants in the World
|
Wastewater treatment is something of a growing necessity. Whilst we're all striving to turn our lives, homes and businesses into something that protects the environment instead of damaging it, the wastewater output of our industries is something that will always be a threat, and as such we must tackle it as fiercely as necessary to secure a cleaner, greener tomorrow. As the requirement increases though, so do the structures and facilities wherein the wastewater is treated, and now all over the world there are some of the most impressively sprawling developments you ever did see, all dedicated to greenifying our water. Here's a closer look at some of the most impressive structures out there!
Stickney Water Reclamation Plant
This cylindrical behemoth is the largest in the world, processing a mind blowing 1.44 billion gallons of water a day. The Chicago based plant opened in 1930, but only the western side; the southwestern opposite followed beginning operation in 1939. A underground pumping station that dives an unthinkable 300ft below the plant is used to pump the sewage and serve the 2.4 million Chicago residents, as well its many suburban areas.
Deer Island Sewage Treatment Plant
All the way over in Boston then, this islander began life after a 1986 court order demanded something be done regarding the amounting wastewater in the harbour area. With $3.6 billion behind them, and over the course of 11 years, this incredible feat of construction was accomplished, featuring some of the largest digesters in North America. 3MW of electricity are produced from the plant, whilst fertilizer pellets are created at the rather astonishing rate of 75 tons per day.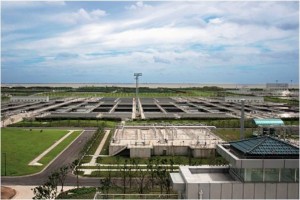 Bailonggang Wastetwater Treatment Plant

Zipping over to China then for a bit of culture, we're treated to this incredible plant that manages to consume the horizon entirely. It processes 528 million gallons a day, and whilst opening in 1999, was expanded significantly in 2008, allowing for modern technology to up its capacity and the addition of anaerobic digesters to the facility.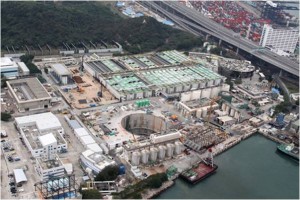 Stonecutters Island Sewage Treatment

Off to Hong Kong next, as we visit Stonecutters Island, apparently not home to a peculiar society that you might remember from an old episode of The Simpsons, and in fact the harbour within which 445 million gallons of wastewater is treated every day. The plant opened in 2001 and specialises in chemically-enhanced primary treatment. The area has received the go ahead for an extensive expansion program, which will add disinfection facilities, an effluent tunnel and more new and improved treatment-focused additions.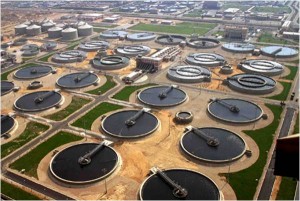 Gabal el Asfar Wastewater Treatment Plant

Egypt's magnificent Cairo is the destination for this massive 449 million gallon treatment plant, and massive it needs to be, as it services the region's six million residents. One of the most versatile facilities, the plant provides sludge thickening, chlorination, sedimentation and grit removal as well as anaerobic digestion. Interestingly, a 40 acre farm adjacent to the facility grows olives, lemons and flowers and uses water irrigated from the treatment plant.
So there we have it, five of the most impressive wastewater structures the world has to offer. But inevitably not for long; with the aforementioned growth of the industry, there'll no doubt be a bigger, better plant along at some point soon, as we march towards a more ecological future!
This article was written by Rob Vicars of Envrionmental Screening and Separation; wastewater treatment experts providing news and updates on the industry, as well as a range of high quality equipment to allow you to provide the best possible treatment for your clients!