TORLYS smart floors innovates again with smart laminate now waterproof
|
Boisbriand, Canada, 2019-11-18
Much more than a simple floating floor; the waterproof laminated smart TORLYS smart floors is the result of the expertise and know-how combined with the Canadian manufacturer as per information available from v2com. 
A high- performance , versatile , repairable and durable floor with high waterproof performance and a visual almost indistinguishable from hardwood.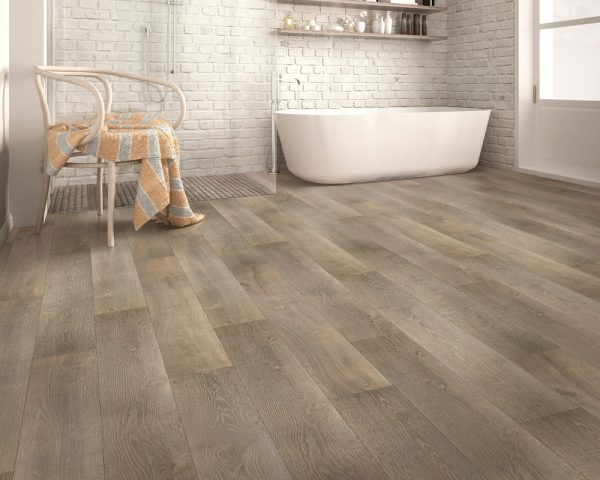 A floor like no other
In general, not all laminate floors tolerate moisture well. Indeed, some laminates offered on the market, when wet, absorb water via their joint which results in swelling of the boards. Depending on the severity of the damage, you may need to consider replacing the entire floor. TORLYS waterproof laminates, meanwhile, are a game-changer by integrating the following three technical components :
– Uniclic interlocking system :
Thanks to the patented UNICLIC joint (the strongest and tightest on the market), the TORLYS waterproof intelligent laminate can not only disassemble and reinstall in another room or other dwelling, but its interlocking system prevents liquids from entering in the joints.
– GenuEdge technology:
GenuEdge technology wraps the surface around the edges and seals them to keep water outside the joint and the center of the floor.
– HydroSeal waterproof coating :
This coating prevents water from entering the center of HDF high density foam.
A wide choice
TORLYS offers eight waterproof collections resistant to scratches and dents such as Colossia , Envique , Largo , Natrona , Park Lane , Provision, Reclaimé and Styleo. Classic or contemporary, these are offered in a wide range of species, colors and patterns to match any kind of space – including the bathroom, the laundry room, the kitchen, the floor and even the hallway.
STYLEO
The Styleo collection was created to add texture to your room with its inviting and warm patterns in a matte finish.
Boards :
½ in (W) x 7 ½ in (W) x 54 11/32 in (Lo)
Rolled beveled edges.
A transitional installation system
All TORLYS laminates now offer the one and only transitionless installation system on surfaces up to 50 'x 50' , even under door frames. You will thus be able to carry out a homogeneous installation without molding from one room to another and create an impeccable look.
An ecological choice
All TORLYS smart floors laminates carry FloorScore certification attesting to the conformity of these products for your home in relation to air quality. In addition, this floor covering can also be dismantled and reinstalled three (3) times under warranty . It is an ecological floor containing no less than 70% recycled wood from coniferous trees which produces no harmful VOC emissions.
Strong protection
Synonymous with peace of mind, the TORLYS smart floors smart laminate has a 35-year residential warranty against wear, stains and discoloration. And like all other TORLYS smart floors, this type of floor covering comes with a lifetime warranty on the structure and gaps (joint opening) with the maintenance of a relative humidity of 20-65%.
About TORLYS
For over 30 years, TORLYS has been a flooring company specializing in ecological, ingenious and easy-to-maintain floor coverings. TORLYS offers cork, hardwood, laminate, leather and vinyl floors through a global network of specialized retailers.