Trinity: A wind turbine charger to charge your phones & tablets
|
As the world realizes the importance of making more eco-friendly choices to make their future more sustainable, companies are coming up with products that are more benign in the environment. There is a rise in demand and the availability of products powered by renewable energy sources like wind and hydel power, rather than electricity. This is why a product like Trinity – a portable charger running on wind energy – is in tandem with the direction in which the world is moving.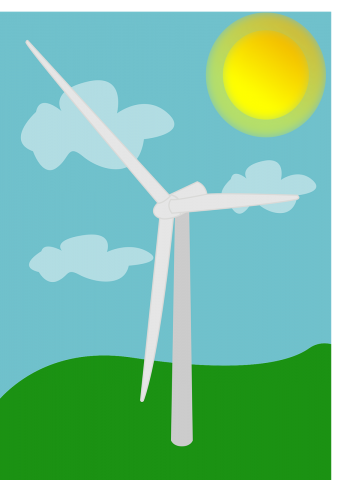 Trinity is a portable wind turbine used for charging devices that can be connected with a USB like a smartphone or a tablet. Not only is it portable, but also compact as it can be folded into a 12-inch cylinder. The best part about this device is that you don't need electricity to charge a device. So long as there is wind, Trinity has you covered.
The product is backed by Skajaquoda and is the brainchild of two siblings Einar and Agust Agustsson. The two represent a research group based in Minnesota in the USA. Einar is the CEO of the group, Agust is the vice-president. The brothers' concern about lowering their power costs drove them to experiment with their first wind turbine. It was only a matter of time before they chanced upon the idea for Trinity.
The product is available in two variants, one with a 15W generator and another model with a 100W generator. The generator in both the models in built in the hand crank.
Let's talk first about the first variant. This model comes with a 15W generator and a 15mAh battery. It has a USB output of 5V 1A and 5V 2.1A. It has multi-voltage DC output, which helps you charge several devices like laptops. It weighs around 2.5 pounds and just 2 pounds without the battery.
The wind turbine's second variant is called Trinity 100 and its length is around 20 inches when it is folded. This model too has an USB output of 5V 1A and 5V 2.1A. When used with a wall plug or an adaptor, it gives an output of 110V. It weighs six pound and five pounds without the battery.
The wind turbine charger comes with a weatherproof pouch for your smartphone. It also has a USB charging cable which also acts as a lanyard. The pouch also features a grommet made of metal so that you can tie the pouch. The company has also launched a 'Trinity Basic App' so that you can check the of the charge level of the device's internal battery just with a few swipes on your phone. There is another app called 'Trinity App' which is also compatible with other devices like tablets. With this advanced app, users can check the estimated time for charging the device, wind speed and electricity production.
It's really simple to operate as well. It has three blades and to open them you need to pull out the 11-inch aluminium legs by either laying them flat or adjusting them as a tripod, depending on your convenience. If you want to close the device, you just have to push the legs back and the blades would close automatically. These blades harness the wind energy, leading to sustainable production of electricity. This electricity, in turn, charges the 15,000 mAh battery of Trinity.
The USB plug to charge a device is located at the bottom of the wind turbine charger. It has a unique design which enables you to charge your phone or tablet up to four to six times in a single charge. Be it a beach, a camping trip, a carnival or even your own balcony, you can use this product anywhere. It's currently available in five colours – green, yellow, red, blue and black.
Its body is made of plastic and aluminum, making it sturdy. What's more is that it is compatible with most leading smartphone companies including Samsung, Apple, HTC, and LG. It is also compatible with most laptop brands like Asus, Dell, HP, and Acer. The device sports five LED indicators to alert you about the battery's charge level. The internal battery is replaceable.
Trinity is one of the hundreds of portable devices running on clean energy that is leading the world towards a sustainable future. With a large part of energy consumption linked to non-renewable resources like coal, the world needs to consider alternative sources of fuel.
Wind energy is still an underutilized resource that has the power to change fuel consumption patterns across the globe. As the wind is available free of cost, setting wind turbines is extremely cost-effective. What's more is that its production does not contaminate the air or release pollutants, which makes it a reliable source of clean energy. Given its benefits, it's only a matter of time before portable devices running on green energy like wind energy drive the economies across the globe.