WaterSeer- Now it is easy to make your own water
|
Needless to say water is needed for existence. Whether an Individual or a community, everyone needs water and here is a solution that condenses water vapor in the air and provides pure water which is consumable, useful in agriculture and much more. And what's more, this solution is not only clean and green, it is low maintenance too. In this WaterSeer, the movable water generator utilizes water vapor in the air which is then drawn in the collection chamber present underground where it is condensed into water.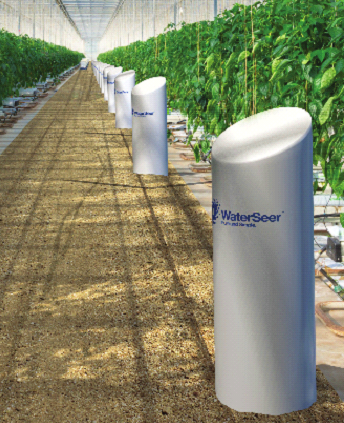 The novel technology used by WaterSeer is not only rugged; it is simple and reasonable too. In this device designed to work in the open, the air routed to a chamber is cooled down to get water. The water so obtained has been tested and found to be pure and quality exceeding all the EPA standards. At a place having 70% relative humidity and 70 degree Fahrenheit temperature, around thousand gallons of water can be obtained from ten unit grid of WaterSeer in a month. WaterSeer can provide pure water at low power needed for hydroponics grow house of around 5000 sq. ft. when 20 units are arranged in a grid. Indiegogo has helped in funding the project.
What began as an innovative idea advanced to a working model and from there progressed to a ground-breaking reality. WaterSeer has already made a global presence and is dedicated to help non-profits all around the world in transforming lives of millions.
The revelation that around 700 million people in this world are struggling to get clean water, came as an eye-opener to Nancy Curtis and Don Zacherl, the founders of WaterSeer, who wanted to come up with a solution superior to any other existent solutions. WaterSeer is a combination of Nancy's creativity and Don's engineering skills.
Functioning of WaterSeer – The outside air is drawn inside the collection chamber with the help of an internal fan. Here the water vapor is condensed to give water. By application of new materials, coolers operated using solar power, constantly maintaining lower than ground temperatures and using hydrostatic feedback system which is propriety to WaterSeer, faster yields are achieved. To leverage on low power and higher efficiency, the performance is increased during the periods of high yields. The power requirement of WaterSeer is comparable to that of a light bulb; that is to produce a liter of water the power required is lower than 100 Watts.
In the category of Materials, Resources, and Water; WaterSeer was announced as one of the finalists for receiving the Katerva award. The Atmospheric Water generator can produce clean water globally and since this innovative, revolutionary concept is not only sustainable, but also affordable, WaterSeer Inc. was chosen. While in a day around 10 gallons of clean water can be obtained from one unit, this outdoor device is configurable to work as a single unit or can be arranged in grids to produce hundred thousand gallons of water.