Uttar Pradesh sanctions Rs 40 crore for solar power streetlights
|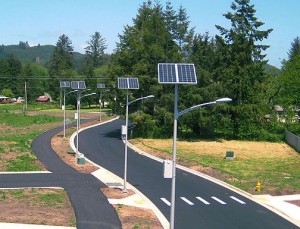 The Uttar Pradesh government has approved nearly Rs 40 crore for solar powered street lights.
The LED type street lights are to be installed in various districts and also in over 2,000 Lohia grams where they are needed the most.  A total of 11,100 solar street lights will be installed in the financial year 2013-14.
The benefits of solar powered street lighting are many including nil operational costs, can work in in rainy weather, no need to worry about power cuts, it is easy to install, little maintenance costs, no need of meters or transformers, no cost of transformers or meters to be added for electricity service, environmentally friendly as it is powered by the sun, batteries maybe provided to ensure uninterrupted supply in days of no sunshine.
Solar street lights are a very good option for non-electrified and remote rural areas. Solar street lighting systems have a large life span.
Street lighting is important because it gives a sense of security, helps in preventing crime and results in greater road safety. Since street lighting consumes a large part of electricity, converting such systems to solar can take the load off the over burdened traditional electricity sources.
Reference