What are science-based targets and how can companies adopt them?
|
The Intergovernmental Panel on Climate Change (IPCC) revealed that the impacts of climate change are already widespread. Anthropogenic GHG emissions are responsible for climate change and global warming. IPCC identified the world's "carbon budget", which is the total volume of GHGs that can be emitted while providing a degree of confidence that temperature rise will be limited to relatively safe and manageable 2 degrees Celsius. Read more here.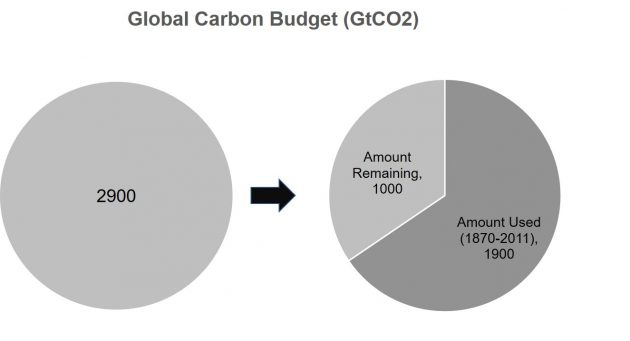 Science-based targets (SBT) are the Greenhouse Gas (GHG) emissions reduction targets that are aligned with the latest climate science for keeping warming below 2 degrees Celsius.  SBT provides a clear pathway for companies to grow sustainably by specifying necessary GHG emissions reductions.  By guiding companies on how much and how quickly they need to reduce their GHG emissions, SBT provides a challenge to transform their business and helps transition a low-carbon economy.
How can companies commit to science-based targets?
The Science-Based Targets initiative (SBTi), is a collaboration between CDP, World Resources Institute (WRI), the World-Wide Fund for Nature (WWF), and the United Nations Global Compact (UNGC) and one of the We Mean Business Coalition commitments. SBTi's overall aim to make science-based target setting a standard business practice by 2020. SBTi administers SBT corporate commitments.  It's a four-step process as provided below-
The first stage –  the company is required to submit a commitment letter to SBTi indicating that it is committed to setting a science-based target. Post submission of the commitment letter, the company will have up to 24 months to develop the targets. For more information, please check SBTi Call to Action Guidelines.
How to set science-based targets?
There are several science-based target-setting methods. However, all the methods fall under three main approaches – 1) sector-based approach, 2) Absolute-based approach and 3) Economic-based approach. The first two methods are related to the 'carbon budget' which is the remaining amount of carbon that can be emitted into the atmosphere to limit global temperature rises to well below 2 degrees Celsius.
In general, companies are expected to –
Set its organizational boundary. All company wide Scope 1 and Scope 2 emissions must be covered under the target.
The timeframe of the target should be 5-15 years in the future.
The level of ambition should be (at minimum) consistent with the decarbonization required to stay below to 2 degrees Celsius. SBTi encourages efforts towards 1.5 degree Celsius.
Disclosure of GHG inventory, target, and progress towards targets is crucial and recommended. Companies already participating in CDP's climate change disclosure program are already familiar with the process.
A screening of Scope 3 emissions is required. An ambitious and measurable Scope 3 targets are required when scope 3 emissions cover more than 40% of total emissions.
For more information on approaches and methods, read the science-based target manual.
Benefits of setting science-based targets
By setting a science-based target, companies can increase innovation via promoting the development of new low carbon technologies, reduce regulatory uncertainty via staying ahead of future domestic or international climate policies such as limiting GHG emissions and can strengthen investor confidence and credibility by demonstrating a leadership position on the climate front. SBTs can also Improve profitability and competitiveness of the organization in the marketplace. Setting SBTs help companies to become resources efficient which leads to low operational budget and improved profitability.  In addition, via taking SBTs, companies can demonstrate to policy-makers the scale of emission reductions that are achievable, and positively influence international climate negotiations and domestic climate policy.
India
In 2015, the world saw landmark climate agreement, popularly known as Paris Agreement/Paris Accord in 21st Conference of Parties (COP 21) organized at Paris where 195 of the world's governments committed to preventing dangerous climate change by limiting global warming to well below 2 degrees Celsius. About 186 Countries have tabled climate change action plans (Nationally Determined Contributions, known as NDCs) to UNFCCC. India, in its NDCs, committed to reducing the GHG emissions intensity of its GDP by 33-35% by 2030 from the 2005 level.
The sources of GHG emissions are primarily man-made and industrial emissions are the major cause of emissions in India. The major sources of Industrial GHG emissions are fossil-fuel burning, cement production, and gas flaring.  As per the analysis by Carbon Dioxide Information Analysis Center, Oak Ridge National Laboratory, U.S. Department of Energy, the top carbon dioxide (CO2) emitters countries in 2014 were China, the United States, the European Union, India, the Russian Federation, and Japan (in order). India is at the third position.
Since businesses are responsible for a major portion of GHG emission, they have a key role to play in reducing GHG emissions. Looking at the global climate scenario (both scientific and political), it is highly crucial that businesses need to set strategies that prepare them for the low carbon future governments have committed to.
Companies already setting SBT
By mid of January 2018, 336 companies are taking science-based climate action and 87 companies have approved science-based targets.  Food and Beverage Processing sector companies have highest representation (7.2%%), followed by Banks, Diverse Financials and Insurance (6.9%) and Consumer Products and Durables (6.3%).
74 (22%) Asian companies have committed to science-based targets.  Companies from Technology Hardware and Equipment sector are the highest among Asia.  There are 6 Indian companies that have committed to develop their GHG emission reduction targets based on science.
| | | | |
| --- | --- | --- | --- |
| Company | Sector | Status | Date |
| Aditya Birla Chemicals India Ltd | Chemicals | Committed | Sep-15 |
| Banka BioLoo | Solid Waste Management Utilities | Committed | Dec-16 |
| Hindustan Zinc Limited | Mining – Metals | Committed | Jul-17 |
| Mahindra Sanyo Special Steel | Mining – Metals | Committed | Mar-17 |
| Tech Mahindra | Software and Services | Committed | Jul-16 |
| Wipro | Software and Services | Committed | Jun-15 |
Source: http://sciencebasedtargets.org/companies-taking-action/
As per the CDP's Carbon Majors Report 2017, just 100 companies have been the source of more than 70% of the world's GHG emissions since 1988.  Since businesses are the major emitters, it's important for them to align their emission reduction target based on science and help the world stay within the global carbon budget.
Have a question? Please send your queries to shailesh(at)greencleanguide(dot)com.