Yulu: Bike Sharing EV Start-up
|
Over the last few years, India has witnessed the rise of bike rental services in its cities. With their affordable rental strictures, easy mobility and robust technical support, bike-sharing services have changed the public transport scenario in Indian metros. Yulu has been leading the bike-sharing industry with its micro-mobility solutions that not only decongest busy city roads but also reduces air pollution.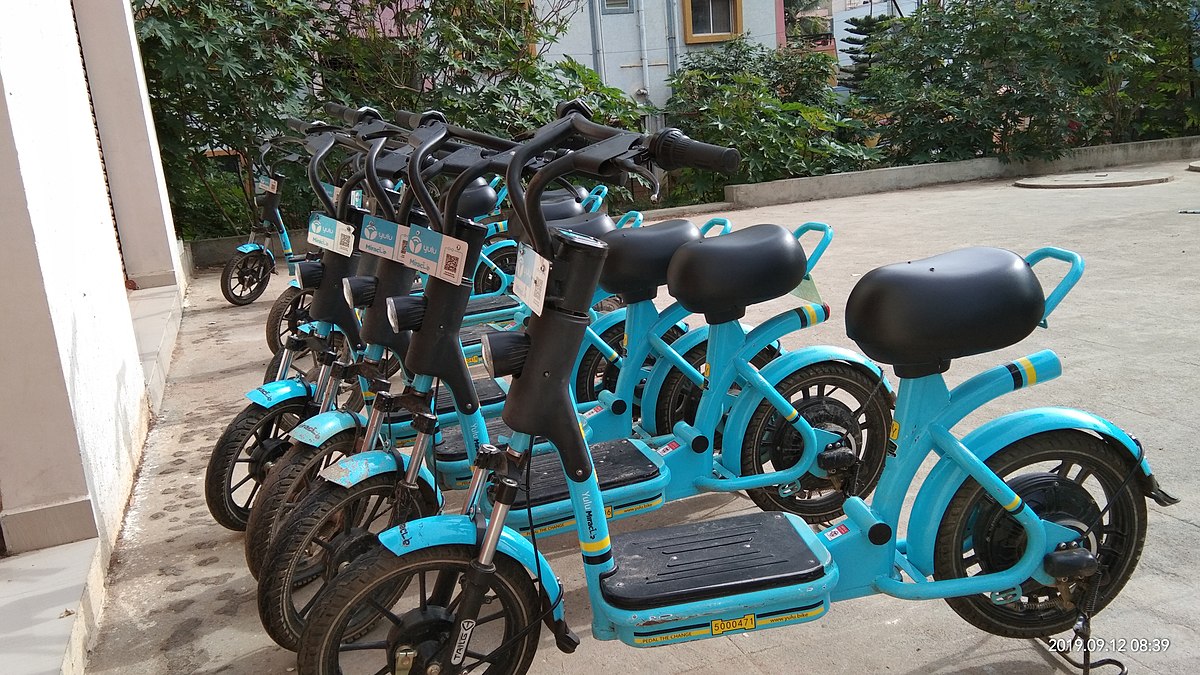 The company aims to offer sustainable transport options, which are not only affordable but easily accessible too. Apart from making urban commute eco-friendly, Yulu bikes make hopping between two locations easier. The startup offers an excellent technical framework with a seamless customer interface on its app.
In fact, it is in an extremely easy app to use. For starters, customers would have to download the Yulu app. Next, they need to look for a Yulu zone and reach there. A customer would then have to pick a bike, scan the QR code or enter the vehicle's number to start it. They can go ahead and ride on the bike wherever they want.
In November 2019, Yulu announced that Bajaj Auto was investing US$8 million (over Rs 57 crore) in the startup. As part of the agreement, Bajaj Auto agreed to manufacture electrical scooters and bike for Yulu. The auto major also agreed to work with the Bengaluru-based startup on its vehicle finance needs. Bajaj Auto would rope in its financial services vertical Bajaj Finserv for the purpose.
Within just three years of its launch, the startup is operating in Bengaluru and New Delhi. It has over 3,000 bikes in its fleet. The company currently offers two types of services – Miracle and Move. While Yulu Miracle involves rental e-scooters, Move offers bicycles on rent. 
The Miracle bikes are dock less two-wheelers which can move at a maximum speed of 25 kmph. Moreover, it is powered by IoT. It is the perfect combination of a bicycle and a scooter. It is not as heavy as a scooter but faster than a cycle. What's more is that these electric vehicles can be used by anyone, irrespective of their height or weight. Its unmatched functionality and unique design make it ideal for even long commutes. Not to forget, it is an extremely comfortable ride as well.
The Yulu Move service offers you a virtually dock less bicycle, which is perfect for short commutes. You can end your trip just with the click of a button. These bicycles are powered by technologies like Bluetooth, GPS, and GPRS. Made using high-quality components, their robust bodies are ideal for commuters maneuvering their way through urban traffic. Getting a Yulu Move is just as easy as booking a cab on an app.
The impressive rise of startups working in the electric vehicles sector in India could be attributed to the successive governments' foray into discovering more environment-friendly transport options. For instance, the current government has committed to increasing the density of electric vehicles on roads by 2030. Last December, the Delhi government announced a slew of sops for battery-operated two-wheelers. The state's target is to increase its share to 24% of all vehicles on roads by 2024. The government's efforts are supported by the interest shown by automobile giants.
The rising interest in this sector is in tandem with the rise in the use of electric vehicles globally. Elon Musk-led Tesla has been a trailblazer in the industry. At present, the company offers four models of electric vehicles – Model X, Model Y, Model S and Model 3. While Model X and Y are types of SUVs, Model S and are sedans. Apart from Tesla, BMW recently announced an electric concept car, the production of which is slated to begin next year. German carmaker Volkswagen, which launched its electric vehicle ID.3, announced that it plans to roll out as many as 70 new vehicles in the sector.
Not just India, countries across the world are ready to jump on the clean energy wagon that this sector offers. China's electric vehicle market has become one of the largest in the world in less than 10 years. Sample this: Chinese citizens bought over a million electric cars in 2018, which is thrice the number demanded in the US during the period.
Given the kind of interest the electric vehicle industry is garnering, Indian startups aren't too far behind. One of them is Ather Energy. Led by IIT alumnus Tarun Mehta and Swapnil Jain, the startup has two electric scooters, the 450 and 340, in its portfolio. In addition, the Bengaluru-headquartered company has also launched an infrastructural facility for electric vehicles called AtherGrid. The company has raised funds from venture capitalists like Flipkart co-founder Sachin Bansal and Tiger Global.
Another Bengaluru-based startup Ultraviolette has been making waves in the electric vehicle sector. The company unveiled its pilot project 'F77' last November, under the leadership of Niraj Rajmohan and Narayan Subramaniam. The company claims that the vehicle has a top speed of 140 kmph.