BEST will procure green power from solar PV project being developed by Welspun Energy
|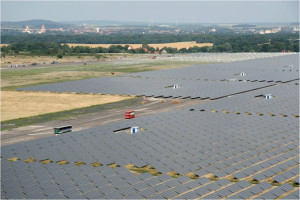 Brihan Mumbai Electric Supply and Transport Undertaking (BEST) will procure 28 million units of electricity annually from solar PV project being developed by Welspun Energy. As per the news, Welspun Energy has achieved financial closure for its 20 MW solar PV project. The upcoming solar power plant will be commissioned in Solapur district in Maharashtra.
The solar project has secured 180 crores through debt: equity model. Total of 135 Crores will be provided by leading financial institution (name is undisclosed at this time). Welspun Energy Maharashtra Pvt Ltd- a subsidiary of Welspun Energy Limited will commission this project activity.
BEST undertaking is a public transport service and electricity provider based in Mumbai, India. BEST is sourcing green electricity to fulfill its Renewable Purchase Obligations (RPO), a mandatory obligation for electricity distribution companies to purchase a certain percentage of power from renewable energy sources. Obligated entities in Maharashtra have 9% of RPO applicable for year 2013-14.
RPO is being implemented by Central Electricity Regulatory Commission and State Electricity Regulatory Commission under Electricity Act 2003 and the National Electricity Policy 2005. RPO promotes renewable energy installation in the country. In addition, National Action Plan on Climate Change (NAPCC) suggests increasing the share of renewable energy in the total energy mix up to 15% by 2020.
Welspun has commissioned 30 MW of solar projects in Gujarat, Andhra Pradesh and Rajasthan and over 250 MW of power projects are also being developed.
Reference;
Image credit: JUWI Group, available on Wikipedia