8 Indian beaches get globally acclaimed 'Blue Flag' certification
|
In a rare feat for nations working towards conservation of water bodies, India recently bagged a prestigious 'Blue Flag' certification for eight of its beaches. The honour is a coveted tag awarded by Denmark-based organization Federation of Environment Education. The beaches are selected by an eminent panel that comprises members of the United Nations World Tourism Organisation, International Union for Conservation of Nature, Foundation for Environmental Education, and United Nations Environment Programme.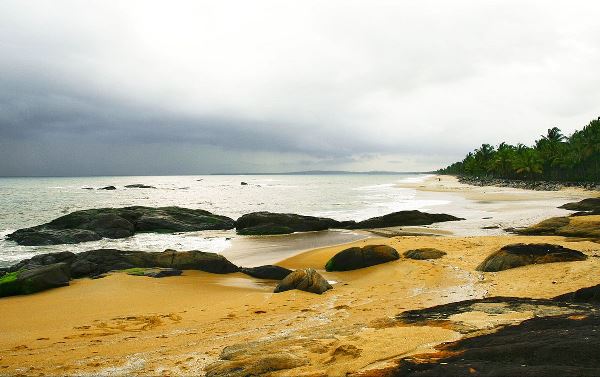 The globally acclaimed eco-label is awarded based on a beach's performance on 33 parameters, which in turn are categorized into four heads. The four categories are bathing water quality, environmental education and information, safety and services at the beach and, environment management and conservation. Earlier this week, both Prime Minister Narendra Modi and Union minister Prakash Javadekar tweeted about the honour bestowed on the Indian government's efforts to conserve beaches in the country.
The eight Indian beaches selected for the 'Blue Flag' certification are as follows:
Shivrajpur in Gujarat:
Located along the Dwarka-Okha highway, this beach is around 12km away from the temple town on Dwarka in Gujarat. It is nestled between a rocky shoreline and a lighthouse and is situated near the quaint village of Shivrajpur. You can go for a long walk or go there to enjoy marine life. The beach also attracts several bird-watchers every year as the Charakhla salt pans lure flamingos, pelicans and many other kinds of migratory birds.
Kappad in Kerala:
Any visit to Kozhikode in Kerala would be incomplete if this beach isn't on your list of sites to see. Kappad beach also has a special place in the state's history as it was this place from where Vasco Da Gama and his entourage first entered Kerala around 500 years ago in 1498. It was also a part of the spice route and occasionally attracts migratory birds as well. It is flanked by rocks and hills, which only add to its charm. There are several outlets along its shores which serve local delicacies. The nearest railway station is around 35km away.
Kasarkod in Karnataka:
This beach is located in the Uttara Kannada district of the state and is one of the most popular ones of the state which attracts hundreds of tourists every year.
Padubidri in Karnataka:
This is the second beach from the state to be selected for the coveted honour. It is located in the Udupi district of the state. Over the last two years, the Udupi district administration has invested funds released by both the state and Union government to improve facilities and services on the beach and boost its tourism potential.
Ghoghla in Diu:
This beach is located in Ghoghla village, which is around 15km away from Diu. The long stretch of sand attracts fewer tourists than other beaches in the town but is a perfect choice for those looking for some calm and peace. There are a few restaurants and hotels near the beach so you don't have to worry about food and accommodation. There is also a tourist complex near the beach which offers visitors a host of amenities. Parasailing and water scooters are the two most popular adventure activities that are available on the beach.
Golden in Odisha:
Also known as the Puri beach, this tourist attraction is famous for the golden sand that lines the shores of the beach. It attracts a fair share of visitors who come to offer prayers at the famous Lord Jagannath temple that is located nearby. The choppy waters are also great for surfing.
Rushikonda in Andhra Pradesh:
Located in Vizag or Vishakhapatnam, this is another beach that is located away from the hustle and bustle of the main city. The beach is another jewel lining the Bay of Bengal and is maintained by the state tourism board. Despite its faraway location, it lures crowds interested in adventure sports like surfing, water sports and speed boating. The hills nearby only add to its beauty.
Radhanagar in Andaman and Nicobar:
While there is no dearth of tourist attractions in the Union Territory, the Radhanagar Beach in Andaman & Nicobar deserves a special mention for its pristine beauty. Also known as Beach No. 7, this beach is located in Havelock Island. It is flanked by tropical jungles and is known for its serene surroundings. There is white sand as far as the eye can go. There are a few other tourist spots located close to this beach. Apart from enjoying a swim in the waters, this beach is also a great sight to watch the sunset.
The 'Blue Flag' certification will not only attract more visitors from the country but will also put these beaches on the international eco-tourism map. Till now, UAE, South Korea and Japan are the only other Asian nations to have bagged the honour apart from India. It also serves as an indicator of the government's dedication to sustainable development.