A local organization making a big difference
|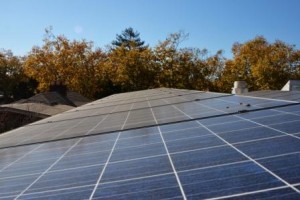 It's easy to feel disempowered by the current state of climate talks in the political sphere, but there are ways to take real action that matter and make a difference.  Every sector needs to do their part, including governments, businesses, nonprofits, and citizens at the community level.  Through collaboration and innovation, we can take action to mitigate the effects of climate change.  However, we need to change the discourse of climate change from one of despair to one of progress and growth.
One example of an organization that captures this perspective and empowers individuals to care for the planet is RE-volv.  RE-volv, a local nonprofit in San Francisco developed an innovative yet simple model for citizens to make a big impact from a small act.  By empowering individuals to invest in renewable energy, RE-volv crowdfunds to finance solar installations for other nonprofits and cooperatives that serve as community centers.  As the center pays RE-volv back at a cost less than their original energy bill, RE-volv reinvests these payments to finance more solar energy projects.  The completion of each project yields 3-5 additional projects – a revolving fund for solar energy that continues to grow and pays donations forward to make the biggest impact.
RE-volv exclusively serves nonprofits and cooperatives since they are not given tax incentives to go solar like homeowners and likely do not have the financial means like businesses to make the transition.  RE-volv is able to provide the installation free of cost, as well as save organizations over $100,000 on electricity bills over the life of the system.  By helping these centers go solar and save money, they now have more resources to serve their community.
You can read more about RE-volv on their website, www.re-volv.org, and check out their current crowdfunding campaign at www.solarseedfund.org.
RE-volv is only one example of the multitude of environmental organizations that use innovative models and creative strategies to make the biggest impact possible.  However, these organizations cannot do it alone.  They depend on the support of the communities that they serve.  Take time to donate or volunteer with these organizations so you can show your support for the cause that you are passionate about.
Author;
Julia Kim, RE-volv