A Tunnel with Unique LED Lighting
|
Eisenmann has received the prestigious Red Dot Award: Product Design 2016 in the industry, machinery and robotics category. The 41 judges, including designers, university professors and journalists from around the world, praised the advanced design of the VarioInspect, an LED light tunnel that supports quality control in paint shops. Overall, 5,214 products were entered in the international competition's 31 categories. They were assessed in terms of innovation, formal quality, functionality, and ecological compatibility.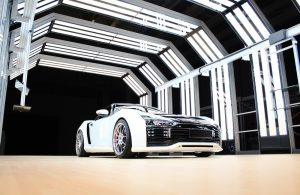 VarioInspect is the first LED light tunnel to be developed by Eisenmann, and was launched in 2015. "We are extremely proud to have received this award for our new product," states VarioInspect project leader Jan Hammermann, "Red Dot is unique in this special area of plant engineering and a reward for the successful integration of engineering and design."
The light tunnel's layout creates a pleasant and ergonomic working environment, and reduces noise levels and echoes. The unique LED lighting is adjustable from warm white to cool white, and can be tailored to the specific challenge, such as the paint color and gloss level of the body. The lighting makes highly effective surface quality inspections possible. This is essential as OEMs and consumers regard the slightest blemish in paintwork as unacceptable. The LEDs' low power consumption and long service life minimize operating costs.
"Red Dot award winners have not only demonstrated exceptional design skills. Their achievements also highlight the central role of design in the development of innovative products," believes Professor Peter Zec, initiator of the Red Dot Awards and CEO of the company that organizes the competition.
About Eisenmann: Eisenmann is a leading global provider of industrial solutions and services for surface finishing, material flow automation, thermal process technology and environmental engineering. A family-run business founded in 1952 in southern Germany, Eisenmann develops and builds made-to-measure manufacturing, assembly and distribution plants that are highly flexible, energy- and resource-efficient – and deployed by enterprises throughout the world for nearly 65 years. The company has a workforce of 3,600 in Europe, the Americas and BRIC countries (2015). In 2014, Eisenmann generated sales revenues of 753 million euros according to the German commercial code (HGB).
Photo credits: Eisenmann via v2com