Tamil Nadu Tribunal Sets Aside Solar Purchase Obligation
|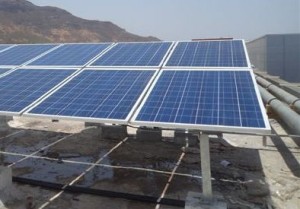 In a major setback to government plans, Tamil Nadu's electricity tribunal has decided to set aside a government order placing solar energy obligations upon heavy power consumers.
It is unclear as to how the order would affect government plans to generate an additional 3,000 megawatts (MW) of solar power by end-2015 but it cannot be expected to progress smoothly now.
"The order of the Tamil Nadu Electricity Regulatory Commission (TNERC) is set aside on solar purchase obligation," said justice Karpaga Vinayagam, chairperson of the Appellate Tribunal for Electricity, circuit bench, Chennai.
Tamil Nadu had initiated a solar policy to generate 3,000 MW of solar power in three years.
As of now, solar power generation in state is only 20 MW.
As per policy requirements, heavy power consumers were to meet 3% of their total power consumption from solar energy by December 2013 and 6% by January 2014.
This was to be accomplished by either purchasing solar power or installing solar energy power generation units.
The government had directed TNERC to issue orders on the implementation of the solar policy.
Tamil Nadu Electricity Consumers Association had filed a challenge with the tribunal saying there was already a renewable energy obligation upon commercial consumers, which included wind energy and a small portion of solar energy as per a TNERC order of 2010. Tamilnadu Spinning Mills Association had also filed a similar case.