Uttarakhand to get 20,000 Solar Lanterns for flood affected people
|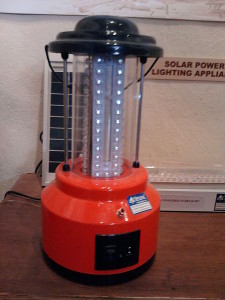 A total of Rs. 4.4 crores has been sanctioned by Ministry of New and Renewable Energy (MNRE) as financial assistance for the distribution of 20,000 solar lanterns Uttarakhand. The cost of each lantern is approximately Rs. 2200 per unit. These lanterns will be distributed to  people in the flood affected areas of Uttarakhand.
Uttarakhand floods are one of the biggest examples of natural disaster in this decade. It has brought various risks including health risk and others.  Loss of infrastructure including water supply and electrical power supply has created critical problems in the region.  Lighting is the major issue as there is no electricity.
Many flood affected areas in Uttrakhand are still without electricity and telephone lines. As per the report, total of 760 villages are without road, electricity and telecommunication connectivity. Even hydro electricity projects in the region are facing problems and remain non-functional.
A solar lantern is a portable device with an LED lamp, solar PV panel, and rechargeable battery as its components. Solar PV panels create DC current once sunlight falls upon it and this charges the battery. These lanterns with such batteries can be used during night and it doesn't require grid electricity.
With this move of MNRE; flood affected areas will get essential thing – i.e. 'light' which is currently not available due to lack of electricity.  These lanterns will help the villagers to complete their normal works during night hours. Solar lantern has become a very good option in these places.
MNRE is providing 100 percent funding for distribution of solar lanterns to the natural disaster affected people in different parts of the country. The same has previously been provided for storm affected people in West Bengal during 2009-10 and many others.
Distribution of lanterns will be done by Uttarakhand Renewable Energy Development Agency (UREDA), Dehradun.