August 2018: Monthly Electric Vehicle News Roundup
|
Tesla Canada's victory against Ontario government.
In the judegment issued in the case filed by Tesla Canada, the Supreme court has asked the Ontario government to review its electric rebate program to include Tesla or provide sufficient justification if otherwise. After Ford's Ontario government changed the electric vehicle rebate to only provide the incentive to vehicles purchased from dealer and not from manufacturers, Tesla Canada which does not have franchises filed a complaint arguing the decision to be arbitrary and deliberately taken. While Ontario government says that this is to protect small and medium businesses, Tesla Canada which has lost several customers in this, has responded saying that franchised car dealers of Ontario are generally large business.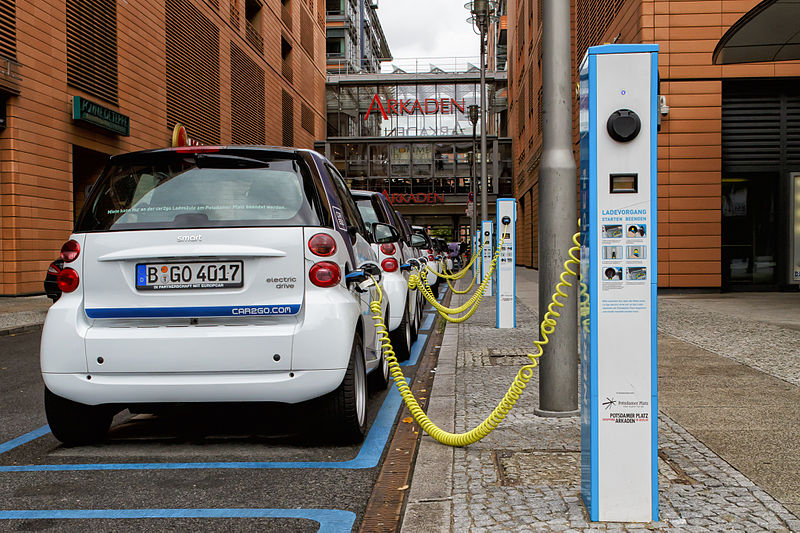 Nissan's Sylphy goes Electric
Japan's Nissan is working with China's Dongfeng Motor group to make Sylphy Zero Emission, the battery version of Nissan's Sylphy, to tap China's market. The increasing push for greener vehicles and US-China trade war, are expected to enhance sales of this low-priced model. This car is planned for next year release. The company also plans to roll out a range of EVs to meet demands of customers across all segments and expects to make one third of the sales from EVs by 2022. Global carmakers like Ford, General Motors are also developing Electric Cars for China.
Electric Car CV-1 from makers of renowned AK47
Following Jaguar, Electra Meccanica, Russian arms maker Kalashnikov's CV-1 is the recent entrant to the retro-inspired electric cars list. Designed taking inspirations from Izh 2125 Kombi (production 1973-1997), 6 seconds is what it takes for this hatchback's 295-hp electric motor to accelerate to 62mph, beating the original's 69-hp gas engine's performance. The 90-kwh battery pack of this hatchback with Tesla rivaling performance, can give a range of 220 miles.  The AK47 makers like other military contractors developing civilian products to weather the vagaries of state support have built bikes, off-road vehicles, so this car isn't so much a stretch in concept.
A peek at Mercedes EQC electric crossover SUV
Two videos of the Mercedes EQC electric crossover SUV have been released revealing the Mercedes C-class sedan sized car which is expected to have a range of around 250 miles. Half an hour is what it could take for full charge with the use of the new 350-kw fast chargers for charging as the car comes with a CCS combo fast-charge port. Additionally a new wireless charging option is also expected for the EQ lineup. Larger EQS SUVs are expected to follow the EQC, which is Mercedes' first range of electric cars. The EQC will join the other electric SUVs expected in the market next year.
Audi's PB18 e-tron two-seater with movable cockpit
Audi revealed its PB18 e-tron concept car a culmination of ideas from its Aicon and R-18 e-tron Quattro hybrid race car. According to Audi, PB18 e-tron comes slightly over 3400 pounds with the lighter solid-state battery placed behind the passenger cabin. The driver sits in a pod in the center of the car, like a race car driving position, however the pod can slide left to access the seat for accommodating the second passenger. However this concept is unlikely to make it to production.
Another EV from Kia – Spy photos reveal
While we await the Kia Niro all-electric version hatchback as announced, the company seems to be testing its electric version of redesigned 2020 Soul as is evident from the photographs obtained from spy photographer. Though when it debuted in 2015, 2018 Soul EV's 111 miles was the longest but it is outdated now. The Niro EV slightly larger than Soul is expected to have longer 238 mile range with its 64kwh battery and is expected to be slightly costlier than the current Soul EV.  Except for the evolutionary design plus LED light bars beneath thin headlights and the previous Souls like taillights, nothing much is known about the 2020 Soul EV.
Definitive agreement made – Greaves Cotton to acquire Ampere Vehicles
67% of stake of Ampere Vehicles, the Ratan Tata backed electric mobility company which is into design, development, manufacturing as well as marketing of electric vehicles for personal, industrial and materials movements will be acquired by Greaves Cotton by end of the year. The remaining shares are to be taken over in 3 years at Rs.115 crore, expected total cost.  Hemalatha Annamalai who is expected to continue as the CEO regards this as a win-win for both the companies exploring strategic opportunities across the globe. This deal comes in 2 years after Hero MotoCorp invested in Ather Energy, Indian electric vehicle company.
Dyson's site for vehicle testing
Dyson the home appliances maker has applied for permission to expand its Hullavington site. The company entering into the motor industry is planning to develop the site to test the abilities of the cars it is building. While electric cars are easier to manufacture compared to their petrol counterparts, Dyson's plan to release its first vehicle by 2021 is regarded as highly ambitious by industry analysts. Dyson's Sir James and Ineos' Sir Jim have asked the UK government for funding and £16m has been awarded to Dyson for electric car development. The company is yet to announce its manufacturing venue, but UK remains a viable contender. In this competitive EV industry, a lot depends on the battery technology used. The solid-state batteries fair comparatively better than their lithium ion counterparts, yet Dyson plans to use lithium ion for its debut vehicle.
Supreme Court approves Oregon's Electric Vehicle Rebate
After the initial delay owing to legal challenges, Oregon's Electric Vehicle (EV) rebate has been finally approved by Supreme Court. $2500 will be the rebate for the all- electric vehicles and $1500 for hybrid vehicles having base rate less than $50,000. In addition to the $7500 federal credit that already exists, drivers with low or moderate income could get additional $2500; that is up to $12500 can be saved. However there is a limit to the number of federal rebates that can be availed after which the incentives drop.
Latest concept car from Audi, All electric E-tron
Audi PB18 E-tron the all electric car symbolizes Audi's revolutionary vision of a car having race car like performance while also providing everyday usability. While its inwards angled side windows, wheel arches, electric drivetrain with solid state battery remind of the Audi Aicon, PB18 E-tron is built completely focusing on the driver. The cockpit and driver's seat are in a movable monocoque shell. Moving the monocoque sideways, an additional seat with three point seatbelt can be accessed. Carbon, aluminium, multimaterial composites enables low basic weight. Laser high-beam headlights, three powerful electric motors, one in front and two rear are some of the notable features. In addition to being able to charge in about 15 minutes by 800V voltage, it supports cordless charging also. Audi's concept car E-tron is yet another milestone in Audi's family of visionary cars.
Jaguar Formula E race car tackles the world's oldest venue in record 30.46 seconds
New Zealander Mitch Evans piloted the Jaguar I-TYPE 2 Formula E race car to a record 30.46 seconds at Worcestershire's Shelsley Walsh Hill climb, breaking the previous record by 6.84 seconds. It is notable that this advanced electric vehicle tackled the prestigious, 113 year old motorsport venue on its debut run. Mitch and the team are elated about this attempt, a partnership between GKN Driveline and Panasonic Jaguar Formula E team. Many vehicles supported by GKN Driveline's technology have claimed records in the past and the Jaguar models available in the market today are powered with technology from GKN Driveline.
Electric Nation Project's final smart charger installed
After over 2 years of hard work, the last of the 673 trial smart charges of the Electric Nation project was installed. The project would now receive feedback from the over 40 different makers and models of Electric Vehicles selected and start assessing the smart charging technology.  The smart charging due to be mandated, is expected to provide a number of services, which could lower the charging costs for EVs. With push for EVs on the rise, challenges related to charging capacity during peak demands times could arise and Smart Charging is expected to provide a solution for the same.
Mercedes Benz Unveils Vision EQ Silver Arrow
Mercedes-Benz Vision EQ Silver Arrow, the single seater is a homage to its W125, the record breaking successful car. Genuine leather seats, polished solid walnut flooring gives a traditional feel, while the high tech digital cockpit with touch screen integrated steering wheel, curved panoramic screen with back projection take us into the future. This alubeam silver painted car is intended for acceleration and driving pleasure. This all electric vehicle's rechargeable battery enables a range of over 400 km. 550kW is the output of this soundless vehicle. This car is yet another demonstration of the EQ product and technology brand.
Bus aggregator ZipGo raising funds for expansion
A person familiar with the matter said that the Bengaluru based Bus aggregrator ZipGo Technologies is in advanced discussion with Essel Group for raising $50 million to grow its presence in India from the current 10 cities. The funds are to be used to offer bookings for e-rickshaws and e-buses. Essel Group had earlier informed that it would be investing 1750 crore in Uttar Pradesh towards electric charging stations and battery changing terminals. ZipGo and Essel are yet to comment on this. While many bus aggregators are seeking for fresh funds, the regulation problem haunting them is still not resolved
Ethanol, Methanol for Maruti Cars
Along with efforts to bring in electric, hybrid cars, Maruti Suzuki India Ltd, India's largest car maker is planning to develop cars with alternate fuels like ethanol, methanol, said its chairman R.C. Bhargava. This is in addition to the CNG engine cars that they are planning to introduce to curb emissions. While Mr. Bhargava feels that electrification of small cars is a challenge, he welcomes the government's push for electric vehicles. Last year, Suzuki, the parent company started a collaboration with Toyota to develop small electric cars. A lithium-ion battery manufacturing unit in Gujarat has been announced in joint venture with Denso Corporation and Toshiba Corp.
High-class affordable Public transportation from VECV
The joint venture between Volvo Group and Eicher Motors, VE Commercial Vehicles (VECV) announced its plan to develop excellent quality, affordable electric mobility public transportation air conditioned buses. With growth of 12.5% in 2017-18, over previous year, the company has earmarked 500 crore for capacity expansion and new product development. While Skyline Pro Electric Buses are already operational in Kolkata, the company is also targeting Middle East and Africa with its light and heavy duty buses. Besides focusing on construction, e-commerce, mining, quarrying, it also plans to introduce range of high performance trucks where it holds 88% market share. Having entered the ASEAN market with sales, it has also begun operations in Kenya, Nigeria and Bangladesh
Chinese electric vehicles maker NIO seeks $1.8 billion second biggest US listing this year.
NIO the Chinese startup backed by Tencent Holdings Ltd, has applied for $1.8 billion initial public offering of its American depository shares. NIO's IPO is the second largest U.S listing behind $2.42 billion from Nasdaq IPO. NIO formerly NextEV builds electric vehicles (EVs) and it sees its ES8 sport utility vehicle as Tesla Model X 's rival. The company plans to use the proceeds towards research as well as product and technology development along with marketing and manufacturing facilities development. With China promoting EVs, aiming to curb pollution and boost energy security, more and more such Chinese electric carmakers are seen raising funds from investors.
BEST thermal batteries factory in Andhra Pradesh
With India focusing on reducing pollution by promoting usage of Electric Vehicles (EVs), Indian company Bharat Energy Storage Technology (BEST), expects to start commercial production of thermal batteries by May 2019 at its Andhra Pradesh factory which is nearing completion. Andhra Pradesh Chief Minister, revealed the first of the high energy density storage devices which are said to be long lasting compared to lithium ion counterparts and able to power the EVs and telecom towers. Besides creating 3000 jobs in 3 years, this factory costing Rs.6.60 billion with 1000MW annual capacity is expected to be ramped to 10GW capacity in 6 to 7 years. This is one amongst the several measures taken in rebuilding Andhra Pradesh into an industrial hub.