Beau Lake Releases Special Edition Paddleboard
|
The Beau Lake 800, 500 and 200 Series Invites Water Enthusiasts to Impact Safe Water Accessibility in Communities Around the World
Toronto, Canada, 2018-10-16 
Beau Lake, a company infusing luxury into waterside leisure experiences, is proud to partner with One Drop, an international water foundation dedicated to providing sustainable access to safe water. To mark the partnership, Beau Lake designed and manufactured the special edition One Drop paddleboard series, the latest in the company's line of luxurious hand-finished, high performance boards as per information available from v2com.
 
Founded in 2007 by Cirque du Soleil founder Guy Laliberté, the core of One Drop's mission is access to safe water, sanitation and hygiene as a transformative force to improve the living conditions of some of the world's most vulnerable communities.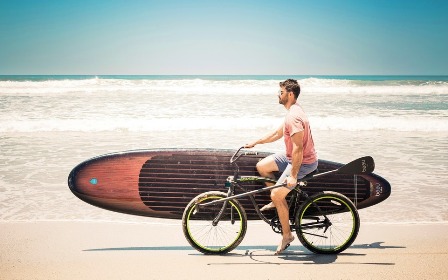 The Beau Lake One Drop board will help fund One Drop's life-changing work by donating a portion of the profits from the sale of each board. Priced at $15,000, the Beau Lake One Drop 800 model provides a community of approximately 800 people with sustainable access to safe water for life. The $10,000 model provides for 500 people, while the $5,000 model provides for up to 200 people.
Each board bears a discreet medallion featuring the model number, and hence the number of lives transformed. Wrapped in rosewood and detailed with a sunburst-painted edge inspired by iconic Gibson guitars, the special edition board's sleek finish and depth of color naturally invoke the Beau Lake state of mind. "The special edition One Drop board is another Beau Lake product designed for performance, detailed for elegance and built to endure," says Lee Kline, co-founder and design director for Beau Lake.
"Everything we do at Beau Lake is inspired by the beauty of water, so protecting this precious resource is second nature," says Paul Lavoie co-founder and CEO of Beau Lake. "Water is a luxury that we can't afford to take for granted. Our association with One Drop helps provide measurable impact, while also spreading awareness for One Drop's mission. If you are riding a One Drop 800, chances are you are going to talk about One Drop with your friends and family."
"Partnering with like-minded organizations helps provide One Drop with the incredibly important resources needed to continue our life-changing work in vulnerable regions globally," said Marie-Claude Bourgie, Vice President at One Drop. "Beau Lake is a prime example of a partner whose passions and mission mirror ours, and we're grateful that Beau Lake's beautifully designed boards will greatly impact hundreds of lives through access to safe, sanitary and long-lasting water solutions in their local communities."
Beau Lake's unique product line takes traditional waterside products to new heights, with an emphasis on design materials and methods that raise the bar in terms of aesthetics and performance. Defined by the personal experiences attributable to its designs, the Beau Lake brand embraces a state of mind that signals the arrival of a new sophistication, where fitness and environmentally friendly, human-powered leisure products are seamlessly integrated into luxurious lifestyles. From signature paddleboards to an elegant and revolutionary pedal boat, Beau Lake is delivering upscale waterside experiences to a discerning clientele.

About ONE DROP
One Drop is an international foundation created in 2007 by Cirque du Soleil's founder Guy Laliberté. At the core of its mission is access to water, sanitation and hygiene as a transformative force to improve the living conditions of some of the world's most vulnerable communities. With the objective of delivering long-term impact and sustainability, One Drop brings into all its projects a unique Social Art for Behavior Change approach that aims at engaging communities in taking ownership and embracing adequate behaviors towards water, sanitation and hygiene. Once completed, One Drop's projects will reach over 1.3 million beneficiaries around the world through sustainable access to safe water and sanitation. 
About Beau Lake
Co-founded in 2016 by Lee Kline and Paul Lavoie, Beau Lake is a true reflection of the lives and careers of both men. While growing up on summer sails on Lake Ontario, Lee Kline also inherited the passion, skills and aptitudes of his great-grandfather, a machinist, metallurgist and fine cabinetmaker. Kline spent much of his professional career focused on integrating material advancements from the transportation industry into the architectural and product fields. His attention to craft, materials and design has paved the way to successes in working with manufacturers to ensure final products that retain their initial design visions.
While sharing a parallel experience to Kline's waterside upbringing, Paul Lavoie's professional career adds core business expertise to Beau Lake. A co-founder of TAXI, Canada's most creative advertising and design agency network, Lavoie's skills in creating an appealing brand narrative and understanding fluctuating marketing landscapes has helped launch numerous major brands and products.
Beau Lake believes that the luxury of a waterside lifestyle comes with the responsibility of stewardship. The company continues to nurture partnerships with a diversity of water and conservation charities in order to advance initiatives aimed at addressing the many environmental challenges posed to water. 
Article information courtesy: v2com