Conservation Landscaping for Wildlife Habitat
|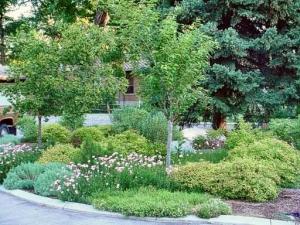 Conservation landscaping sometimes also called "beneficial landscaping" refers to the environmentally-friendly landscapes to conserve local plants, wildlife habitats, for controlling pollution and enhance the worth of water, as well as overall environment conditions. In America, people spend numerous hours each year in managing grass on their property lawns. Millions of Dollars, time, and efforts are used in taking care of garden lawns manually. Thousands of water gallons are used for lawn irrigation and much of the soil left non-replaced or in heavy clay particles. Conservation landscaping is a way to eliminate all these practices and aesthetically manage the native plant species and wildlife habitat.
What are the benefits of Conservation Landscaping?
There are numerous benefit of conservation landscaping to environment and the local community, which include:
Is designed to improve the environment for human use aesthetically.
Improves the quality of water.
Reduce the effort and time of fertilizing, moving, watering, and in taking of large garden lawns.
Provide protection to native plants that are useful for specific site conditions.
Resolve problems of poor drainage, erosion and steep slopes.
Enhance much animal's habitat features.
Minimize air pollution and promote healthy soils.
Help in effectively management of gardening by using less water, chemicals, and gasoline.
Greatest Habitat Features for Wildlife
Conservation landscaping provides the greatest habitat features for the wildlife in the form of water, food, nesting space, and shelter. Ecologically appropriate plants are ideal for wildlife habitat needs and in turn wildlife is beneficial for plants reproduction and growth. The plants which are placed appropriately matching with their requirements of soil, moisture, sunlight, temperature and other conditions, tend to perform much better job for natural wildlife. Along with plants, various groups of trees and shrubs with different heights are also of great useful as they provide shelter, protection, nesting or breeding area.
For greatest wildlife benefits, use deciduous plants or those that produce seeds, fruits, nuts, or nectar that allow grasses and flowers to remain stand throughout the winter season. A single drop of water serves as a growth for insects and protects the life of animals, birds as well as butterflies.
Naturalistic landscaping may seem to be more feasible where plants multiple through natural way and don't require human intervention. It is advisable to plant more tree and shrubs in natural areas of the property such as meadows and wetlands by using native species. Select schools, government buildings, military installations or other similar places for natural habitat planting.
Site Considerations & Assessment
You need to assess the places of your yard first before selecting the right plants. For greater benefits always evaluate the conditions of the property whether it is suitable for the native plants or not. Consider the moisture, soil, sunlight and other requirements before and at the time of planting. You need to estimate the area of your yard for garden, lawn furniture, and for firewood, etc. You also need to identify any homeowners' restrictions on landscaping to achieve your desired goals.
Selection of Local Species of Plants for Conservation Landscaping
Native plants have additional benefits as compared with non-native species as they are easily adapted to local climate, required less fertilization and water. They provide natural beauty to ecosystems, food for wildlife evolution, and are resistance to pests, insects, animals or disease as well. For greater benefits, employ 75% of native plants and at least 25 sqft area of your lawn must appropriately be transformed to conservation landscaping. As native plants mature, the roots grow many feet deep into the soil where it improve the drainage over time and leave "root channels" in the soil for quick and better water flow.
Hire a Landscaping or Tree Expert
For complete guidance, you can get the help of a tree expert or hire a landscaping professional who has relevant experience and is well-known locally within a State. Before hiring, you should know what experience they have, are they belong to any recognized organization, do they have previous projects portfolio, do they provide any promise for their work, and how much they charge for their service.
Author Bio:
Rachel Zoe is a certified arborist and professional tree management expert dealing with tree health issues since 2003. She provides her skills for envirofrontier.com.au in preparing arborist reports, tree site protection, and tree removal budget plans.