Dachigam National Park, J&K
|
Location- Jammu and Kashmir, 22kms from Srinagar.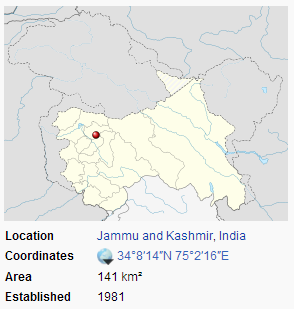 Protected Area Category- National Park
Area- 141 sq kms
Best time for visit: May- August, Sept- December
The name of the park means "ten villages" which may allude to the ten villages that were relocated during its formation.
Dachigam has been a protected area since 1910, first given the status by Maharaja of Kashmir. It was initially created as a game reserve. It was finally upgraded and declared a National Park in the year 1981.
Flora 
Poplar, Walnut, Apricot, Apple, Pear, and Wild Cherry, Plum, and Chestnut, Willow, Oak and Birch trees.
Fauna
Hangul or the Kashmir stag, Himalayan Black Bear, species of wild Goat,
leopard, snow leopard, musk deer, jackals, hill foxes, jungle cats, bird species such as Streaked Laughingthrush, Himalayan Rubythroat, Himalayan Griffon Vulture, Bearded Vulture, Red-billed Blue Magpie and Himalayan marmot.
HOW TO GET THERE-
Nearest Airport: Srinagar (22-km away).
Nearest Railway Station: Jammu.
Image credit – Wikipedia