Eco-friendly Airports in India – Treat to Eco-conscious Travelers
|
Air transportation plays a critical role in the present globalized world, it being one of the principal means of movement of cargo and passengers from one corner of the world to the other. Air travelling is less time consuming and relatively comfortable which is why it has witnessed significant amount of both international and regional traffic over the decades, for which the airports are being modernized and developed to cater to the increasing demand. The development of infrastructure is important to attract tourists and to explore new business opportunities by proper marketing of the improved infrastructure.
The airports in India are either managed by Airports Authority of India (AAI) or are managed under Public Private Partnership (PPP). 125 airports in the country like Agartala, Agatti, Behala, etc. and civil enclaves (area allotted at an airport belonging to the defense department for the usage of civil aviation related services) are managed by AAI. Many airports like Cochin International airport, operated by CIAL (Cochin International Airport Ltd.), Delhi International Airport (a joint venture between GMR group (64%), Fraport AG (10%) and AAI (26%)) are examples of airport working under the PPP model. Some of the international airports operated under AAI and under public private partnerships are as follows-
AAI Managed Airports-
Netaji Subhash Chandra Bose International Airport, Kolkata
Chennai International Airport, Chennai
Thiruvananthapuram International Airport
Sardar Vallabh Bhai Patel International Airport, Ahmedabad
Lokpriya Gopinath Bordoloi International Airport, Guwahati
Chandigarh International Airport (Recently opened the international terminal)
Privately Managed Airports-
Indira Gandhi International Airport, Delhi
Chattrapati Shivaji International Airport, Mumbai
Rajiv Gandhi Hyderabad International Airport
Kempegowda International Airport, Bengaluru
Cochin International Airport, Kochi (Private)
The improving infrastructure and the PPP model has greatly contributed in gaining the world's attention to the Indian airports. The improved airport quality and facilities has attracted many passengers worldwide to India greatly contributing to increased tourism turnover. According to IATA's 2014 report, India is amongst the top 5 fastest growing markets that would witness a whooping 266 million additional passengers per year to see a total of 367 million passengers by 2034. In the year 2014-2015 (April-March) all the operational Indian airports handled a total of 190.1 million passengers including 50.8 m international and 139.3 m domestic passengers. The Delhi's IGIA (31st busiest airport of the world, 2014) spread over 480,000m2 area with the capacity of 34 million passengers per annum handled 41 million passengers in the year 2014-15 (Apr-Mar). While the 47th busiest airport of the world, Mumbai's CSIA with a total floor area of about 439,000 m2, witnessed a total count of 37 million passengers during the same time period. Kempegowda International Airport in Bengaluru handled about 15.4 million passengers during the year 2014-2015 and Cochin International Airport saw 6.8million passengers in the same year.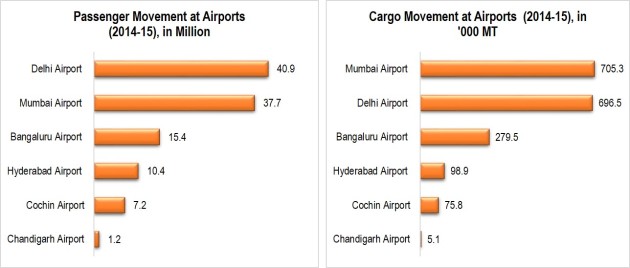 Hence, it can be concluded that the country over the decades has seen a major rise in the number of passengers and cargo transportation but the question that surfaces is about the environmental impacts and sustainability issues that they have in their entire life cycle. While airports and aviation has positive impacts on social and economic well being of the people associated with it, it also has a huge negative impact on the environment. Issues like air pollution, climate change, water pollution, noise pollution, landscape deterioration and biodiversity damage are amongst the few critical problems associated. The burning of worn out tyres during landing and take-off contributes to the amount of particulate matter in the air, fuel transfer and storage facilities contribute to increased VOC concentration. Biodiversity is also greatly damaged due to habitat loss and destruction. According to the Civil Aviation Authority, 2001 about 85% of bird strike involve aircrafts below 800ft.
Such incidents of bird strike, road kill, noise pollution, light pollution and air pollution contributes in degradation of ecologically fragile ecosystem leading to biodiversity loss. Air pollution caused due to reasons including the burning of aviation fuel releasing NOx, SOx, CO2, etc. and edacious use of electricity causing carbon dioxide (CO2) emissions is a major concern, as higher concentration of greenhouse gases (GHG) like CO2, NOx, greatly contributes to climate change. According to DGCA's (Directorate General of Civil Aviation, Government of India) Carbon Footprint of Indian Aviation Report, approximately  35 million tons of CO2 emissions released by the Airport activities globally (for year 2013) which is 5% of the overall CO2 emissions released by the entire aviation sector.  Indian airports emitted around 0.78 million tons of CO2 emission in year 2013.
Therefore, it was realised that it was important to maintain, regulate and reduce the environmental damage by the aviation industry. For this purpose, the Government of India endowed DGCA with the responsibility to keep a track and collaborate with environmental authorities on environmental issues such as related to aircraft noise, emissions from the aircraft engine as per ICAO Annex 16, and other form of pollution from airport activities. DGCA is responsible for all aspects of enforcement and regulation of aviation in India. An Aviation Environmental Unit was also set up by DGCA on matters related to environment, providing guidance and solution to issues like reduction in CO2 level, abatement of noise pollution, improvement of fuel efficiency amongst others. Moreover, to ensure environmental health, the setting up of environmental units by various stakeholders such as the airlines, navigation service providers and airport authorities has also been proposed, though the information related to these unit is yet not available on public domain. As per April 2011 circular, it has been made mandatory by DGCA for submitting monthly fuel consumption data to set up a carbon dioxide emission inventory.
The EU- India Civil Aviation Cooperation Programme was also initiated with the objective of providing support for sustainable economic growth and strengthening the institutional capacity of civil aviation industry of India. It also intended to increase the cooperation on current environmental challenges being faced by civil aviation industry. According to Dr. Panagiotis Karamanos (Senior Environmental Expert, EU-India Civil Aviation Cooperation Project) the methodology that had been developed as the first ever noise study for Delhi airport has now become the standard for all major airports in India. The DGCA circular 3 of 2003 laid down guidelines for noise measurement and monitoring at airports, including noise mapping, validation, action plan, noise reporting and proposing aviation noise limits. A pioneering national level study of the carbon footprint of the Indian aviation industry was also completed. Circulars issued by the DGCA on noise monitoring, carbon emissions,  and local air quality monitoring(DGCA Circular 4 of 2013) based on the recommendations of the project contributed towards the development of  aviation environment policy that  received praise from the entire  international aviation community.
There is an independent standard developed for Airports to rank them on their performance of GHG emission reduction over the necessary timeframe. This is known as Airport Carbon Accreditation – a carbon management certification standard developed by ACI Europe. Airport Carbon Accreditation Programme recognizes the effort of airports to reduce their GHG emissions. Mumbai, Delhi and Bangalore airports have received level -III accreditation under the Airport Carbon Accreditation Programme 2013-2014.
Read more on Performance of Airports in reducing their Carbon Footprint.
Airports can effectively minimize their GHG emissions by means of energy efficiency and increasing use of renewable energy. As a step towards this, Indian airports are increasingly taking solar power as an important alternative. Cochin, Delhi, Mumbai and Chandigarh airports have already installed solar power plants to source green, nonpolluting energy for their operations. Bangalore airport recently come up with tender for solar project of capacity 2 MW and Hyderabad airport intending to install 5 MW of solar plant. This shows increasing interest towards use of renewable energy by Indian airports.
In addition, use of bio-fuel for air side vehicles, efficient flight tracking system in order to optimize the flight take-off and landing time, proper treatment and management of solid waste, waste water and mitigation of pollution, reduction in commercial vehicle trips (e.g. Pushpak- Airport Liner, Aeroexpress bus service to Rajeev Gandhi International Airport, Hyderabad),etc. can assist in accomplishing the dreams of sustainable civil aviation.
Some important Indian airports with eco-friendly initiatives can be named as follows-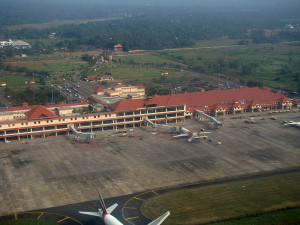 Cochin International Airport
Cochin International Airport was the first green field airport built with public-private partnership in India. The rehabilitation package, the immense public support and participation and a sustainable business model have helped Cochin International Airport Limited (CIAL) become an international brand. The airport, in order to become self-sufficient and sustainable, has installed 12 MW solar photovoltaic plant in Aug 2015. The solar plant generates about 60,000 kWh of electricity per day which is sufficient for daily operations of the airport and make the airport carbon neutral (in terms of scope 2 emissions). The company has also significantly diversified by setting up  8 Small Hydro Electric projects under the name of its subsidiary company CIAL Infrastructures Limited. CIAL, has grown rapidly over the decades becoming the 4t hlargest International Airport in the country in terms of international passenger traffic. It recorded an annual cumulative growth rate of about 20% in the first 8 years and thereafter a growth rate of 12% with the annual passenger traffic touching 6.4 million in the year 2014-15. CIAL handles more than 1100 aircraft movements per week.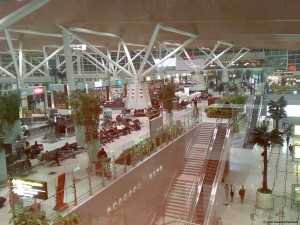 Delhi International Airport (Indira Gandhi International Airport)
Delhi's International Airport sets a benchmark for other airports. This subsidiary company of GMR group has been declared to be the World's fourth best airport and APAC's best improved airport for the ASQ (Air Service Quality) by Airports Council International in the 15 to 25 million passengers category. DIAL has also taken many initiatives for environmental protection. The airport has developed an inventory at organizational level accounting for its GHG emission through Carbon Accounting and Management System to reduce its green house gas emissions. Many energy efficient technologies have been installed in Terminal 3 of the airport including Energy efficient chillers, Energy savings through improved insulation in supply air & return air ducts and chilled water pipe circuit, , Building envelope, Solar water heating system and Solar boundary light system, Tempered cooling system. Other initiatives at Terminal 3 like electrically operated baggage tugs and buggies, Compressed Natural Gas (CNG) fuel station has helped in significantly reducing emissions.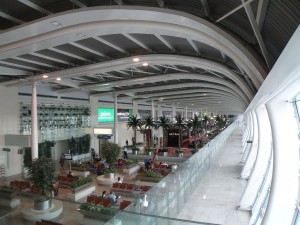 Mumbai Airport (Chhatrapati Shivaji International Airport)
It is the second busiest airport of the country situated in the commercial capital of the country. The airports goal of being carbon neutral has earned it ISO 14064- 1:2006 certification for its Carbon Emissions Accounting. It measures, manages, reduces and communicates its key environmental footprint such as Greenhouse Gases emissions, Energy consumption, Water uses, Waste generation, Ambient air quality and Noise Levels. Direct emissions, indirect emissions and emissions from employee travel is accounted for in the Carbon Accounting and Management System. As a part of its effort to reduce GHG level, the airport also has in it installed a solar power plant with an approximate capacity of 600 KW. Other measures like reduction in line loss in electrical system, replacement of bulbs with LED, higher efficiency pumps have been undertaken and completed to develop the airport into a sustainable and energy efficient airport.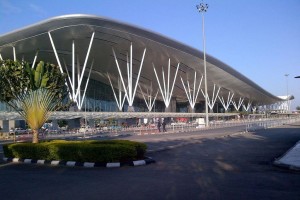 Bangaluru Airport (Kempegowda International Airport)
The airport received from the Indian Green Building Council, the Gold rating in LEED India for its eco-friendly, sustainable and energy efficient building design.The airport has also applied for the installation of a grid to a 2 MW solar power plant to increase its energy efficiency and reduce its carbon footprint
Hyderabad Airport (Rajiv Gandhi International Airport)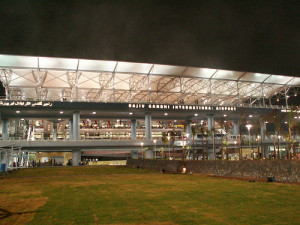 Conferred with the Golden Peacock Award, the airport integrates sustainability and environment protection quite well in its business policy. 273 hectare of green belt has been planted to maintain the ecological balance and 971 hectare of natural greenery has been left untouched. The airport has also effectively reduced about 3331 tons per annum of carbon footprint by various energy conservation practices. The airport also has proper waste water treatment plants and promotes environmental awareness.
Chandigarh International Airport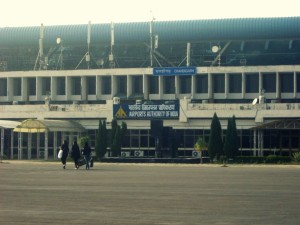 This customs airport, located about 9km from the city centre has a 24.5% stake with Haryana and Punjab and rest 51% stake with AAI. The new terminal at airport inaugurated on 11th September 2015 has been built using eco-friendly technology. The airport has only natural lighting during the day and LED lights account for its 40% lighting needs. It also has an eco-friendly air conditioning with a transparent glass roof with low heat gain that cuts down the use of air conditioning system to half. A 200 KW Solar panel has also been installed. The airport yet to be named, also has a water harvesting facility, the water treated by extended aeration system would be used for purposes like gardening. This airport would not just divide the heavy traffic faced by Delhi's International Airport after getting functional but also sets an example as a sustainable airport.
India's aviation industry is fast growing. The industry supports about 8.8 million jobs and accounts for about 1.5% of the country's GDP. With more than 430 aircrafts operating in over 100 airports, the aviation sector is currently the ninth largest all over the world and is expected to become the third largest by 2020. This growth will pose great challenge to environment and sustainability even in near future but what is required is dedication to work towards sustainable development and ensure environmental health.
Note: The list of eco-friendly airports is not ranked as per their green performance. 
REFERENCES
http://cseindia.org/userfiles/aviation_paper.pdf
http://www.aai.aero/public_notices/Proposed_DraftNoteMktgofDom.pdf
http://www.aai.aero/public_notices/aaisite_test/faq_Gen.jsp
http://www.icao.int/sustainability/PPP%20Case%20Studies/PPP_Airport_India.pdf
http://www.iata.org/pressroom/pr/Pages/2014-10-16-01.aspx
http://knowindia.net/aviation3.html
http://www.aef.org.uk/uploads/PlanningGuide2.pdf
http://euindiaenewsletter.com/Vol_5_June_2014/Civil_aviation.html
www.airportcarbonaccreditation.org/component/downloads/…/59.html
www.airportcarbonaccreditation.org/component/downloads/…/31.html
http://www.airportcarbonaccredited.org/
http://www.thehindubusinessline.com/economy/logistics/more-indian-airports-taking-to-solar-energy/article5479117.ece
http://hyderabad.aero/apsrtc-introduced-pushpak-bus-service-from–rgia.aspx
http://cial.aero/contents/viewcontent.aspx?linkid=51
http://cial.aero/UserFiles/Annual-Report-2014-15.pdf
http://www.daffpl.in/index.php?option=com_content&view=article&id=109&Itemid=80
http://www.newdelhiairport.in/img/files/pdf/DIAL-Annexure.pdf
http://investor.gmrgroup.in/pdf/GIL_AR_FY%202014-2015.pdf
http://indiatoday.intoday.in/story/chandigarh-comes-up-with-the-first-eco-friendly-airport/1/482699.html
http://www.gvk.com/files/pressreleases/Chhatrapati_Shivaji_International_Airport_Mumbai_868d5f419edf43a18d4e316c31a50eb3.pdf
http://www.csia.in/pressrelease/50ca497166854e05b326614fb2742cc7.pdf
http://www.hyderabad.aero/environment.aspx
http://www.bengaluruairport.com/bial/pdf/tender/Request_MWp_Solar.pdf
Image credit:
Mumbai Airport, Bengaluru Airport, Delhi Airport, Kochi Airport, Chandigarh Airport, Hyderabad Airport