Five Electric Vehicles You Can Buy On Alibaba
|
The lockdown enforced by different countries across the globe in the wake of the Covid-19 pandemic has necessitated that we stay at home for our own safety. The restrictions might have forced many people who have been planning to buy cars a bit disappointed. With showrooms closed and people forced to stay indoors, car buyers' plans are dashed. However, there is still a way out if you need to buy a car, especially an electric one.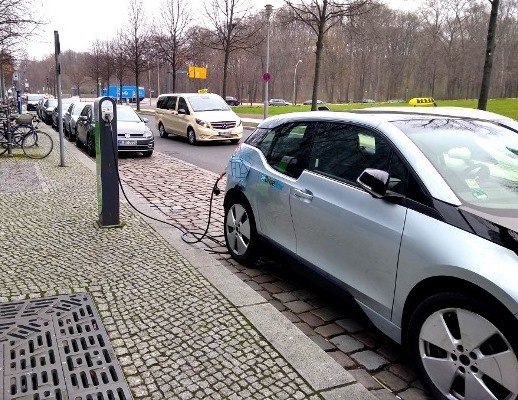 E-commerce website Alibaba is delivering cars to people's doorsteps. While there is a wide variety of options to choose from, it would be advisable if you do not expect a lot from these vehicles. Here are a few models of electric vehicles to help you make a choice:
Electric Four-Wheeler Pickup Truck Adult Travel Truck Home Electric Car Goods King: This convertible electric vehicle has an automatic gearbox and is manufactured in Shanxi in China by HY. The car was launched in 2018. The power to the vehicle is supplied to the rear wheels, which then pushes the car forward. Priced at the US $ 3,650, the two-seater car gives you a storage space of 900x1250x300mm. Weighing over 670kg, it boasts of an independent front suspension and a non-independent rear suspension. Its wheelbase is 1,870mm and the car's motor form is AC asynchronous. It's powered by a 3KW motor and the battery is gel maintenance free. This electric pick-up trick has a cycle life greater than 600 times and a top speed of more than 55 km/hr. The car gives you a range of 90-110 kilometre. It takes six to eight hours charge and comes with front disc rear drum brakes. The car is available in four colours orange, yellow, red, blue and green.
LK4600D Chinese mini-electric car fully enclosed mobility scooter/car/electric vehicle: This mini-electric car is manufactured by LIAN KE and in China. Its price ranges between US$ 1,830 and US$ 1,980. This car too has an automatic gearbox and can accommodate four to six persons. It comes with a rear disc braking system and is powered by a 1200W motor. It can give you a maximum speed of 25-40 kilometre and its driving mileage depends on the batter's capacity. The first time you charge the vehicle it takes up to 12 hours, but subsequently, it takes around eight to 10 hours to charge. It has a cruising range of 180-200 kilometre. LIAN KE's factory is located in Henan in China. Its operations are spread across western Europe, Africa and South America. The plant employs around 50 people.
2018 hot sale solar vehicle cheap electric mini car electric vehicle load 4-6 person 4 wheel new car with solar system: You can get this sedan at a price which ranges between US$ 800 and US$ 1,500. Manufactured by MINGHONG, the car was launched in the year 2018. This electric car has a manual gearbox and is available in three colours, namely blue, yellow and red. It gives you a maximum speed of 45 km/hr. The model name is S2 and it is powered by a 60V 1200w motor. The car comes with a mechanical drum brake and is certified by CCC ISO. The company offers you a one-year warranty on the car which can accommodate six persons including the driver. The electric four-wheeler gives you a top speed of greater than 30km/hr. The company MINGHONG is based in China's Sichuan and caters to the domestic market. It was established in 2010 and it also manufactures cargo tricycles, passenger tricycle and electric motorcycles.
4WD High-Speed Electric SUV Mini Jeep: The car is manufactured by LICHI, which is based in Shandong in China. The company has a plant in Lingxian Economic Development Park in China's Dezhou. Established in 2012, the company employs more than 1,000 people and manufactures electric cars, tricycles, cargo tricycles and three-wheel motorcycles. Its operations are spread across Africa, South America and northern Europe. This electric mini-jeep comes with an automatic gearbox and was launched in 2017. The car's model is K7-GS and it has a 1,243mm wheelbase. It can accommodate four persons and has a curb weight of 960kg. It features a four-wheel disc brake and a mechanical cable type handbrake for parking. It boasts of a lithium iron phosphate battery of 15.4kWh. Its price ranges between US$ 9,000 and US$ 10,000. It runs on an AC synchronous motor, whose power is 30kW. Its maximum speed ranges between 90 and 100km/hr and can be charged within six hours. The electric car gives you a maximum cruising range of 150km.
China Factory Cool Adult 4 Wheel 60v 3500w Electric Vehicle SUV: Priced between US$ 3,500 and US$ 3,700, this SUV features an automatic gearbox. It was launched by Furinka in 2019 and has been manufactured in the company's plant in China's Jiangsu. The car can be charged in six to eight hours and is a four-seater. Made of aluminum alloy, the car runs on a 3,500-watt motor and offers a range between 50km and 120km. It comes with rear drum brakes and front-wheel disc brakes. Its maximum forward and backward speeds are 45km/hr and 30km/hr respectively. Talking about Furinka, the firm was launched in 2017 and it caters to markets in west Europe, North America and eastern Asia. Apart from electric cars, it also manufactures electric trucks.
A comparison between these models would vary depending on what are one's preferences. For instance, if you are looking for an electric vehicle which has a powerful motor then Furinka's SUV and HY's pick-up trucks are ideal. The two electric vehicles are also a great choice if you are looking for affordable options. In case you want a fast electric vehicle then LICHI's mini-jeep SUV is the car for you as its maximum speed ranges from 90-100km/hr.