Fundamental requirements for a healthy power sector
|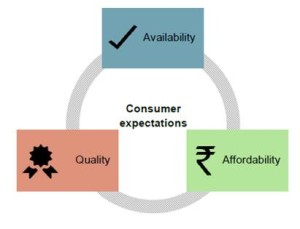 Electricity is a key raw material for industries and one of the basic requirements for other consumer groups – commercial, residential and agricultural.
The economics of power supply are well known. However, we have not been able to match the needs of consumers with those of suppliers. The vigorous debate on rising tariffs is only a symptom of deeper structural issues. There is a need therefore, to re-focus on addressing fundamental requirements for a healthy power sector.
What Consumers Want?
It is a challenge for power distribution companies (Discoms) to balance supply of adequate power with prices that are affordable to all consumer segments. Despite the appointment of Consumer Representatives, there is a perception that the tariff setting process is opaque and unfair. In addition, there is a lack of long term visibility of cost in the entire supply chain leading to tariff uncertainty. This perception of lack of transparency and uncertainty leads to fundamental opposition to the very concept of hikes in tariff.
There is therefore an additional challenge for State Governments and Regulators – the need to communicate with consumers better. It is also important for them to send the right economic signals by letting tariffs reflect true cost of power. They can do this only with adequate long term planning for tapping local sources of energy.
Besides, it is incorrect to presume that consumers will not pay for quality supply of power. Traditional measurement of supply deficits does not reflect latent demand characteristic of developing economies like India. Per capita consumption is still very low compared to comparable economies like Brazil. If more affordable power is made available to them, it is safe to assume that India's large and growing population will consume more power in a virtuous cycle.
What Suppliers Need?
Conventional power generators need access to fuel while Renewable Energy generators need access to land and evacuation infrastructure. Besides, all entities in the supply chain require adequate pricing as well as timely payments to be able to function well. Finally, they also need long term lending to be able to undertake investments in infrastructure and other improvements.
Direct exposure to economic and political uncertainty impacts viability of these entities. Discoms are especially prone to being burdened with the responsibility for "public welfare".
The negative impact of under-recoveries and pricing uncertainty ultimately percolates up the value chain and stops at the Lenders' doorsteps. Being the backbone of the economy, the banking system is reluctant to absorb these impacts. With mounting aggregate liabilities attributable to the sector, lending to power projects has become increasingly selective.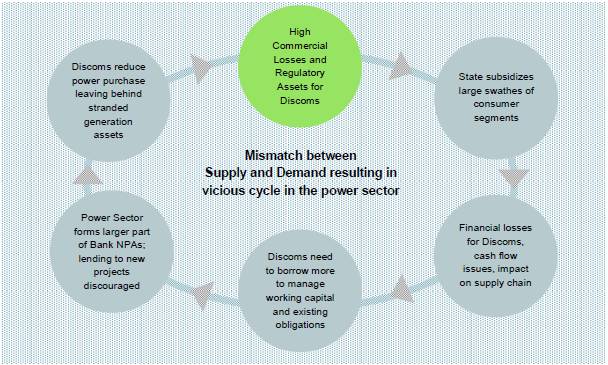 Short Term Interventions
Commercial – The ongoing program of debt restructuring of Discoms is heavily dependent on rise in tariffs. Further delay in correcting this mismatch is likely to adversely affect lenders, investors as well as consumers.
Technical – Investments are needed for upgrade of infrastructure and efficiency especially at distribution level through privatization and consistent support to private Discoms. While these programs are expected to pay for themselves in the long run, suitable debt is needed to finance the sector in the interim.
Financial – subsidies need to be targeted better in favour of small consumers. Meanwhile, the Government needs to support industries especially during a period of challenging economic conditions. Such consumers would be willing to pay higher, provided the government has a credible plan for supply of good quality, uninterrupted power with some visibility on escalation in tariffs.
Long Term Actions
Improving the output and efficiency of the coal supply chain should be the highest priority. However, considering that this will be a long winded process, it is important to consistently support alternative sources of energy, with solar power being top priority.
India is blessed with good solar resource and can take advantage of the modular nature of solar technology to reach areas where cost of supply is hard to recover. Solar has the added benefit of being able to supply during peak daytime hours. Concentrated efforts to promote solar as a distributed generation source can provide the country with an invaluable and reliable source of energy.
Credit: This article is based on monthly newsletter of Agneya Carbon Ventures Pvt Ltd