GCG in conversation with Ashok Jain, Director at Terracon Ecotech Pvt. Ltd
|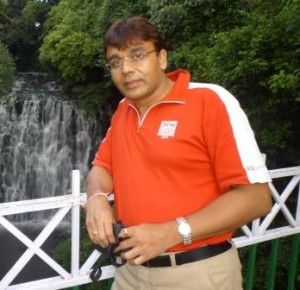 Mr. Ashok Jain is Director and Strategist at Terracon Ecotech Pvt. Ltd., a pioneer company offering ecology based advisory services and turnkey solutions. He has 20 years of experience in business development, strategic advisory, operations, senior management & entrepreneurship. He has co-promoted Terracon.  Ashok holds post-graduate qualifications such as MBA and L.L.B. from University of Mumbai. He is also a qualified Chartered Financial Analyst (CFA) and a Certified Investment Banker (CIB) from the ICFAI, Hyderabad.
Tell us about Terracon Ecotech Private Limited. What is the scope of your work?
Terracon Ecotech Pvt Ltd is India's first natural resources management company in the private sector and offers services ranging from Biodiversity, tree census, greenbelt assessments, Impact assessment studies, ecological restoration to sustainability and climate change.
Please provide us an insight into the projects Terracon has been associated with so far?
Terracon has undertaken more than 70 projects, having worked with 30+ clients in 12 states of India from Himachal Pradesh to Kerala and Gujarat to Assam. It has also worked with Government agencies, local bodies, PSUs and private sector corporate houses such as Vedanta, Tata, Godrej, L&T, JSW, M&M, Piramal, Reliance, ACC etc. Broadly, these projects covers collecting baseline data of ecological components, to analysis and prpearing action plan for active intervention and conservation of natural resources.
The concept introduced by Terracon is unique in the Indian landscape as most climate consultancies tend to focus on climate finance and advisory roles. How did Terracon build up its potential this unique niche? What strategies did you adopt to build a client base?
Terracon started with focused and niche area of natural resource management before expanding into other areas such as impact assessment studies and climate change advisory. We concentrated on offering research and field based solutions with plenty of R&D efforts going into our works. Companies also trusted us because we could give them scientific, yet implmentable, solutions. Moreover, corporates confided in us as compared to government agencies and / or NGOs to undertake many sensitive projects.
Terracon has also been instrumental in introducing the City Biodiversity Index for MBMC. Can you tell us more about it? How can it help policy makers in planning? Are you planning to introduce it in more Indian cities?
We are very eager to introduce concepts like City Biodiversity Index (CBI) and City Biodiversity Strategy and Action Plan (LBSAP) to other cities. We have prepared India's first CBI for MBMC and India's first LBSAP for Thane Municipal Corporation (a suburban city of Mumbai). These concepts and instruments identify the strenths and weaknesses of the city in terms of natural resources, biodiversity and ecosystems and provides a customised roadmap and action plan for improving and mainstreaming biodiversity in the planning process of Cities.  We have also prepared a concept note for mapping and creating environmental sustainability for Smart Cities by focusing on three pillars of natural resource management, biodiversity & ecosystems and carbon neutrality. We propose to apply these concepts in Smart City proposal and are in discussions with few consultants who have been selected by MoUD for preparing these proposals.
Indian environmental monitoring and planning is still far off from being perfect. Many EIA reports have been criticised in the past for a lack of depth and inherent lack of expertise. How does Terracon see the environmental monitoring and evaluation scene in India? How do you train your staff for the same?
We are equally disappointed with the level and standards of environmental monitoring being done currently by industry as well as consultancies for EIA purposes. There is lack of transperency, accountability and red tapism in most such monitoring cases. We believe the trend needs to change drastically in terms of fixing accountability on monitoring agencies, government encouraging transparency and project proponents becoming from responsible towards environment. We believe the online monitoring for all core projects with alarms is the need of the hour and it should be encouraged by the government by providing fiscal and regulatory benefits. Moreover, independent monitoring and EIA preparation may also be looked at wherein monitoring / consultancy agencies are appointed by the government / regulatory bodies and they are answerable only to these bodies. Terracon plans to start its own laboratory by end 2016 and it is prparing itself for introducing state of the art systems and technologies for the same.
Tell us about Terracon's expansion plans. What will be your future thrust areas?
Terracon intends to be a thought leader in the areas of biodiversity, ecology and restoration areas. We plan to undertake biodiversity and carbon offset projects for Indian and international clients and propose to create a bank of such projects. Moreover, we plan to be an effective EIA and EMP solutions provider with more sectors and credibility amongst regulatory agencies and clients. Besides, we will maintain our lead in natural resource management vertical with expansion in other South Asian, Middle East and African countries.
You can contact Terracon from here.