GCG in conversation with Sandhya Lal, Business Development Manager at Grow-Trees.com
|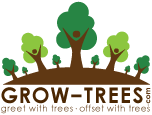 About Grow-Trees.com- www.Grow-Trees.com is a social enterprise launched and dedicated to the Planet on World Environment Day, June 5, 2010. GCG interviewed Sandhya Lal, Business Development Manager at Grow-Trees.com. Following is the transcript of the conversation.
When was Grow-trees.com established and how was the idea conceived?
www.Grow-Trees.com is a social enterprise launched and dedicated to the Planet on World Environment Day, June 5, 2010. It aims to inculcate the practice amongst companies and individuals worldwide to plant trees in public lands through the web and dedicate the trees to greet or honour someone by means of an e-certificate with a personalized message.
The idea came into existence in early 1990s when the founder of the company Mr. Pradip Shah was honoured with a Garden of 100 trees in Israel after he extended technical assistance and training to a credit rating agency in the country. The Jewish culture of planting trees for all occasions intrigued him and he became eager to inculcate the same idea in India. He launched the idea formally on June 5, 2010 after extensive research and pilot testing.
What are some of the chief activities and objectives of your organisation? How many states are you actively working in?
Our vision is to be the leader of a web-enabled, cost effective service to individuals and companies globally to enable the planting of trees.
Grow-Trees.com wants to allow users to satisfy a private purpose of greeting someone through an e-certificate, while doing social good by planting trees on public lands. It has 13 projects across 8 states in India. The plantings at 3 projects have already been completed with the number of trees planted as desired.
The projects can be for the benefit of Wildlife and Tigers or for the benefit of communities. The projects span over Madhya Pradesh, Rajasthan, Gujarat, Maharashtra, Karnataka, Andhra Pradesh, Odisha and West Bengal.
What are some major programmes being run by Grow-trees.com?
Grow-Trees is currently planting trees in 9 below mentioned locations:
Trees (Mangroves) for forest and wildlife at The Sunderbans, West Bengal (1,00,000 trees project)
Trees for forest and wildlife at Kanha National Park, Madhya Pradesh (100,000 trees project)
Trees for forest and wildlife at Kumbhalgarh Sanctuary, Rajasthan (140,000 trees project)
Trees for forest and wildlife at Sariska Tiger Reserve, Rajasthan (150,000 trees project)
Trees (Mangroves) for holy environs at Rukshmani temple, Dwarka Gujarat (50,000 trees project)
Trees for rural communities at Madanapalle, Andhra Pradesh (1,00,000 trees project)
Trees for rural communities at Chintamani, Karnataka (1,15,000 trees project)
Trees for rural communities at Koraput, Odisha (70,000 trees project)
Trees for rural communities at Amravati, Maharashtra (20,000 trees project)
Building and maintaining Tiger Corridor between Kanha National Park and Pench National Park (4,00,000 trees project)
The saplings are developed in the nurseries for more than 6 months, generally from December to July and actual plantation of trees occurs during monsoons. This is true for all projects barring the Mangrove projects.
Audit: After the plantation completes, Grow-Trees sends independent auditors to the site and quantify the survival percentage of the saplings. They also send us reports on number of saplings planted, methodology of planting trees, species etc. Grow-Trees also makes self-visits to the sites timely.
How can individuals join in your efforts?
Individuals can visit our website www.grow-trees.com and plant trees to greet, offset and for memorial. We encourage the culture of planting trees over the use of conventional greeting cards to celebrate occasions. Thousands of individuals across 172 countries have visited our website and many of them have been planting trees with us.
Apart from individuals, Grow-Trees have over 180 companies planting trees to visibly enhance their green image, increase profits, reduce staff attrition and attract young talent.
Apart from the individual gifting, Grow-Trees allows individuals to plant collectively in one forest for one cause. This is a feature developed by Grow-Trees and is unique across the world. Here people can easily start a Grove of 10 trees and invite their friends, families to plant trees in the same Grove and enlarge it into a forest. This Grove can be dedicated to people on their birthdays, weddings, anniversaries, achievements by many people planting for one occasion in the same project. The certificate will have names of all well wishers and their contributions with individual messages. Groves can also be made for a public figure to congratulate them or show affection and gratitude.
Which species are planted?
We always maintain the biodiversity of the area. Some species of trees planted at are projects include Karanj, Bamboo, Soapnut, Arjuna, Jamun, Custard apple, Mango, Amla, Kala Siris, Khair, Mahogany, Jungle Jalebi and Mangroves.
How many trees have been planted through Grow-trees.com?
Grow-Trees has planted (as on 29th May 2014) over 718,000 trees in 13 projects in India.
Do you collaborate with other organisations also?
We collaborate with NGOs who plant trees on ground. They have systems, track record of planting trees and are based on project areas.
Apart from that, Grow-Trees has several corporate clients who plant trees for employees, clients, speakers and some corporate have done an alliance with Grow-Trees for letting people plant trees through their website with Grow-Trees. It includes well known corporate such as SBI Life, NSE, Franklin Templeton, Nokia, Ernst & Young, Kotak Mahindra, Tata Capital, Rallis India, Axis Bank, Yes Bank, Reliance, Michelin, HSBC Asset Management, FICCI and dozens of others.
Grow-Trees is the only organisation in India to be a tree planting partner of United Nations Environment Programme's Billion Tree campaign (UNEP) and is also the partner of UNDB. We were a partner of WWF's Cities for Forest campaign throughout its tenure.
What is the procedure if a person wishes to plant a tree through your organisation?
Grow-Trees has made it easy for people to plant trees. They can do so with a few clicks on www.grow-trees.com and dedicate them to friends/family by means of e-certificate. They can send the certificates to several email ids at once and can also pay by using Credit/Debit card or internet banking.
How much does it cost to plant a tree through your organisation?
The current cost of planting one tree is Rs.60. There is no lower or upper limits for number of trees that are required to be planted.
What are your future plans and activities?
Grow-Trees envisages planting millions of trees every year and protect the green cover in India. We thrive to plant trees in each state of India while maintaining a balance between cities, jungles and villages. We wish to reach out to people globally to give them an option sp that they also plant trees to greet people and for offset.
Are you someone or do you know someone who is active in the field of environment for the larger benefit of communities? Drop us a mail at greencleanguide@gmail.com with a short introduction and contact details. We will get in touch with you for an interview.