Gi FlyBike: The electric bike you can fold in just one second
|
As lives get busier and roads more crowded, people tend to opt for means of transport that are faster and more fuel-efficient. However, this trend has cost the planet a lot in terms of pollution and greenhouse gas emissions. Vehicles running on petrol and diesel have contributed to a tremendous rise in air pollution. The hazardous effects of motorisation have led to the rise of electric vehicles in India. The public's interest has been buoyed by government support that aims to get more electric vehicles running on Indian roads.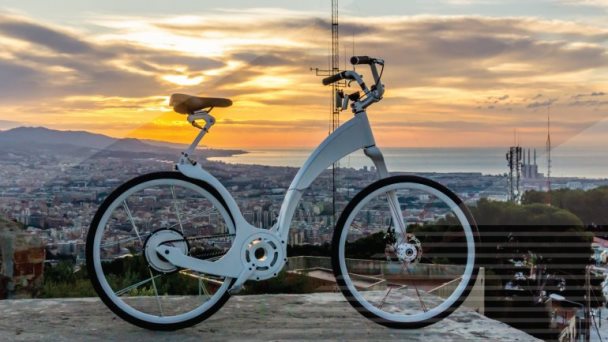 In the wake of the trend, several automobile companies and even startups have launched electric cars and bikes that offer mobility solutions that are not only convenient but also eco-friendly. The Gi FlyBike is one of the leading models of electric bikes which has been making waves at the back of its unique features. What's more, is that you can fold it in a second by just pressing a button. The ease of folding makes it easy to carry around.
The problems ailing commuting in urban areas are unlikely to end any time soon. As the problem aggravates, more companies are encouraging their employees to switch to more eco-friendly means of transport. Not to mention, electric vehicles like Gi FlyBike are considered to be safer as well. That being said, the problem with most electric bikes is that they are either too bulky or cannot be stored easily. This is not the care with Gi FlyBike, which is designed to adapt to the needs of the modern professional. It might be a bicycle at its core, but its unique technology makes it stand apart from other brands.
There aren't many bikes that sport a sleek design but can also fold themselves by just pressing a toggle button. Once you flip the toggle, the bike folds on its own by folding the body backward on the wheels. This feature makes it easy to carry it around be it on the road, on buses, and even in elevators.
The bike gets its strength from its body which is made of lightweight aircraft-grade aluminum. The bike is made of 100% recyclable aluminum alloy. Unlike an analogue bicycle, riders do not have to use as much pressure while using this electric bike. The vehicle gives you a top speed of 24 km/hr and can be revved up to 60km. Using computer numeric control machines, the bike is made using a highly customized design to achieve the best quality possible.
The product is the brainchild of a team of entrepreneurs – Lucas Toledo, Eric Sevillia and Augustin Augustinoy. This maintenance-free bike sports 26-inch wheels. The reason why this electric bike is garnering so much attention because of the way it balances sustainability and technology, while still being a practical urban commuting solution. Let's have a look at its various features. The bike can be folded in just a second, that's less than the time you need to make a cup of coffee. This single feature makes the Gi FlyBike the perfect companion on walks in parks or lawns, for office commute and even on shopping trips.
The Gi FlyBike boasts of a range of features that make it a delight to ride. Take its electric flight assistance for example. One can ride 40 miles (60 kilometre) in just a single charge. The bike runs on a LifePo4 battery. The assistance system has four levels and you can switch between them through an app. Alternatively, you can drive the bike manually without any electronic assistance.
Then, there is its state-of-the-art GPS system which can be easily connected to both iOS and Android devices. We all have had experiences when we have been stuck on the road due to a punctured tyre. However, this is not the case with Gi FlyBike. Given its solid, anti-puncture tyres make sure that you never have to stop your journey because of a flat tyre.
How many times is that you have got grease stains on your clothes while driving a bike? With this electric vehicle, you don't have to be bothered about grease ever again, thanks to the belt drive. The belt drive is a system in which the continuous movement of a flexible belt transmits power to the bike.
Moreover, the vehicle makes no noise. The USB phone charger that comes with the vehicle stays connected and doesn't run out of battery.
Another useful feature of this bike is that you don't have to worry too much about it getting stolen, all thanks to its smart locking system. The vehicle gets automatically locked the moment the rider is 10 feet away. The LED smart lights can be controlled remotely via the app. There is also a sharing program that allows you to create an online profile and helps you share your Gi FlyBike with your friends. The smartphone charger is located between the two handlebars for the convenience of the rider.