GSI report suggests channelling Mandakini river to its original course
|
The Geological Survey of India's report on Uttarakhand's flash floods of June 2013, recommends channeling the Mandakini river to its original course.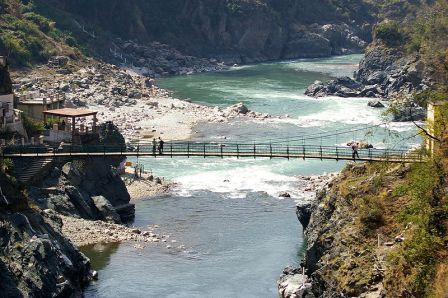 The river is merged with Sarswati river in the south post-floods. The original course of the Mandakini has been blocked by 15 meter high debris mounds in the North side and needs to be removed to restore the river. The report further identifies 274 critical landslide zones in 67 villages in Rudraprayag, Pithoragarh, Uttarkashi, Chamoli and Bagheshwar districts and cautions against any construction within 150 meters of the Kedarnath temple.
GSI director VK Sharma said,
"A team of 21 scientists studied the cause and extent of damage for six months after the flash-flood disaster. It was seen that the Mandakini river changed its course and has now merged with Saraswati river in the south. The original course of Mandakini on the North side has got blocked with a 15 m high debris mound which will have to be removed with the help of controlled or chemical blasts. Otherwise the collective water volume of these two rivers can wreak havoc in the valley and the connecting area in the next monsoon. Hence it is necessary to get Mandakini to its original course for which retaining walls should also be built to divert its flow."
The report has also suggested suitable methods to contain landslide for each particular case.
Image credit: By Vvnataraj at Wikipedia