Hubli to get Solar Traffic Lights
|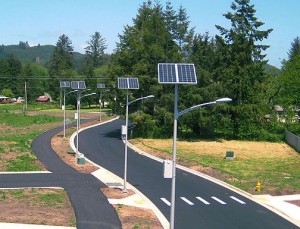 Hubli traffic police is finalising plans to install solar traffic lights in Hubli and Dharwad. The cities may see the new technology by next month if everything goes according to plans. The government has already sanctioned Rs. 50 lakhs for the same.
Hubki Dharwad already has 24 out of 30 odd signals that are run with solar power.
Solar powered traffic lights have the advantage of un-interrupted operation, can use self-generated power (solar power), no pollution, it is a viable solution to power crisis an simultaneously ensures road safety.
Most solar traffic lights nowadays use LED lamps for more reliability and because they are more energy efficient, have a longer life span and can be switched on and off quickly. Most solar traffic lights have a battery back-up for functioning during night.
B A Padmanayan, the commissioner of police, said that the solar-equipped traffic poles will help reduce consumption of electricity and maintenance expenditure.
N S Patil, ACP for Traffic, said that unlike earlier when HDMC used to install traffic signals, now the department is installing traffic signals to avoid power related issues. In case the solar signals develop any hiccups, there will be an alternative arrangement using electricity connection.
Reference and further reading;